The Best Homelab Firewall: Hardware and Software to Keep Your Network Secure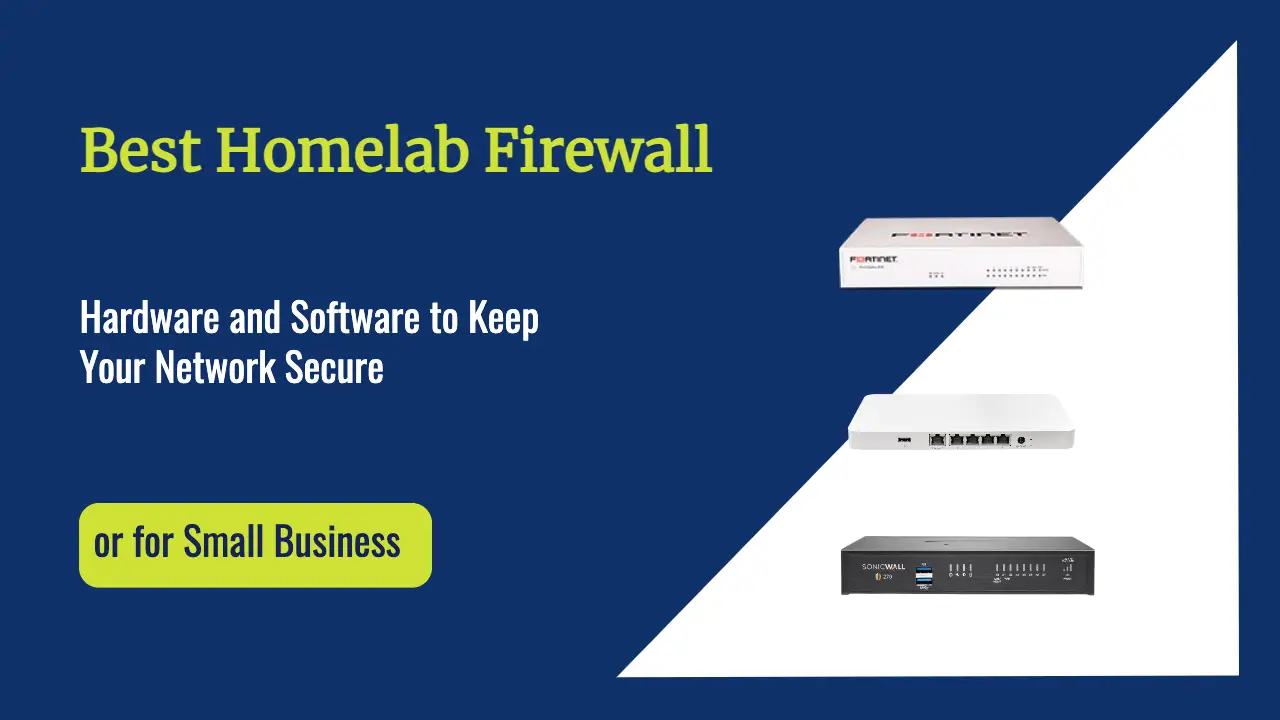 What is a home lab firewall?
A homelab is an environment in a person's home designed to serve as a testing and learning space for IT professionals.
A homelab typically consists of multiple computer hardware components, such as servers, switches, routers, and firewalls, which are connected to simulate a real-world IT system or network.
IT professionals often use these labs as they provide a safe place to practice and experiment with technologies such as cloud computing, storage solutions, and security protocols without impacting production environments.
The purpose of home labs can range from practicing server administration (see best server for a homelab) tasks to configuring firewalls and virtualizing servers.
In this context, a firewall is a network security device that creates a barrier between an internal network (such as the home lab) and external networks like the Internet. Its purpose is to prevent unauthorized access while allowing authorized communication through its rule set.
The Best AI Content Creator
The Alternative to ChatGPT
Different types of firewalls offer varying levels of protection, so it's essential to research your options before choosing one for your homelab.
What to consider when choosing the best homelab firewall device?
Virtual Server or Physical firewall
The main difference between a virtual firewall and a physical firewall is that the former is a software-based solution while the latter is hardware-based. A virtual firewall is often easier to set up and manage, as there's no need for physical hardware or installation. A virtual firewall usually runs in a VM or a cheap mini-computer.
However, it typically offers less protection against threats than a physical firewall. Physical firewalls are more secure but require more effort to set up, maintain, and upgrade.
Physical location
A good physical location for a home lab firewall would be somewhere close to the source of your internet connection, either at or near where it enters your home. This way, the firewall is best positioned to protect all devices connected to your network from threats from outside sources.
Features and configuration
When choosing the best homelab firewall device, many features and configurations must be considered. One of the most important is the security protocols such as protocol filtering, intrusion prevention systems (IPS), and virus scanning capabilities.
Also, consider which type of firewalls best fits your needs: stateful packet inspection (SPI) firewalls are best for basic protection; application layer gateways. In addition, the user interface and how easy configuring and managing the firewall is.
Other things to consider include the number of physical WAN, DMZ and LAN ports and VLANs supported, DNS and DHCP services, and the ability to customize the firewall settings. Additionally, it would be best to consider factors such as ease of setup, logging capabilities, and access control.
Finally, the size and form factor of the firewall device should also be considered, as it should be able to fit and work effectively within your home network.
Management interface
When choosing a home firewall device, it is vital to consider the various management interfaces available. When choosing a home firewall device, there are two primary management interfaces: a graphical user interface (GUI) and a command-line interface (CLI).
A graphical user interface (GUI) is a more user-friendly and intuitive way to manage a home firewall device. It allows users to configure settings easily and view network usage and other metrics through a visual representation. It also makes it easy to create rules and set up policies.
A command-line interface (CLI) is less user-friendly and may require a greater understanding of the underlying technologies. It allows users to perform tasks quickly and efficiently but may require some manual management of the underlying settings and components.
CLI also allows for more granular control of the settings, making it a popular choice amongst experts and IT professionals.
Both the GUI and CLI offer different levels of control and management for a home firewall device. When choosing a home firewall device, it is important to consider the user experience and the level of control needed for your home network.
Subscription, Maintenance, and Support
Maintenance considerations for a home firewall device:
Ensure that your Firewall/UTM has an active subscription and is up-to-date. It will ensure that your firewall is current and live and can effectively isolate external threats.
Periodically renew your Firewall/UTM subscription. Firewall vendors like Palo Alto, Fortinet, and Sonicwall offer two types of products that require renewal – security and support services. Security services help protect your network against malicious attacks, and support services provide access to technical support, software updates, and feature enhancements.
You can raise an RMA (Return Merchandise Authorization) if you face any hardware issues. You can return the defective unit during the warranty period for a refund, replacement, or repair.
Read and understand the terms and conditions before renewing your Firewall/UTM subscription. By knowing what is and is not covered, you will be in a better position to make an informed decision.
Cost and budget
When choosing a home firewall device, cost and budget are important considerations. Usually, enterprise firewalls with advanced threat protection and high throughput are expensive. For a more affordable option, recycling firewalls from local universities, ads, and websites like eBay or Craigslist could be a good choice.
On the other hand, buying a new firewall won't cost you a fortune. Amazon has good firewalls for under $1000, which protects your homelab. Continue reading in the next section.
The best homelab or small business firewalls: hardware and software
Fortigate 40F or 60F
The Fortigate 40F or 60F is an excellent choice for homelabs, as it offers high performance and cost-savings.
COMPACT, FANLESS DESKTOP FORM FACTOR – The FortiGate 40F series provides a fast and secure SD-WAN solution in a compact fanless desktop form factor for enterprise branch offices and mid-sized businesses.
HIGH-PERFORMANCE THREAT PROTECTION – This firewall hardware effectively protects against cyber threats with system-on-a-chip acceleration and industry-leading secure SD-WAN in a simple, affordable, and easy-to-deploy solution.
VALIDATED SECURITY – Fortinet's Security-Driven Networking approach provides tight network integration to the new generation of security. FortiGate will filter network traffic to protect an organization from internal and external threats.
CONTINUOUS RISK ASSESSMENT – A security rating and automation provide a continuous risk assessment of your computer system. This firewall is designed for small to medium businesses that need dependable protection against cybercrime.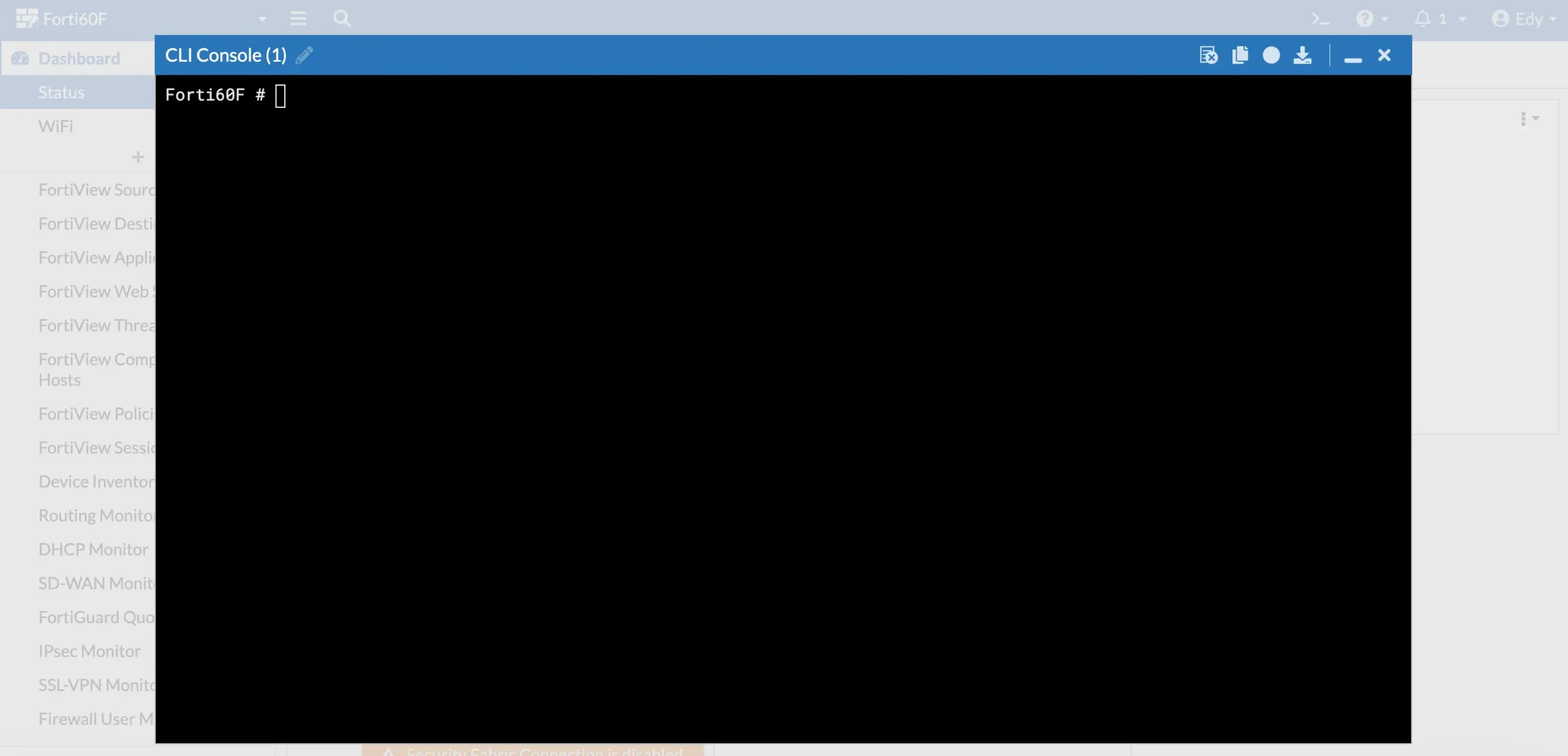 SonicWall TZ270 Network Security Appliance
The SonicWall TZ270 is an ideal choice for homelabs because it offers a comprehensive range of features, including SD-WAN, SSL/TLS decryption, up to 5 Gbps throughput, and Real-Time Deep Memory Inspection for blocking unknown malware.
SonicWall's various options allow you to choose the perfect product mix for your network environment, making it an excellent fit for homelabs. It also has one million+ security sensors in 200+ regions, allowing it to derive threat intelligence insights. Its management console can be hosted on-premise and on the cloud.
Meraki Go Router Firewall Plus
The Meraki Go Router Firewall Plus is a perfect firewall solution for homelabs due to its ease of use and robust security features.
The device offers layer seven application visibility and control, which can block malicious or unwanted traffic from entering the network. It also provides granular security policies to manage traffic and devices on the network, as well as a built-in firewall for extra protection.
The Meraki Go Router Firewall Plus is designed for easy setup and is highly user-friendly. It makes it an ideal choice for the average user with limited technical knowledge. With its comprehensive security features and easy setup, the Meraki Go Router Firewall Plus is an excellent choice for any homelab.
Zyxel USG Flex 200
The Zyxel USG Flex 200 UTM firewall bundle is a recommended solution for up to 75 users and offers 1800Mbps SPI firewalls with 550Mbps UTM, 2 x Gigabit WAN ports, 4 x Gigabit LAN ports, and 1 x SFP.
This firewall replaces the outgoing USG 60 model and provides one single management platform on the cloud. It also offers IPSec and SSL VPN protection for secure connections between multiple offices and/or homes.
McAfee-protected License Services provide industry-trusted security for your organization, while ICSA Certified firewall ensures that your system is up to date with the latest security threats. Finally, the lifetime warranty guarantees that you will have support for your system if needed.
Software Firewall: PFsense
PFSense is an open-source firewall software solution that provides a secure, reliable, and cost-effective network infrastructure. It helps users create an isolated virtualized environment where they can control access to their networks while providing robust security. It features easy configuration wide range of features such as VPN support, intrusion detection, web filtering, and many more to provide comprehensive protection against attacks.
You can download PFsense with this link.
Since it is based on Linux, the hardware requirements for running PFSense are low.
Below is my recommendation for a mini-computer
Palo Alto Networks Firewall PA-410
The Palo Alto Networks Firewall PA-410 is a Next-Generation Firewall that supports ML-Powered Threat Detection and Response. This firewall allows remote users to access corporate resources from anywhere in the world securely. The PA-410 firewall also includes eight ports allowing easy connection to other network devices.
The Palo Alto Networks Firewall PA-410 is powered by PANOS, which automatically classifies all traffic and ties it to the user, regardless of location or device type.
Unifi Security Gateway Pro
The Ubiquiti Networks UniFi Security Gateway PRO is a high-performance router that delivers robust security and advanced routing features. It is part of the UniFi Enterprise System, which makes it easy to build a secure and flexible network. The Unifi Security Gateway PRO has two combinations of SFP/RJ45 ports that provide fiber connectivity options capable of up to 1 Gbps. Advanced hardware-accelerated packet forwarding delivers 1+ million packets per second performance. The Unifi Security Gateway PRO also offers four independent Ethernet ports with a full line rate of 4 Gbps.
My thoughts and my favorite homelab or small business Firewall
Regarding the best homelab firewalls, the Fortigate 40F or 60F is my recommendation. It offers a comprehensive range of security measures to keep your network safe. The WebGUI makes it easy to configure the settings, and you can switch to the CLI through the same interface. Not only is this cost-effective, but it's quick and convenient too.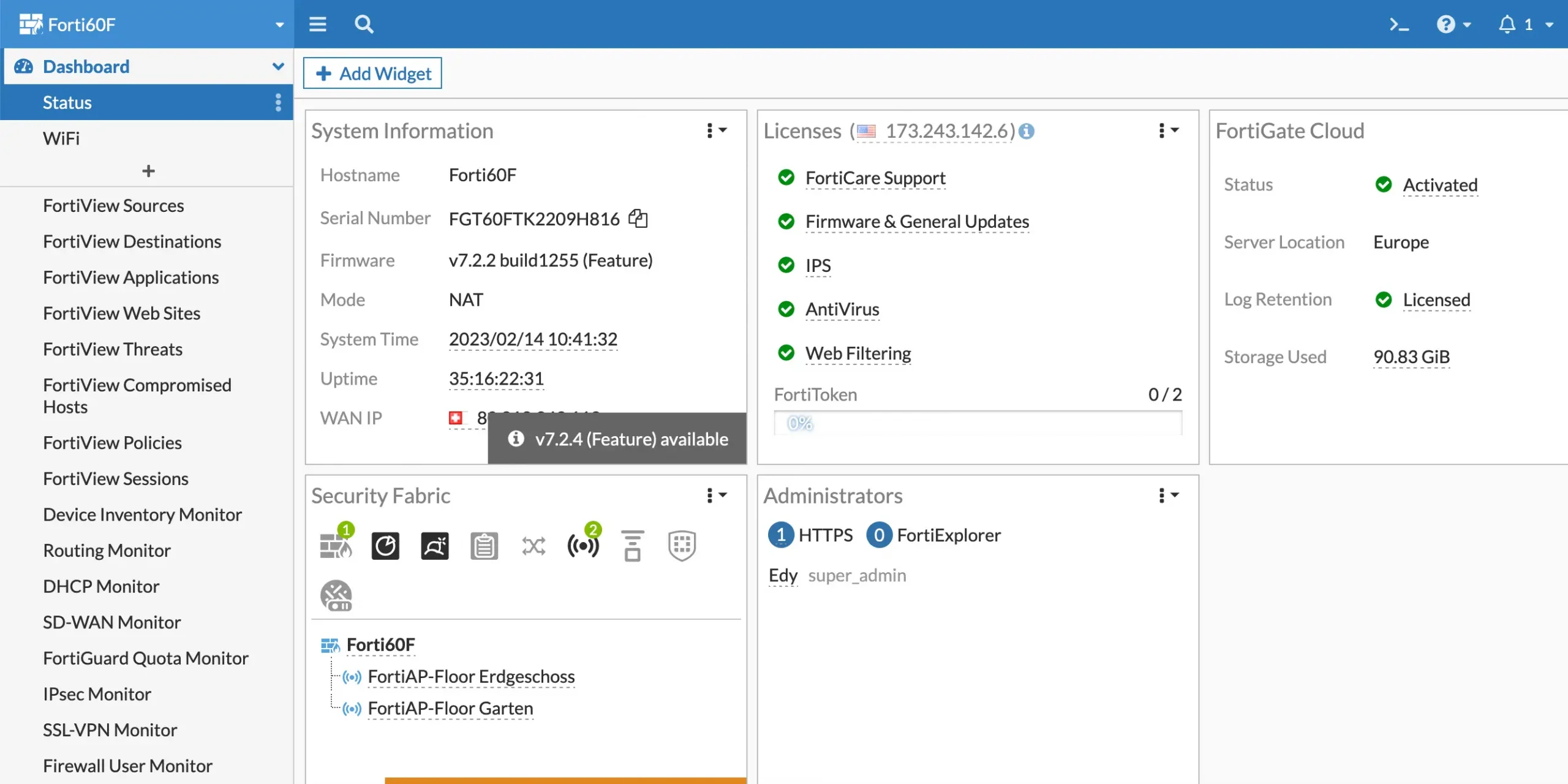 Fortigate offers subscription bundles for their firewalls to provide peace of mind and ensure that your network is always secure. These bundles include a wide range of features, such as 24/7 support and real-time threat intelligence, advanced malware protection, application control, intrusion prevention, and web filtering services. With these subscriptions, you can stay ahead of the latest threats without worrying about manually managing the Firewall.
FAQ
What is a homelab
A home lab is an environment in your home where you can practice and improve your specific skills without the risk of affecting production. It's where you can safely perform experiments and tests and fail without consequence, all within the safety and privacy of your own home. With the proper hardware and software, you can create an enterprise-grade lab with endless opportunities for learning and trying out new technologies.
How does firewall hardware work?
Firewall hardware inspects incoming traffic and allows or blocks data packets based on pre-configured security policies, user profiles, and business rules. All data moving across networks comprises packets containing header information, communicating the packet's source, type, and destination.
The Firewall inspects this header information to let in only legitimate traffic. Advanced firewall hardware solutions can go further by enforcing progressive security policies to detect potential malware, zero-day threats, brute force attacks, unauthorized access, and various other security risks.
How can a firewall protect small businesses?
Small businesses use firewall hardware devices and software to enable an end-to-end secured network landscape. The hardware appliance might be built into the router; technically, a portable computing system with firewall software is also considered firewall hardware. It has onboard memory to run security policies, execute business rules, and route traffic.
Do I need a firewall for my homelab or small business?
A firewall in a home lab is necessary, as it provides a means to secure the home network and protect the lab environment from malicious activity or malicious users. In my case, my home lab already runs 24×7, making it a target for hackers.
Can I use a NAS as a firewall?
Yes, you can use a NAS as a firewall. Network-Attached Storage (NAS) is a popular option for a dedicated firewall or router. It usually doesn't require a powerful CPU, but the NAS should have multiple gigabit network ports.
Conclusion
A homelab firewall is a great way to keep your devices and data safe. There are a number of different firewalls on the market, so it's essential to do your research to find the one that best suits your needs. This article has rounded up the seven best homelab firewalls for 2023.
Did you like this article? Please leave a comment below or get in touch with me by email.
Any purchases made from clicks on links to products on this page may result in an affiliate commission for me. 
Please keep in mind that the quantity or price of items can change at any time.
As an Amazon  Associate, I earn from qualifying purchases.
As an Aliexpress Associate, I earn from qualifying purchases. 
Als Amazon-Partner verdiene ich an qualifizierten Verkäufen