How to Use Synology Drive: Share, Sync, Backup – The Complete Tutorial 2022 for your Private Cloud
With the ever-growing popularity of cloud storage solutions like Google Drive, Dropbox, and OneDrive, more and more people are entrusting their precious data to companies they may not even know. If you're looking for a private cloud solution that you can control yourself, Synology Drive is a great option. I look at Synology Drive, how it works, and some key features in this article.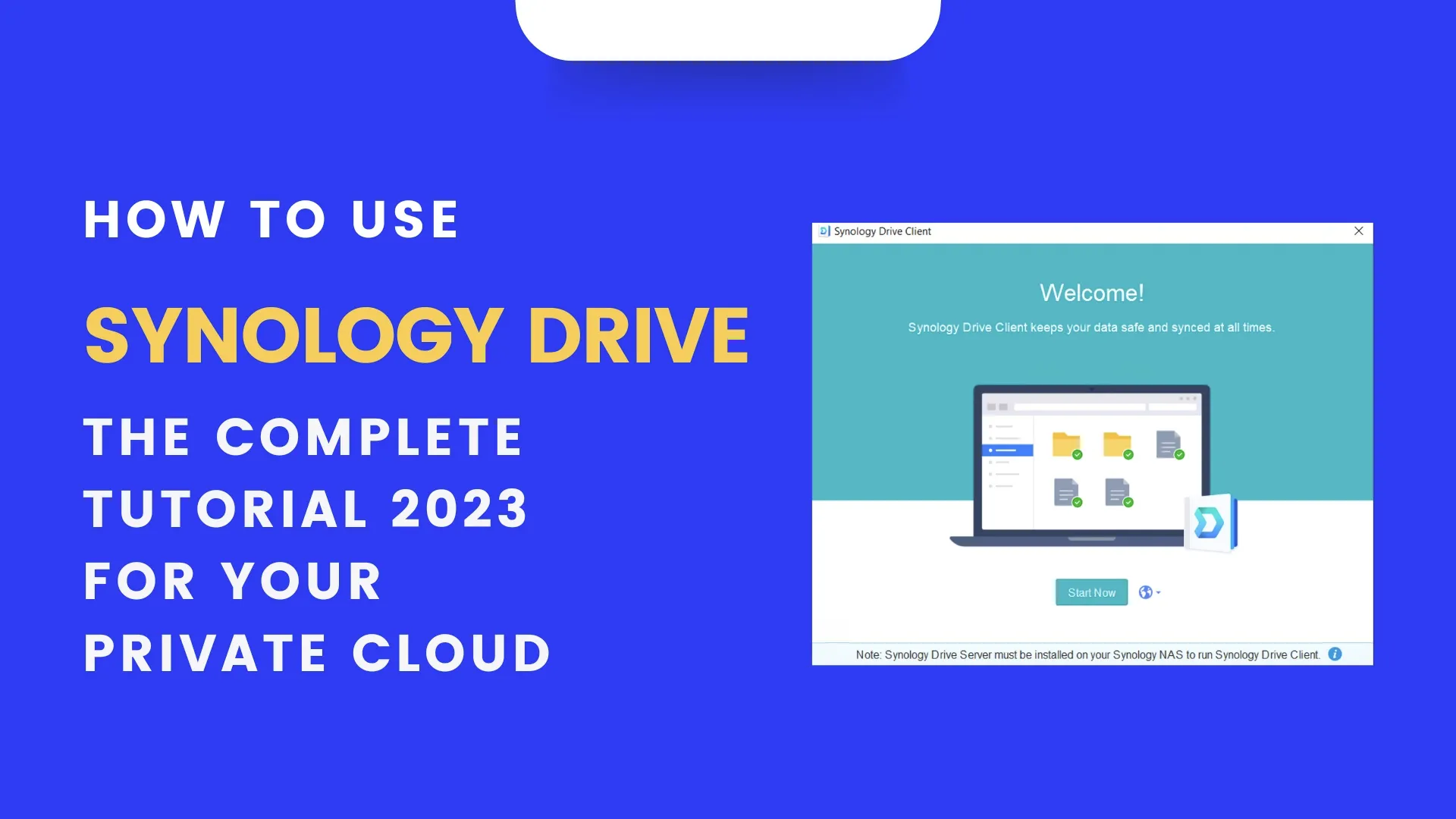 I was excited when I finally got my hands on a Synology NAS device. It is such an innovative and high-quality product that it is perfect for creating your storage management and data management.
Setting up this device took me about 15 minutes, but like all good things, it takes some time to teach yourself how to use the features properly to get the most out of them.
What is Synology Drive?
Synology Drive is a free app that allows you to store and sync your data across multiple devices. The server portion of Synology Drive resides on a Synology NAS, which is a network-attached storage device. It means that you can access your data anywhere in the world with an internet connection. And because the information is stored on your own NAS, you always know where your data is—unlike with other cloud storage solutions where your data could be stored in any number of remote locations.
What are the benefits of using Synology Drive?
Synology Drive is a powerful and versatile tool that can be used for various purposes.
One of the main benefits of Synology Drive is that it offers a great way to back up your essential files. If you ever lose your device or get damaged, you can log in to the Synology NAS and download all of your files again.
Here are just a few of the benefits that Synology Drive offers:
Synology Drive provides an intuitive and customizable interface that makes it easy to manage your files.
Synology Drive allows you to sync your files across multiple devices so that you can access them from anywhere.
Synology Drive offers robust security features to keep your data safe, including encrypted connections and built-in virus protection.
Synology Drive is compatible with many devices so that you can use it on your computer, smartphone, or tablet.
Synology Drive is an excellent option for anyone who needs an easy-to-use, reliable, and secure way to store and share their files. Synology Drive will meet your needs and exceed your expectations, thanks to its many features and benefits.
It is a centralized data storage solution that helps businesses or solopreneurs keep critical data safe and accessible.
What are the features of Synology Drive?
Synology Drive is a handy app that provides an all-in-one solution for file management, collaboration, and data synchronization. The app offers a variety of features that make it ideal for personal and business use.
Shared folders,
set permissions,
manage file versioning
almost infinite storage space
drag and drop file sharing
real-time file synchronization
end-to-end encryption, data is always protected
Apps available for all platforms, Windows, MAC, Linux, iOS, or Android
With its intuitive interface and many features, Synology Drive is the ideal solution for anyone who wants an easy-to-use and reliable way to store their data.
Synology Drive works by creating a folder on your Synology NAS and sharing it with the people you want to collaborate with. Then, each person can install the Synology Drive client on their device and connect to the shared folder. Any changes to files in the shared folder will automatically synchronize across all devices.
Which Synology NAS device supports Synology Drive?
It is available on Synology NAS devices that support Synology DSM 6.2.3 or higher. To check if your device supports Synology Drive, go to the Package Center and search for the Synology Drive Server app.
I wrote a separate article about which Synology NAS drive is the best choice.
Synology Drive requires in addition.
Synology Universal Search
Synology Application Service
Synology Universal Viewer
If you haven't installed the apps yet, package centers will do so automatically.
Synology Drive was formerly named Synology Cloud Station. To avoid naming confusion and incompatibility issues, upgrading clients that still use the old version is highly recommended.
The good news is that Synology Drive runs on most Synology NAS devices without any problem. Whether you have a home, small business, or enterprise NAS.
Sale
Synology 2-Bay DiskStation DS723+ (Diskless)
Up to 471/225 MB/s sequential read/write throughput makes file operations quick and efficient
Leverage built-in file and photo management, dataprotection, virtualization, and surveillance solutions
What steps are needed to deploy the Synology Drive app on the Synology NAS Server?
Installation
1. Log in to DSM as an administrator.
2. Go to Main Menu > Package Center > All Packages.
3. Search for "Synology Drive Server" and click Install.
4. Follow the instructions in the installation wizard to complete the installation process.
Configuration: Share documents / Team Folders:
Launch "Synology Drive Admin Console" from the Main Menu
Go to "Team Folders" on the left; this window will show all your shared folders configured on your Synology NAS.
Select a folder and click the "enable" button. You can set the version control and the rotation policy.
You will then receive a prompt that the permission defined for the shared folder will take precedence. For example, if a user has only read-only share permission for the folder, the user won't be able to sync.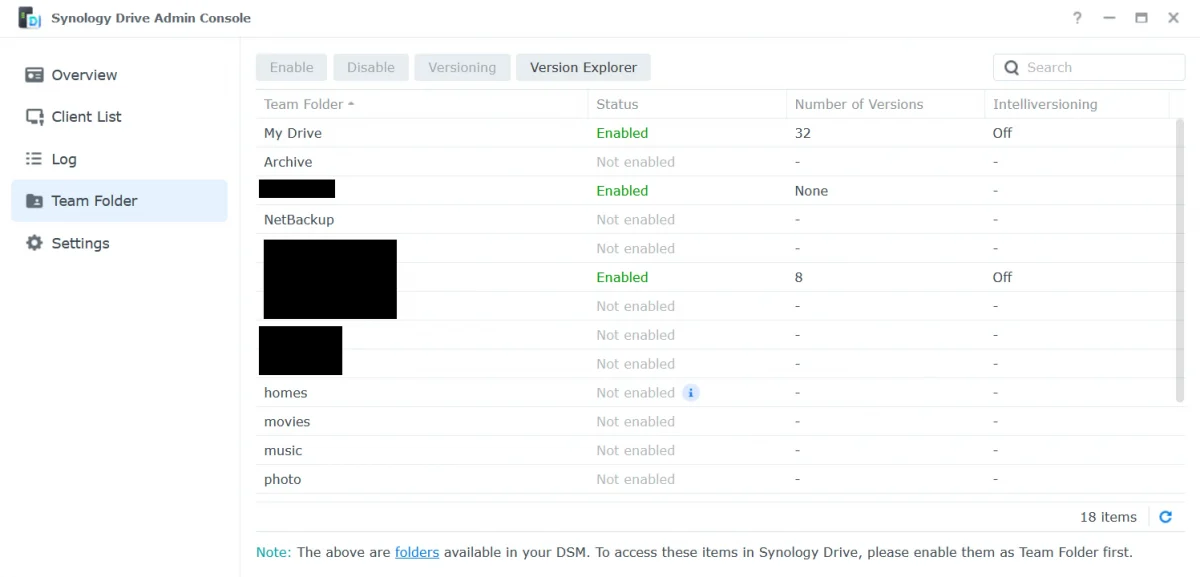 In order to be able to access the Synology device from the internet, you need to open these TCP ports for forwarding on the firewall.
80 (link sharing), 443 (link sharing), 5000 (HTTP), 5001 (HTTPS), 6690 (file syncing)
What networks ports are used by DSM services? Here is the knowledge base article.
How do I create a Synology drive client account?
In order to create a Synology account or login ID, log in to your Synology NAS as an administrator,
Open Control Panel
Go to User & Group
Click the "create" button and follow the wizard
The wizard will also prompt you to give the user permission for the folder you want to use with Synology drive.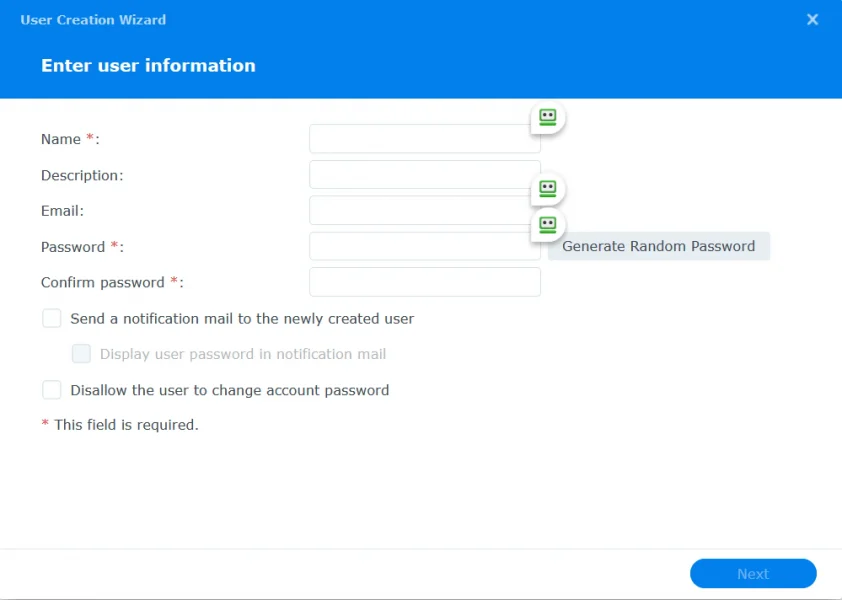 How to install the Synology Apps?
Desktop app
-A computer running Windows 7 or higher or macOS 10.11 or higher
An active internet connection
A Synology account
Click here for the Synology knowledge base article with the latest requirements for your DSM version.
Installation process:
1. Download the Synology Drive client for your computer from the Synology Download Center.
2. Double-click the downloaded file and follow the instructions in the installation wizard to complete the installation.
3. Once installed, launch Drive and log in with your Synology account to start using it.
Configuration: Once you've logged in, you'll be asked which folders you want to sync. You can also change advanced settings like bandwidth throttling and proxy settings.
Tablets
1. Go to the App Store on your tablet and search for "Synology Drive Client."
2. Tap the "GET" button to download and install the app.
3. Launch the app once it's installed.
Phones mobile app
1. Go to the App Store on your iOS device and search for "Synology Drive Client."
2. Tap the "GET" button to download and install the app.
3. Launch the app once it has been installed.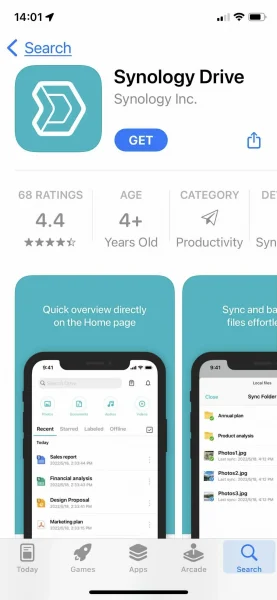 Web app / set up a web address to access anywhere.
You are also able to access Synology from a web browser. You need to know the web address and the port it listens to, usually 5000 for HTTP or 5001 for HTTPS. It is handy in case your computer is unavailable. It's not the best way, but fine in an emergency case.
How to use Synology Drive Client to manage your private cloud?
Synology Drive is a great way to manage your private cloud. I made some screenshots for a better understanding of the process. Once you have the client installed on your windows or mac machine, follow the installation wizard.
The first step is to create a folder and a Synology user. All you need to know is the external address to reach your Synology.
The NAS must be accessible over the internet. You can use Synology Drive to keep all of your files in one place and access them from anywhere.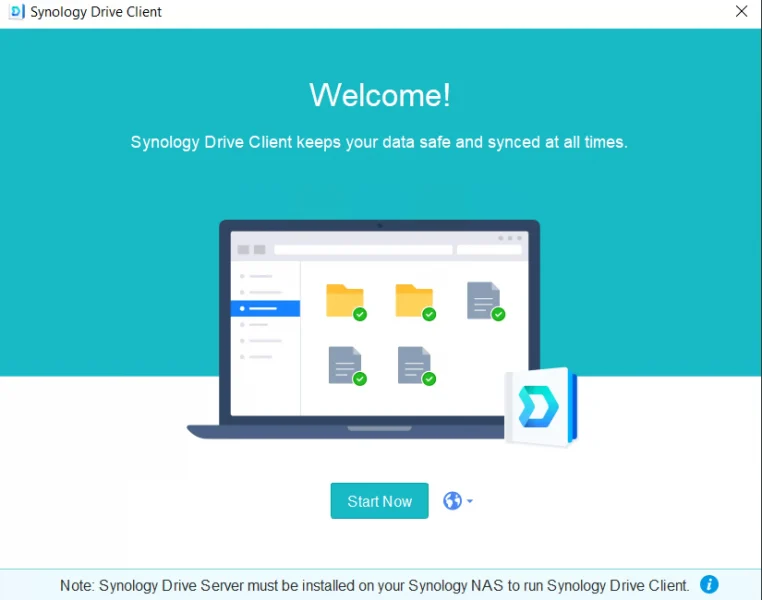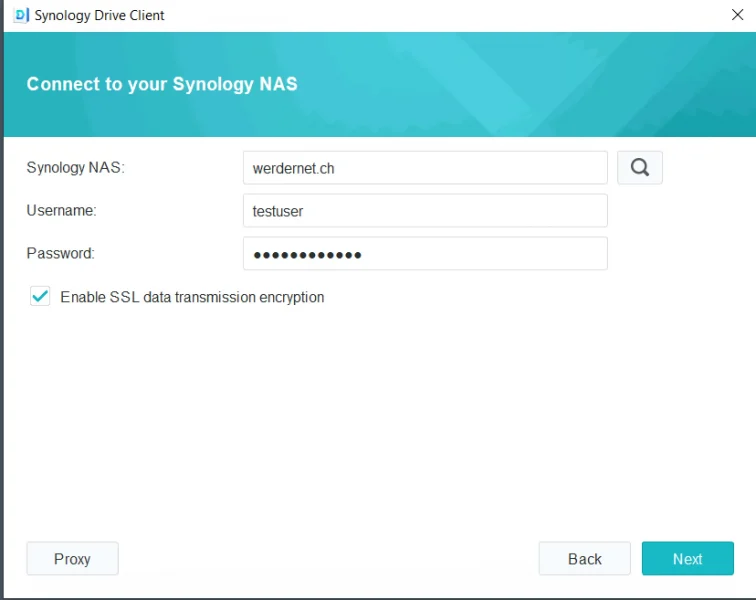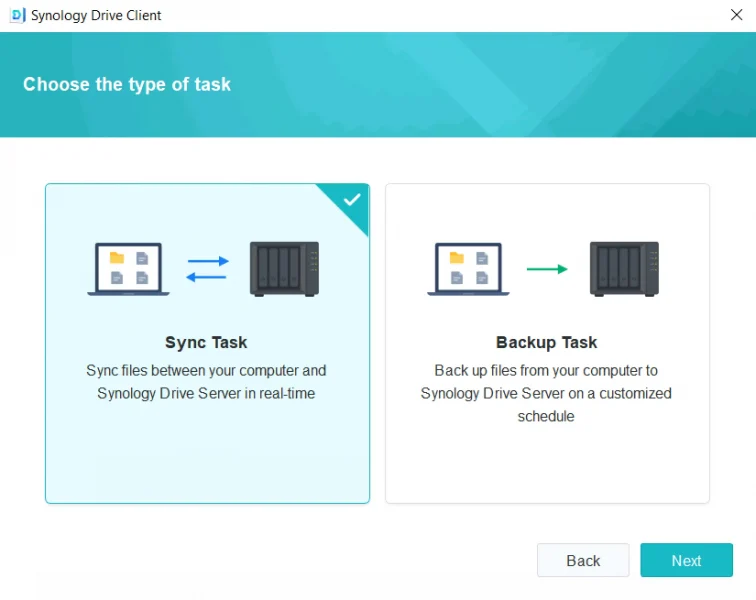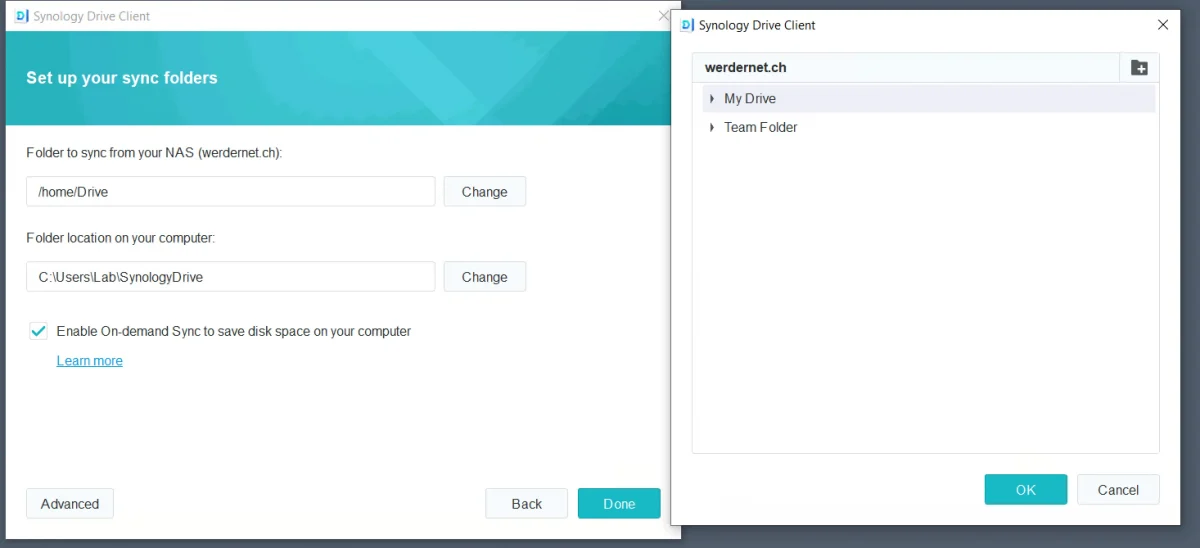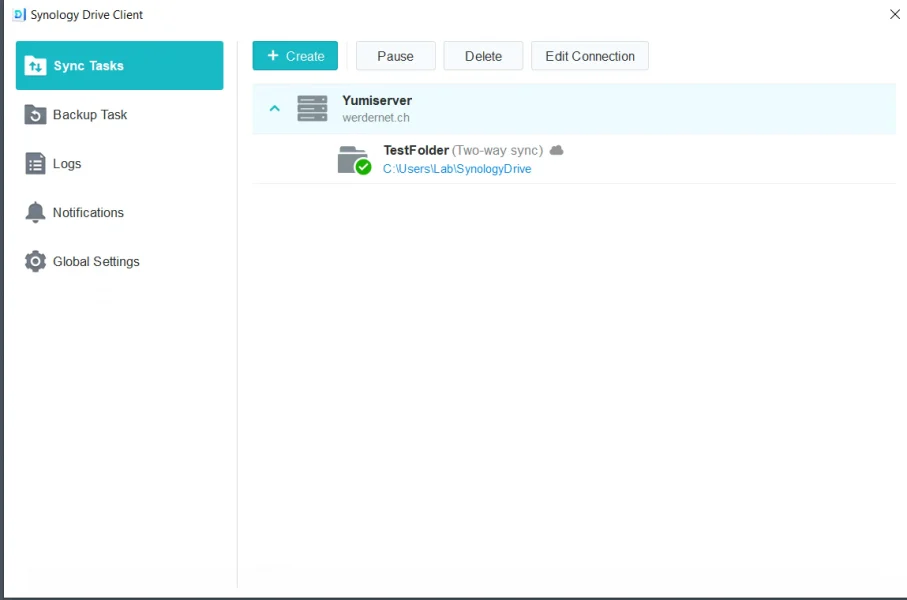 My Synology article series
What exactly is a Synology account?
Synology provides the Synology account for ease of use to make your NAS accessible from the internet. A Synology account and a login for your Synology device are different. See the official knowledge base article about the difference.
The Synology Account web platform provides users with access to the following Synology services:
QuickConnect and DDNS services for your Synology Router
Software license management
eNews subscription
Purchase history of Synology products
How do the security and share permissions work for Cloud Storage?
Synology Drive allows your Synology NAS to become a private cloud file server. It supports multiple file permission models, so you can control who has access to which files.
The security and share permissions for Cloud Storage work as follows:
Synology Drive uses the same credentials as your Synology NAS, so any user with a Synology account can access your Synology NAS and Synology Drive. By default, all users have read-only access to the root folder of Synology Drive. You can change the permissions for individual folders and files or create shared folders with specific permissions for each user.
You can also enable object-level permission control, which allows you to granular control who has access to specific objects (such as files or folders) in Synology Drive.
I would refrain from using a Synology account with DDNS due to security and privacy concerns.
What are the privacy features of Synology Drive?
Synology Drive provides several features to help protect user privacy.
First and foremost, all data is stored locally on the user's Synology NAS. Synology Drive does not upload or sync any data to Synology servers unless the user explicitly enables it. In addition, Synology Drive offers two-factor authentication for added security.
In addition, Synology Drive offers the ability to encrypt data at rest and in transit. It prevents unauthorized users from being able to read or modify the data.
Therefore, users concerned about maintaining their privacy can use Synology Drive confidently.
Finally, Synology Drive provides an activity log that tracks all user activity. The log lets administrators see which files and when users are accessing which. As a result, Synology Drive offers many features that help to protect user data privacy.
What are the known limits with Synology Drive?
There are some known limits with Synology Drive. For example, the maximum file size that can be uploaded is 2GB, and files cannot be larger than 4GB when syncing across devices. In addition, Synology Drive does not support the synchronization of system files or folders, such as the Windows Registry or the Mac OS X System Preferences.
Synology Drive app is not currently able to search for specific file types or folders. Furthermore, Synology Drive does not offer support for two-factor authentication or encrypted folders. It is also not possible to protect files or folders with a password.
Synology is constantly improving its products, so these limitations will likely be addressed in future updates. Despite these limitations, Synology Drive remains an excellent option for reliable and user-friendly file storage and sharing solutions.
My recommendation for Storage Management, Storage use and Backup
I recommend using at least a Synology NAS with two bays in a RAID 1 setup. This will give you some level of protection against drive failure. If you buy a Synology with more bays, I recommend using a RAID5 setup. A RAID setup enables replacing a hard drive without powering down the system.
The NAS permanently monitors the drives' health and will send you an email alert in case of a problem. Make sure the notification alert is correctly installed. With the storage manager app, you can view the health of the hard drives at any time.
I recommend using Synology's Hyper backup app to back up your Synology Drive. Synology's Hyper backup app supports multiple backup destinations, including local storage, external storage, and Synology C2. In addition, Synology's Hyper backup app offers a variety of features to help you manage your backups, such as file versioning, incremental backups, and more.
Conclusion
Synology Drive is a handy application that allows you to quickly and easily share files with your colleagues. The setup process is simple, and the app provides a wealth of features to make collaboration easy. If you're looking for an easy way to set up a private cloud storage solution, Synology Drive is definitely worth considering. Have you tried using it? Let me know what you think in the comments, or drop me an email [email protected]. I'd love to hear from you!
Be sure to check out my other article on using Synology Directory Server or WordPress on Synology.
Any purchases made from clicks on links to products on this page may result in an affiliate commission for me. 
Please keep in mind that the quantity or price of items can change at any time.
As an Amazon  Associate, I earn from qualifying purchases.
As an Aliexpress Associate, I earn from qualifying purchases. 
Als Amazon-Partner verdiene ich an qualifizierten Verkäufen