How to install Proxmox Server 8 on a home server 2023
In late June 2023, Proxmox released the new build 8. This article will show you how to install Proxmox Server 8 on a Dell PowerEdge server. But first, I will tell you what Proxmox is and the pros and cons of it.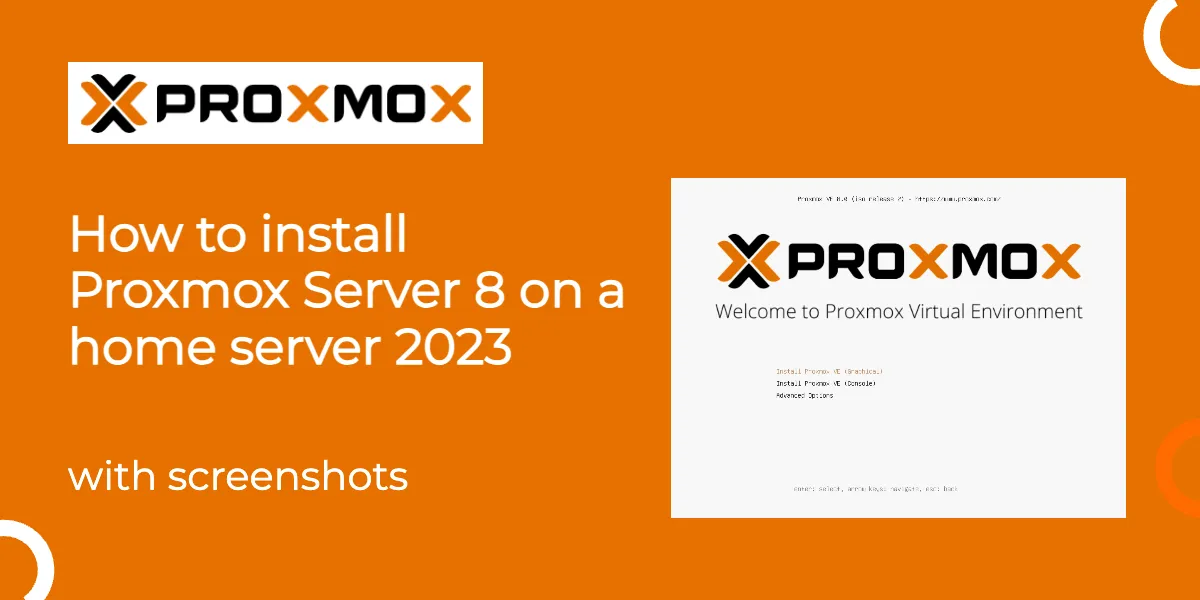 What is Proxmox VE 8?
1. Overview of Proxmox
Proxmox VE 8 is a powerful, open-source server virtualization management solution that you can easily use to host and manage virtual machines (VMs) and containers. It's designed to streamline your virtualization tasks.
Here are some top features of Proxmox VE 8:
Hosting and managing VMs and containers
Lightweight LXC containers
VM full system capabilities with dedicated OS and resources
User-friendly web interface for managing VMs/containers
Diverse storage and network options such as LVM, iSCSI, NFS, and ZFS
High availability and clustering capabilities.
From managing your VMs and containers to handling storage and network settings, Proxmox VE 8 makes these tasks straightforward, all from a single, web-based platform.
The Best AI Content Creator
The Alternative to ChatGPT
Pros of Proxmox
Opting for Proxmox VE 8 can supercharge your server virtualization management. Here's why you should consider making the switch.
Cost-effective: Save on license fees while enjoying rich functionality.
Versatile Virtualization: Run both full VMs and lightweight containers.
Local Storage Options: Supports LVM, directories, and ZFS.
Solid Network Features: Get advanced capabilities like VLAN tagging and network bonding.
Web Interface: Makes managing VMs, containers, storage systems, and networks a breeze.
Cons of Proxmox
Understanding the downsides of Proxmox VE 8 is as crucial as getting to know its perks. It's essential to ensure its drawbacks won't impact your needs or work setup.
Proxmox VE 8 disappointingly lacks comprehensive documentation, which can make troubleshooting tricky.
Its GUI might not be the most user-friendly for beginners, with quite a learning curve.
Research required for problem-solving: On several occasions, users may need to research to solve problems.
Community support and documentation: Support in the community forums could be better, and the wiki is sometimes outdated or missing information.
Lack of ARM architecture support: Proxmox VE 8 currently lacks support for ARM architectures.
Please take a moment to peruse my article comparing Proxmox and ESXi.
A step-by-step guide to Install Proxmox 8 on a Home Server in 2023
I will show you screenshots of how to install the Proxmox Server 8 on a Dell Poweredge Server. It's one of my favorite servers for a homelab. I use iDRAC (integrated Dell remote control) to install Proxmox from an ISO conveniently. Of course, you can also install Proxmox from a USB stick. Rufus is my go-to tool for creating a bootable USB stick.
Step 1: Download Proxmox VE ISO Image / create USB stick
Get the latest ISO file from the official Proxmox website.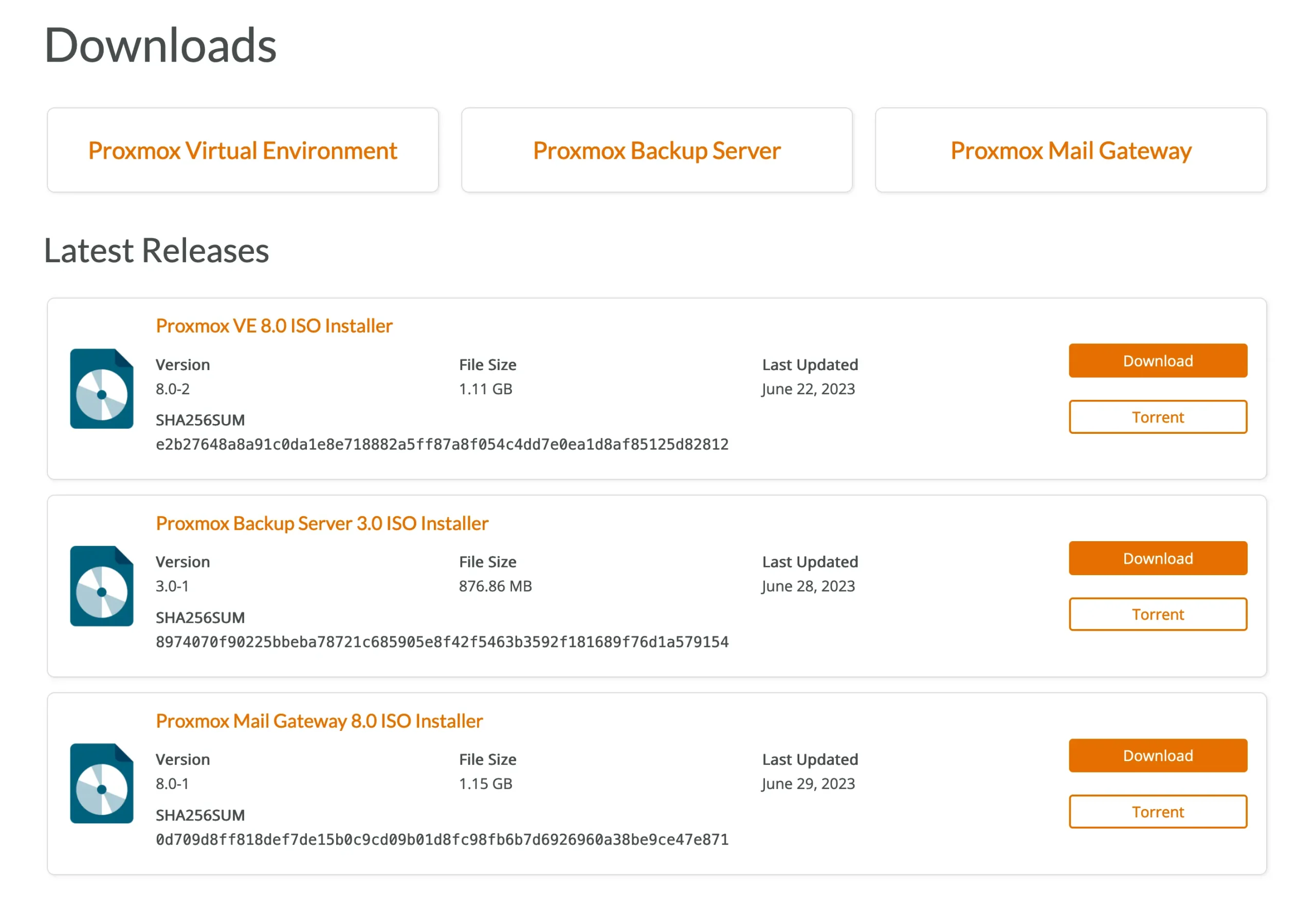 Step 2: Run Proxmox Setup GUI Installer
In my case, I mounted the ISO to Dell iDRAC and booted the server directly from the virtual CD. It works very well with the Dell PowerEdge server and also with HP Proliant servers.
Once it is booted, you should be greeted with this first Proxmox installer screen.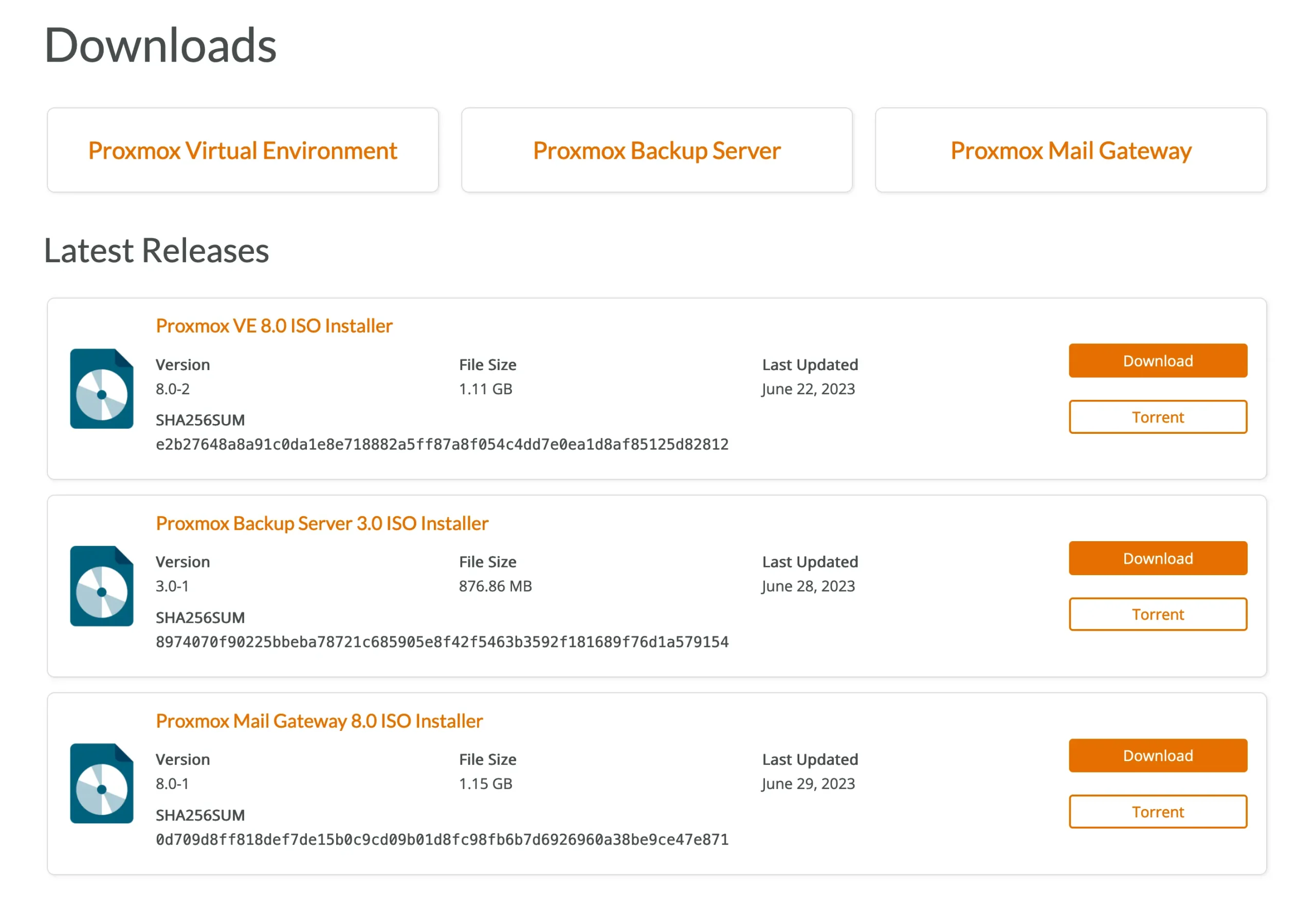 Here you can choose how you want to install Proxmox Server 8. This tutorial is for the graphical interface, so I selected the first option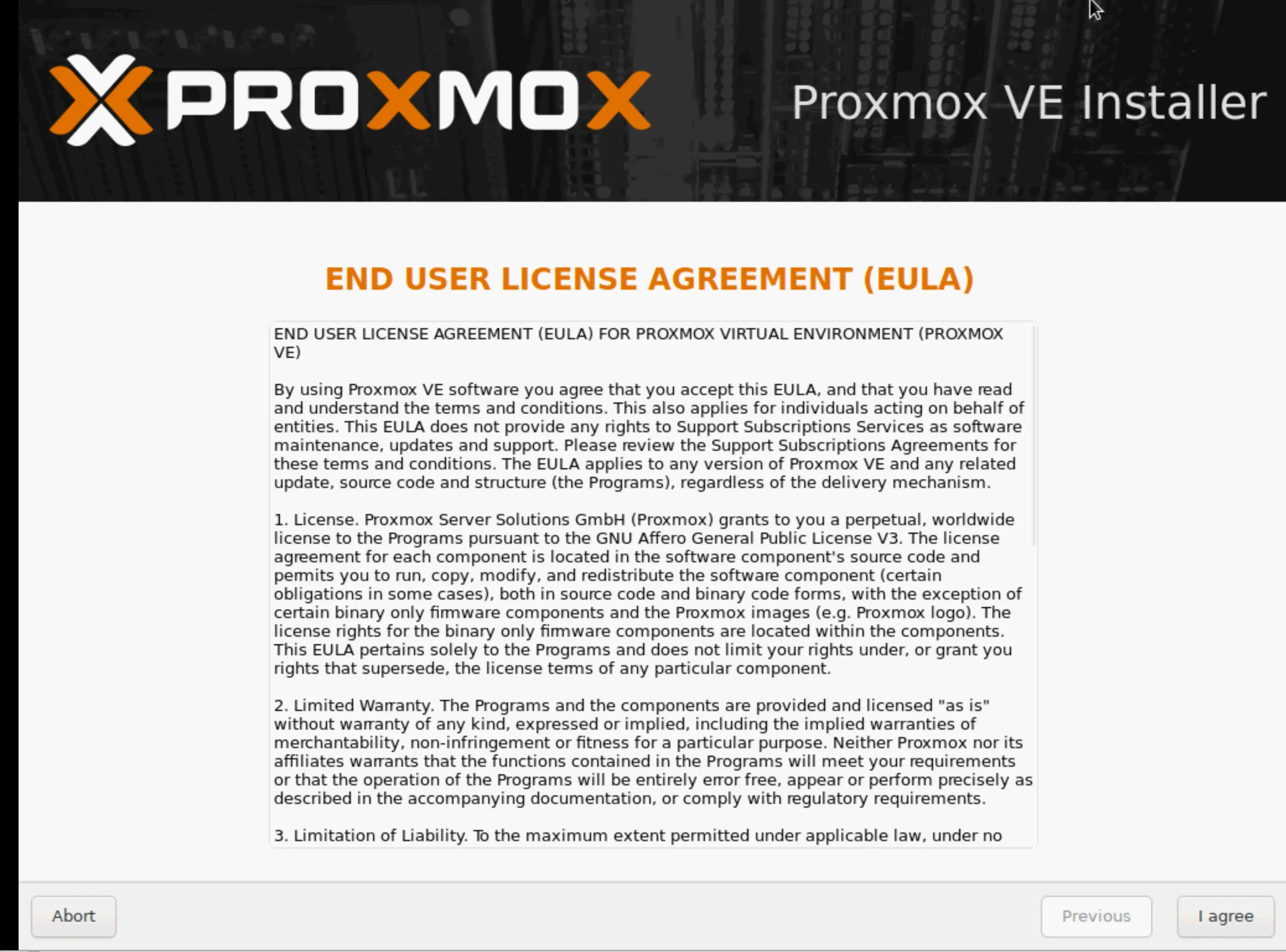 as always, you need to accept the EULA first.
The next screen is choosing the target harddisk. I will describe two scenarios.
Scenario 1: Install with a RAID controller card.
In this scenario, you have a RAID controller card and all the HDs are attached to it.
Scenario 2: Install without a RAID controller card.
In this scenario, all HDs are directly attached to the mainboard or not in a virtual disk group.
My Dell Poweredge server has a PERC RAID controller organized in two disk groups:
2x 300GB SAS Disk (RAID1)
4x 2TB SAS Disk (RAID5)
The Proxmox installer recognizes both disk groups and mounts them as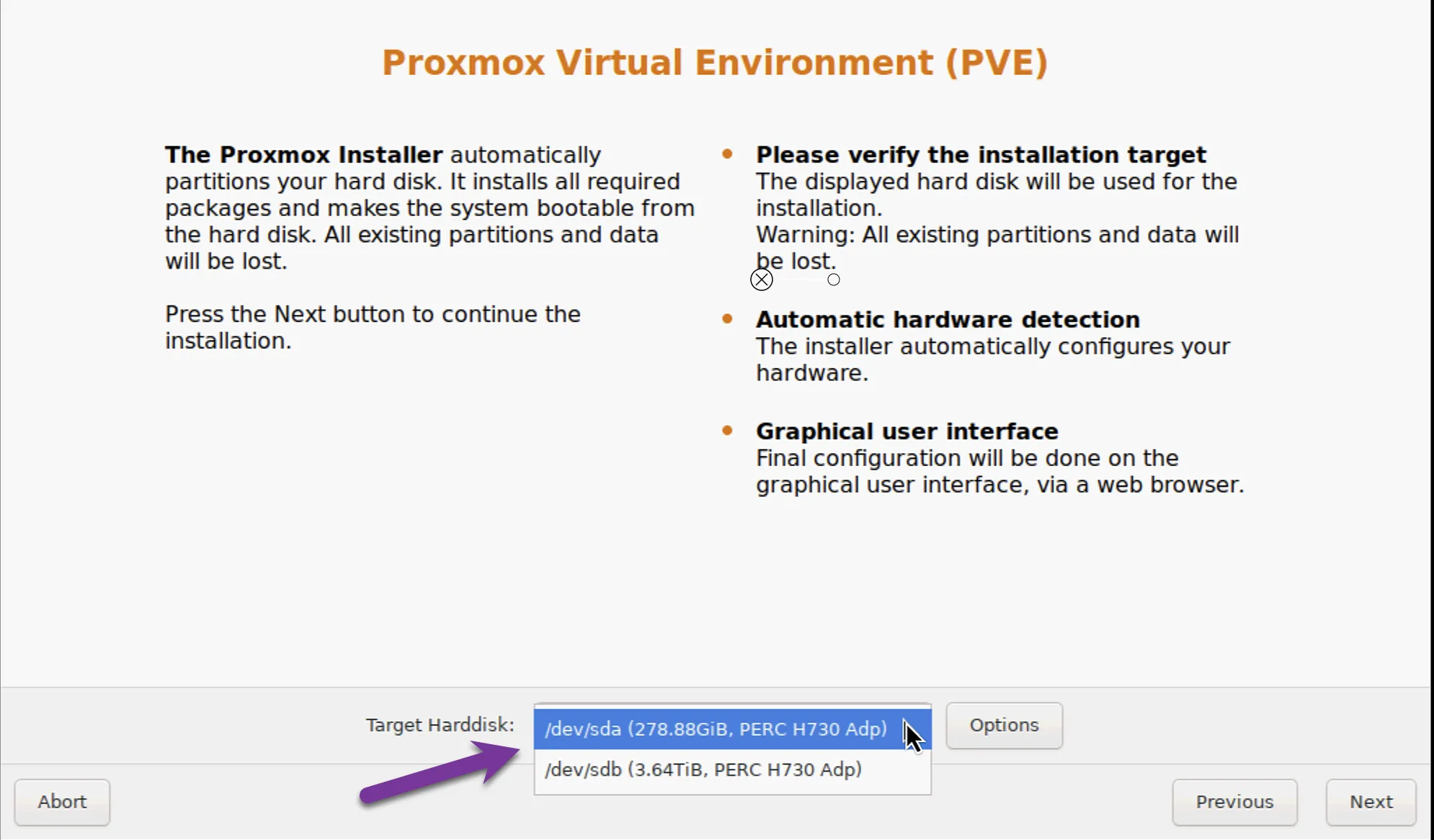 If you click the Options button, you see this screen
Where you can choose the Proxmox filesystems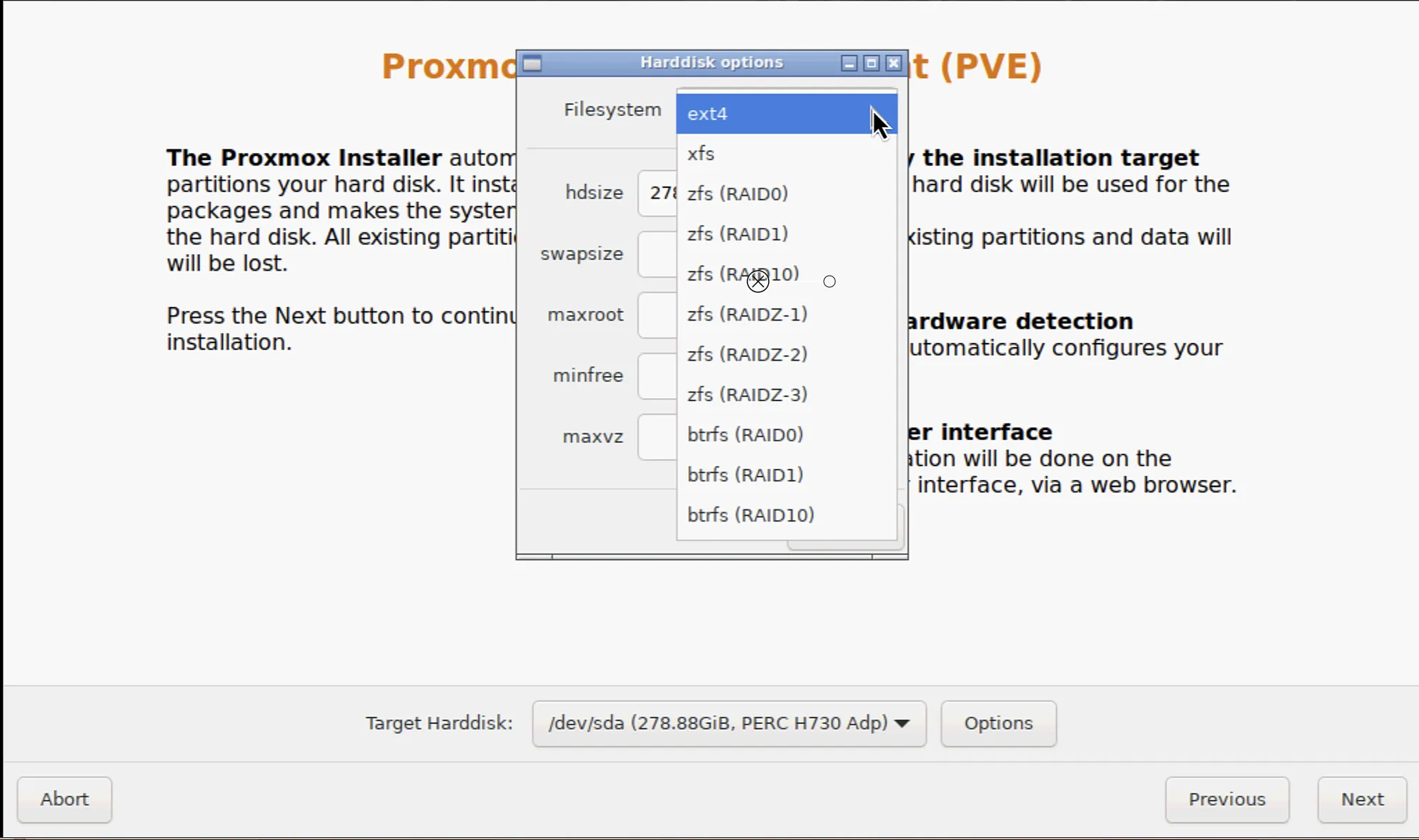 Depending on your choice, assign the disk
ZFS is not recommended with a hardware RAID. Best use ext4 filesystems.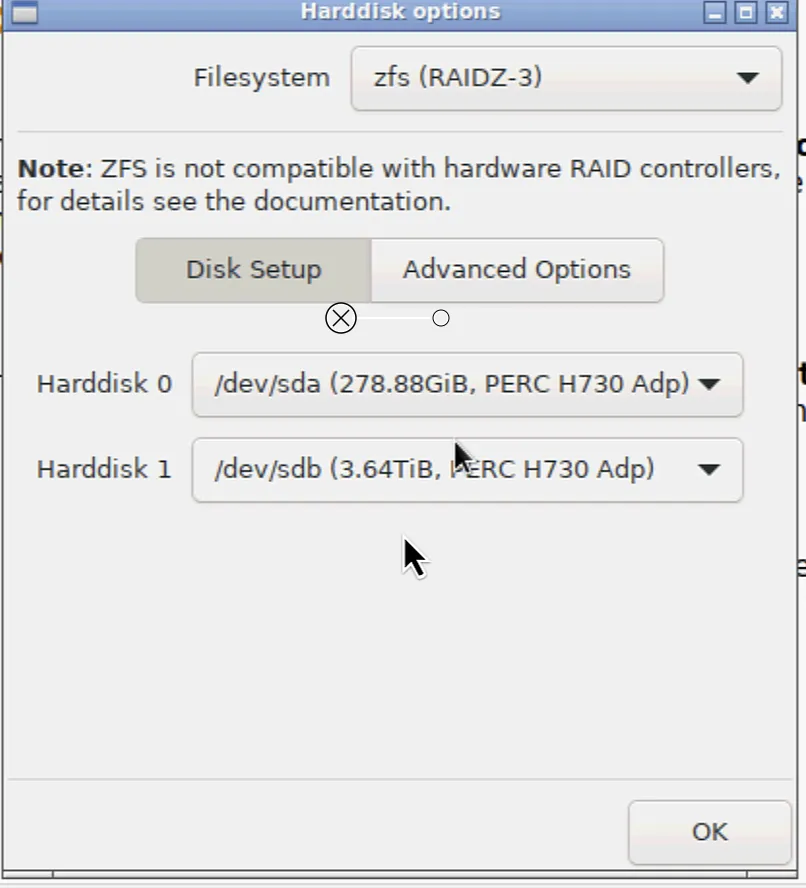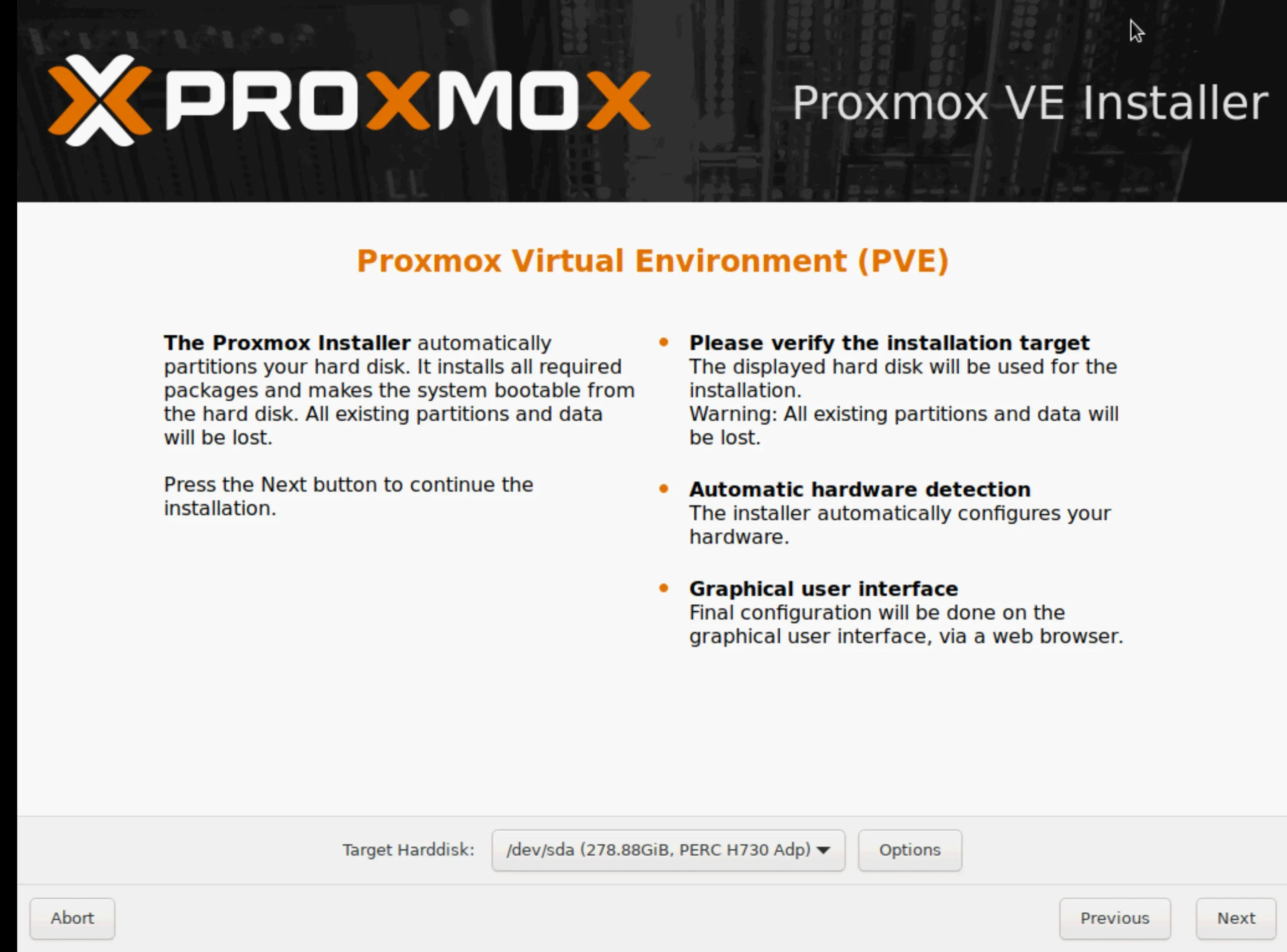 The Proxmox installer recognizes all physical disks. I set my RAID controller in HBA mode.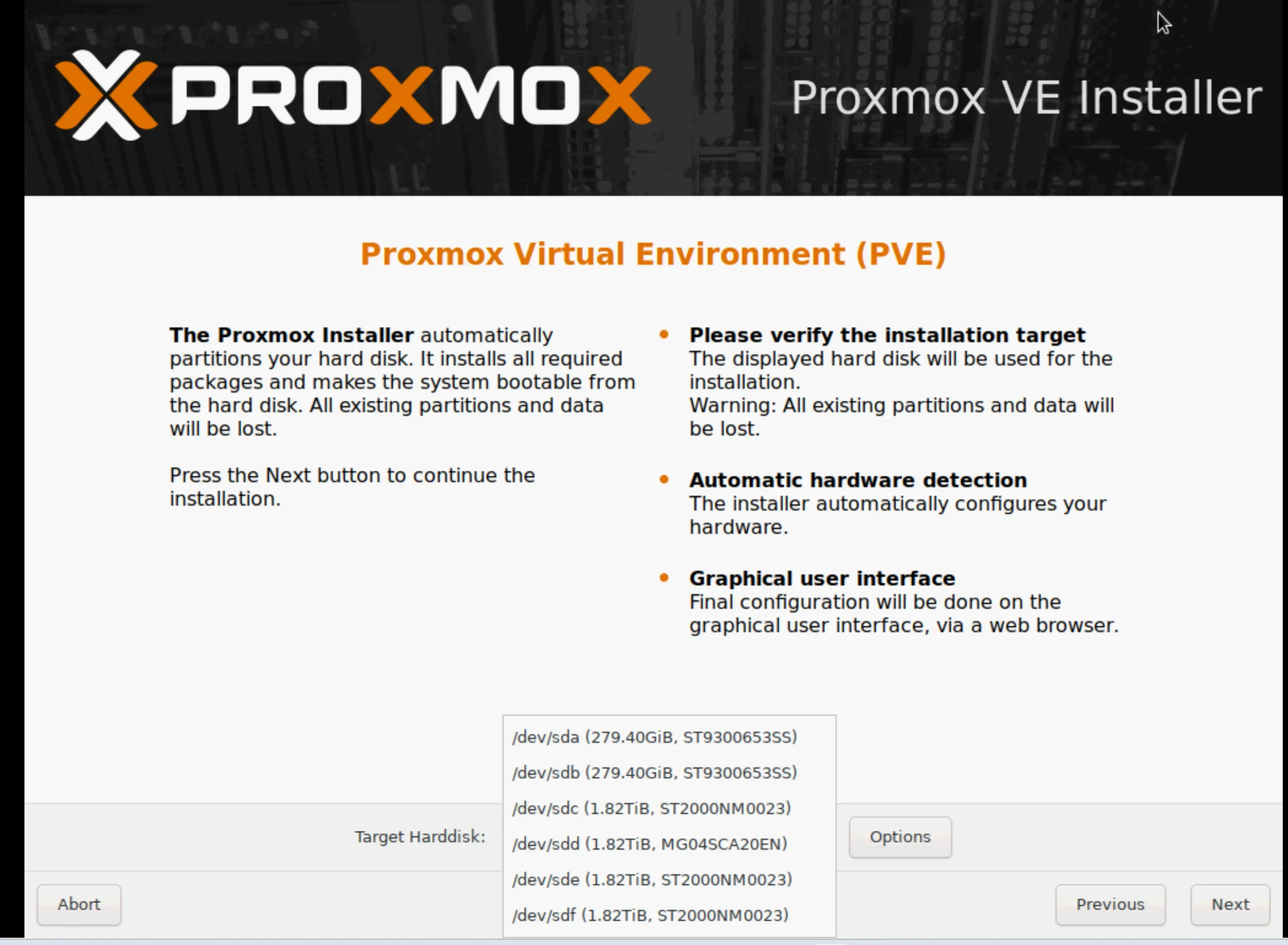 I will install Proxmox with ZFS. It's the recommended filesystem for software raid.
Click the 'Options" button, and here you can select the filesystem. I decided to install the base system to ZFS Raid1 with two disks and not assign the others. Later in the WebGUI, you can create disk groups as well.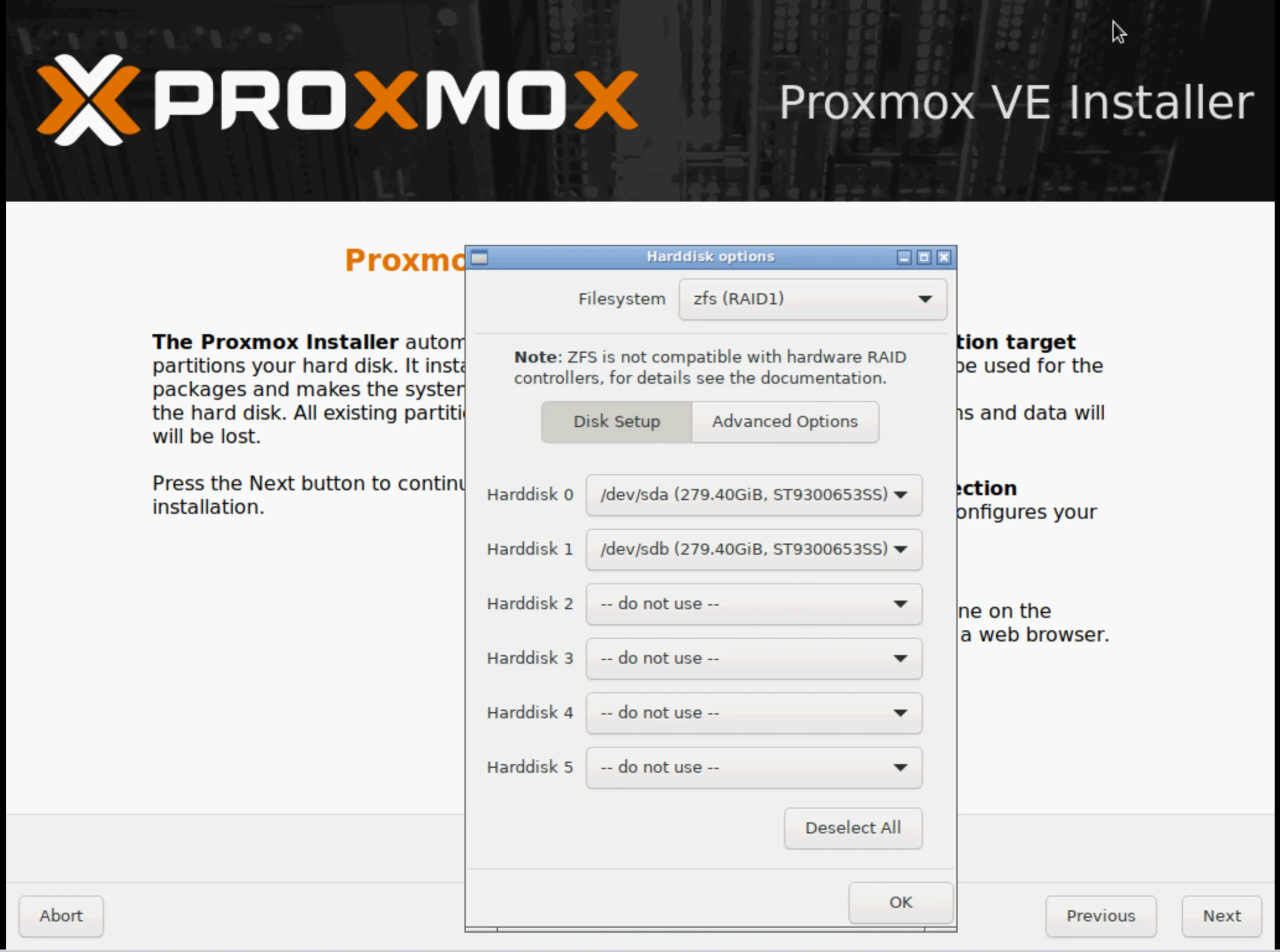 After choosing the target hard disk, we continue with the installation.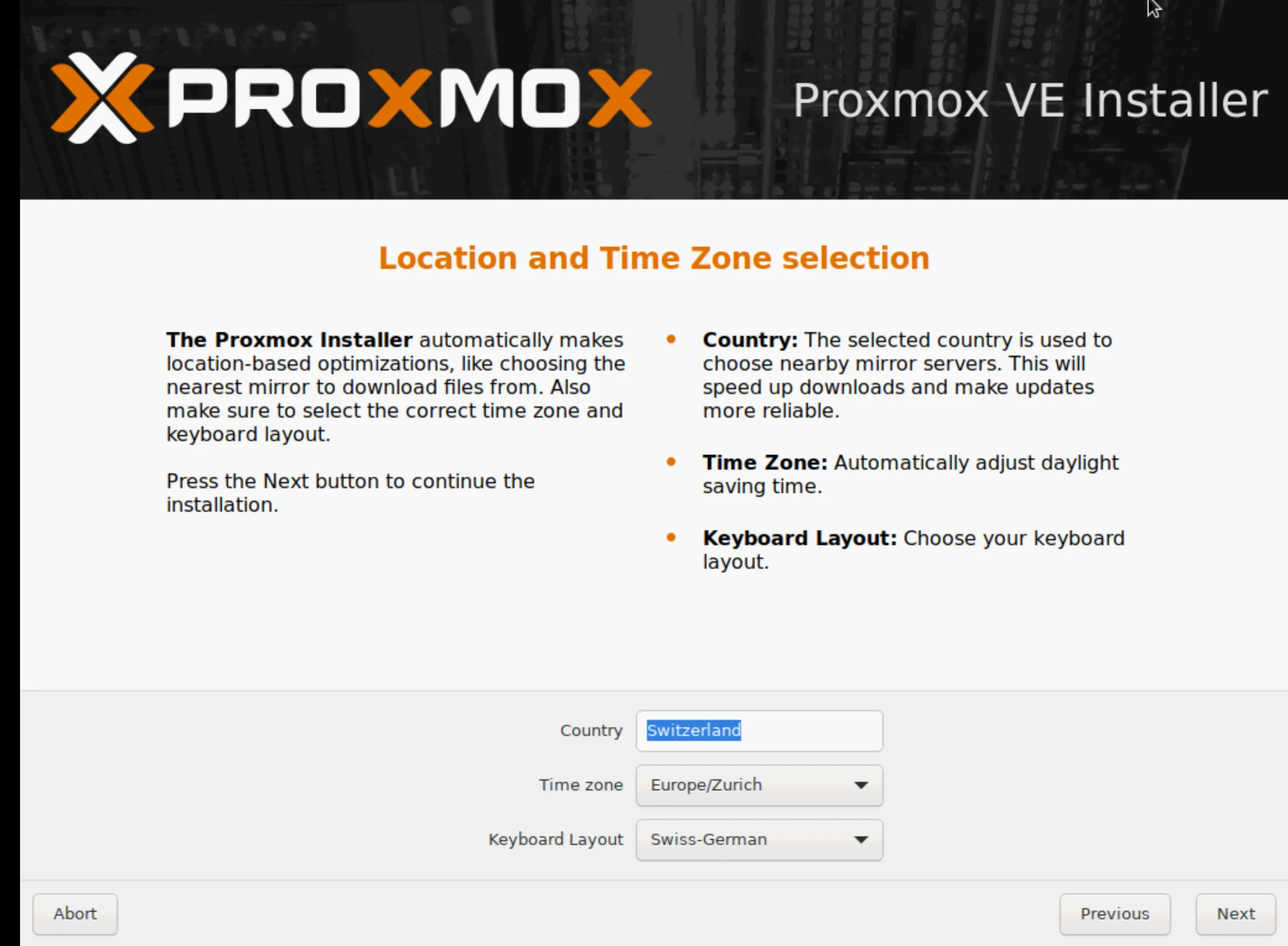 Here type the first letter of your country, and it should appear. Once selected Time zone and Keyboard Layout should match too.
However, in my case, I had some issues here; when I clicked on the 'next' button, a strange pop-up appeared 'Please select a country first.' I tried various things to select the country with the 'enter' key and more but with no luck. I was successful when I clicked the 'previous' button, returning to the previous screen and going back to this screen. My choices were still there; now, I could click the 'next' button and continue the installation wizard. It looks like kind of a bug :).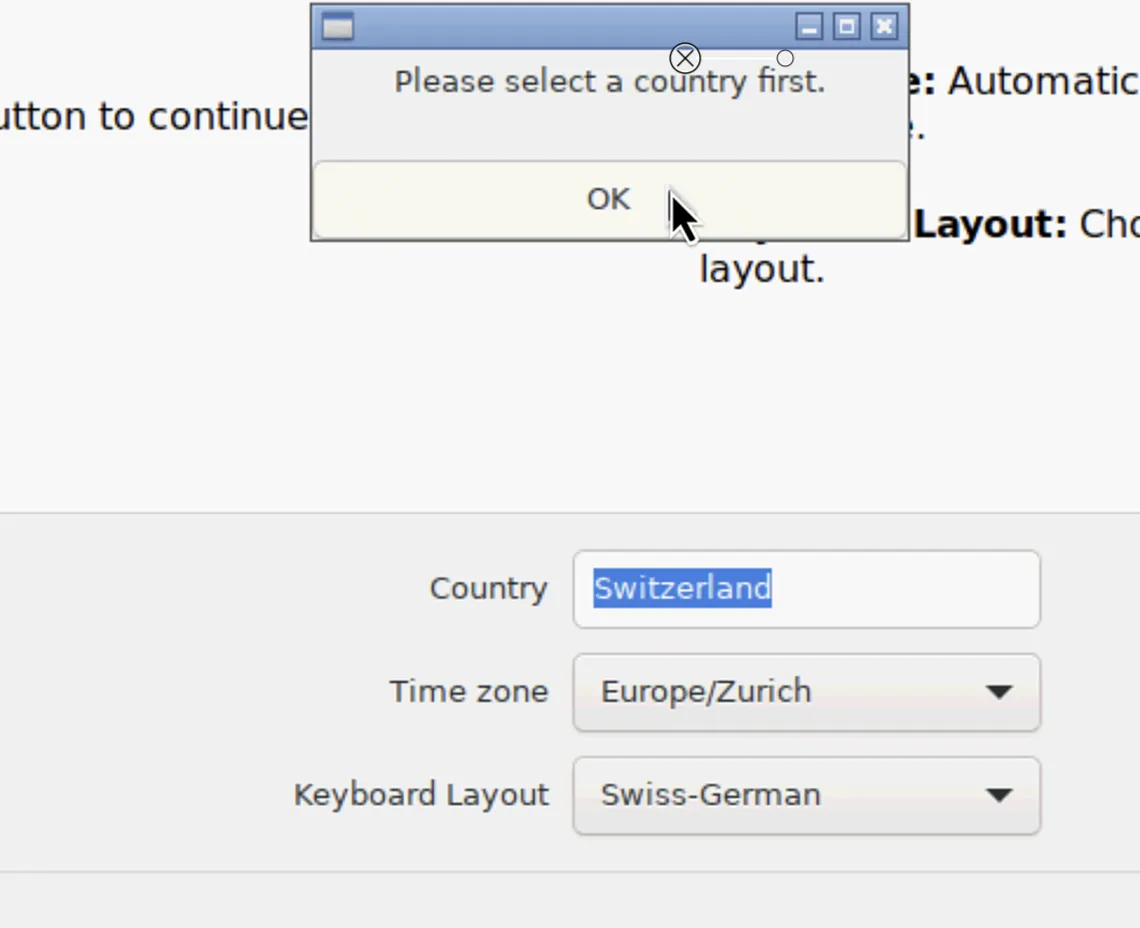 The next screen asks for the root password. Please use a strong one and note it down somewhere. Best in a password manager.
Select which network adapter you want to use for the management interface in this step. Later you need this IP address to connect to the web GUI.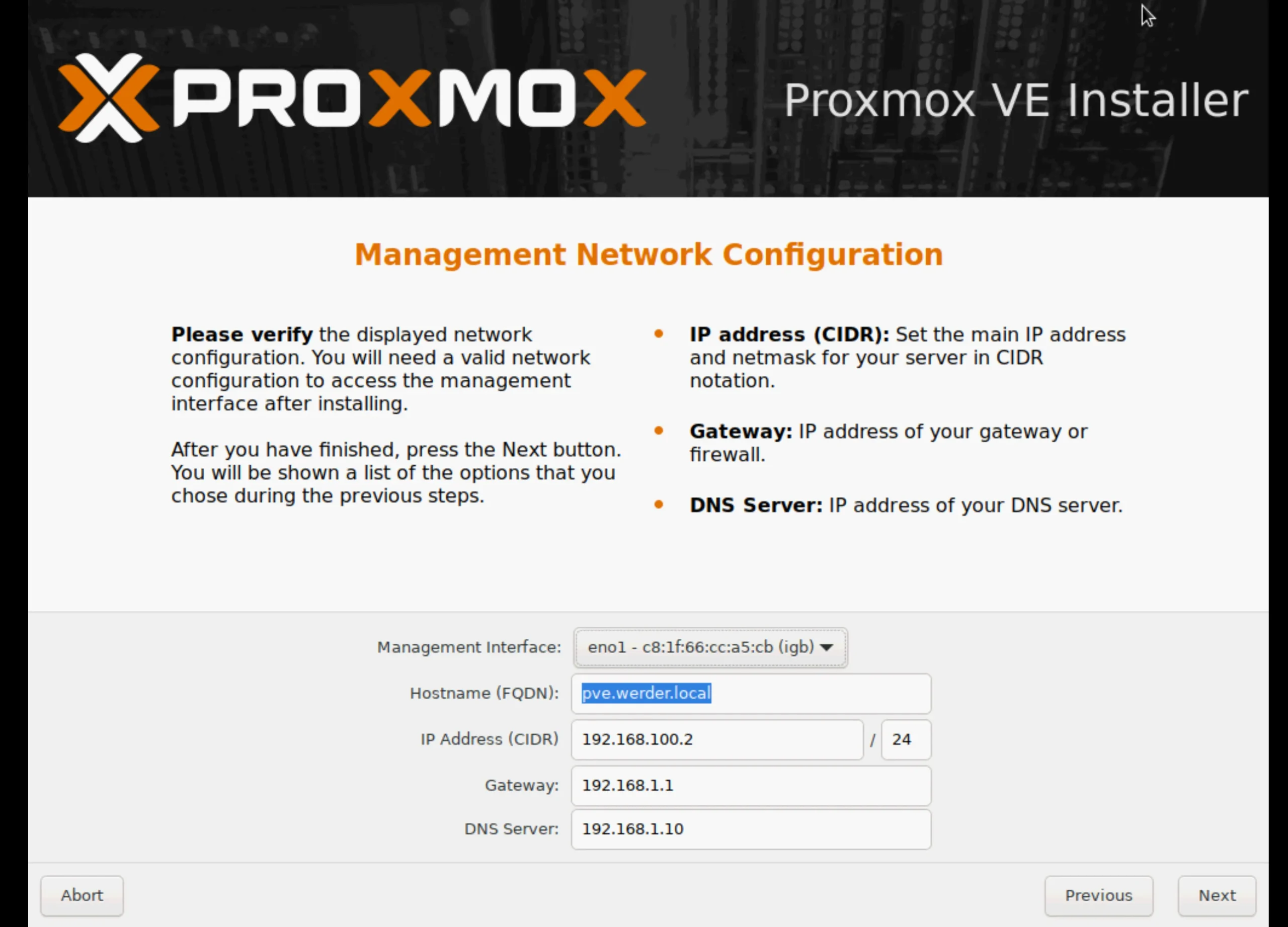 The installer is ready to install Proxmox server. Here you see a summary. You can still go back and adapt the configuration.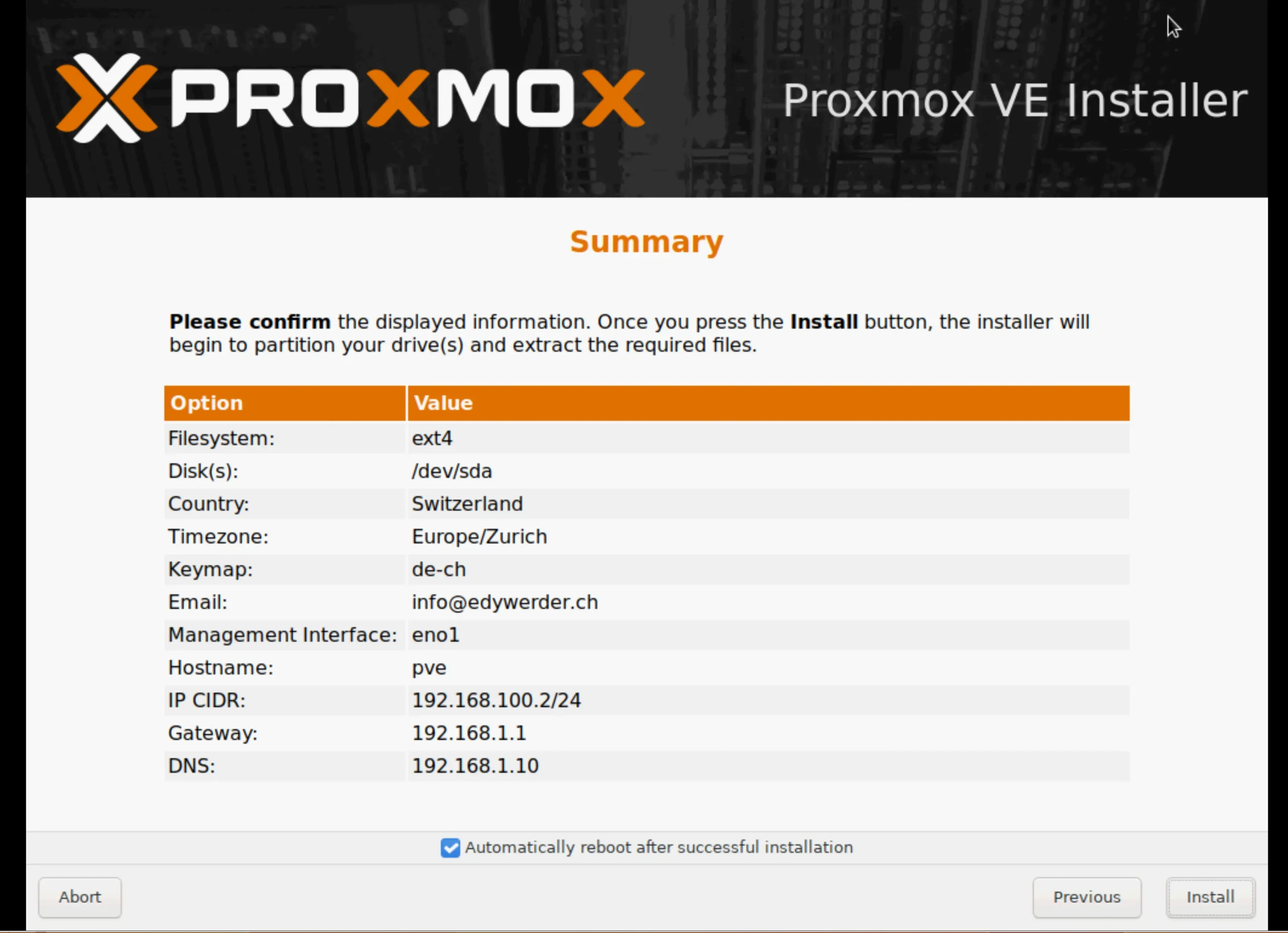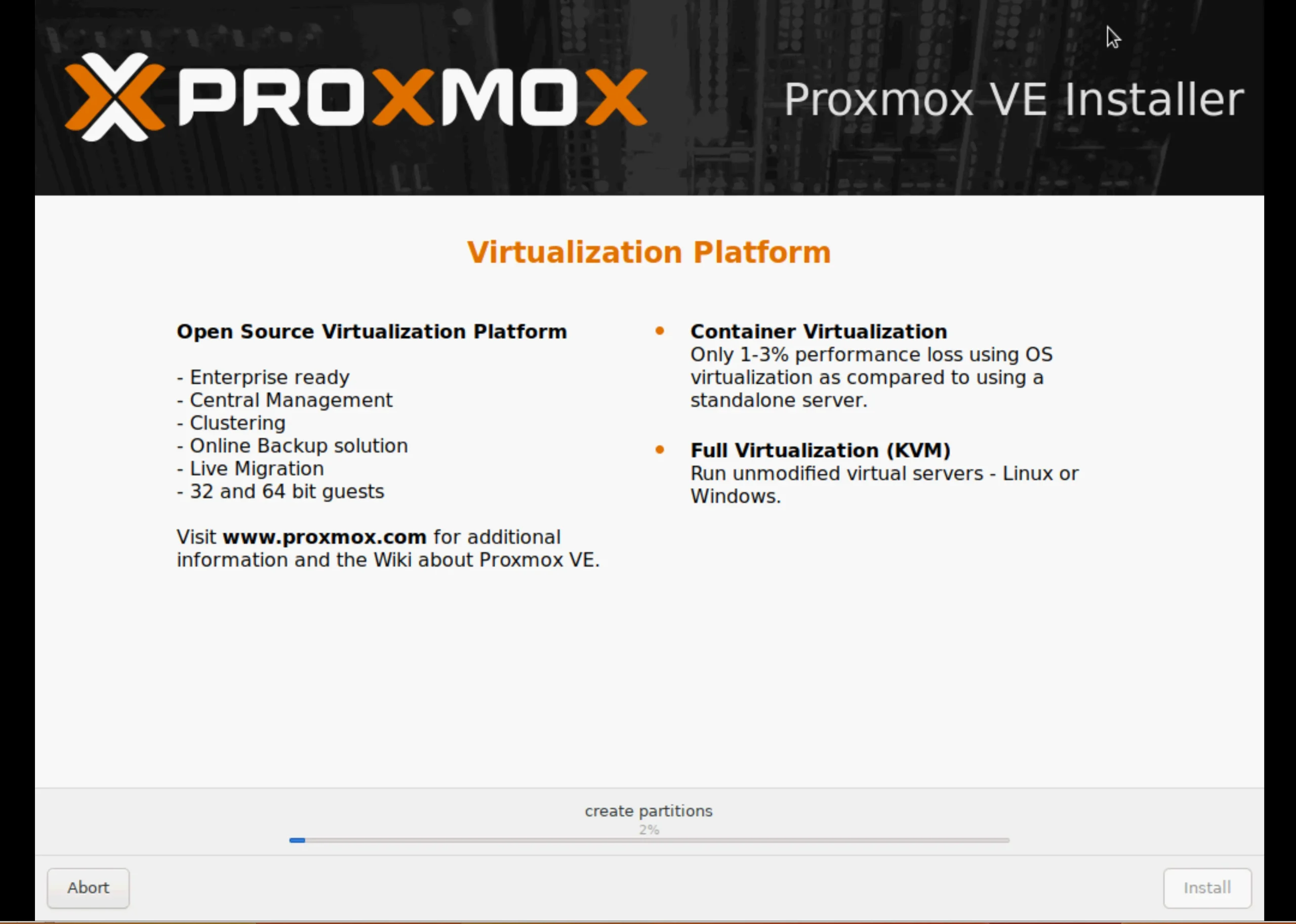 The installation takes 5 to 10 minutes.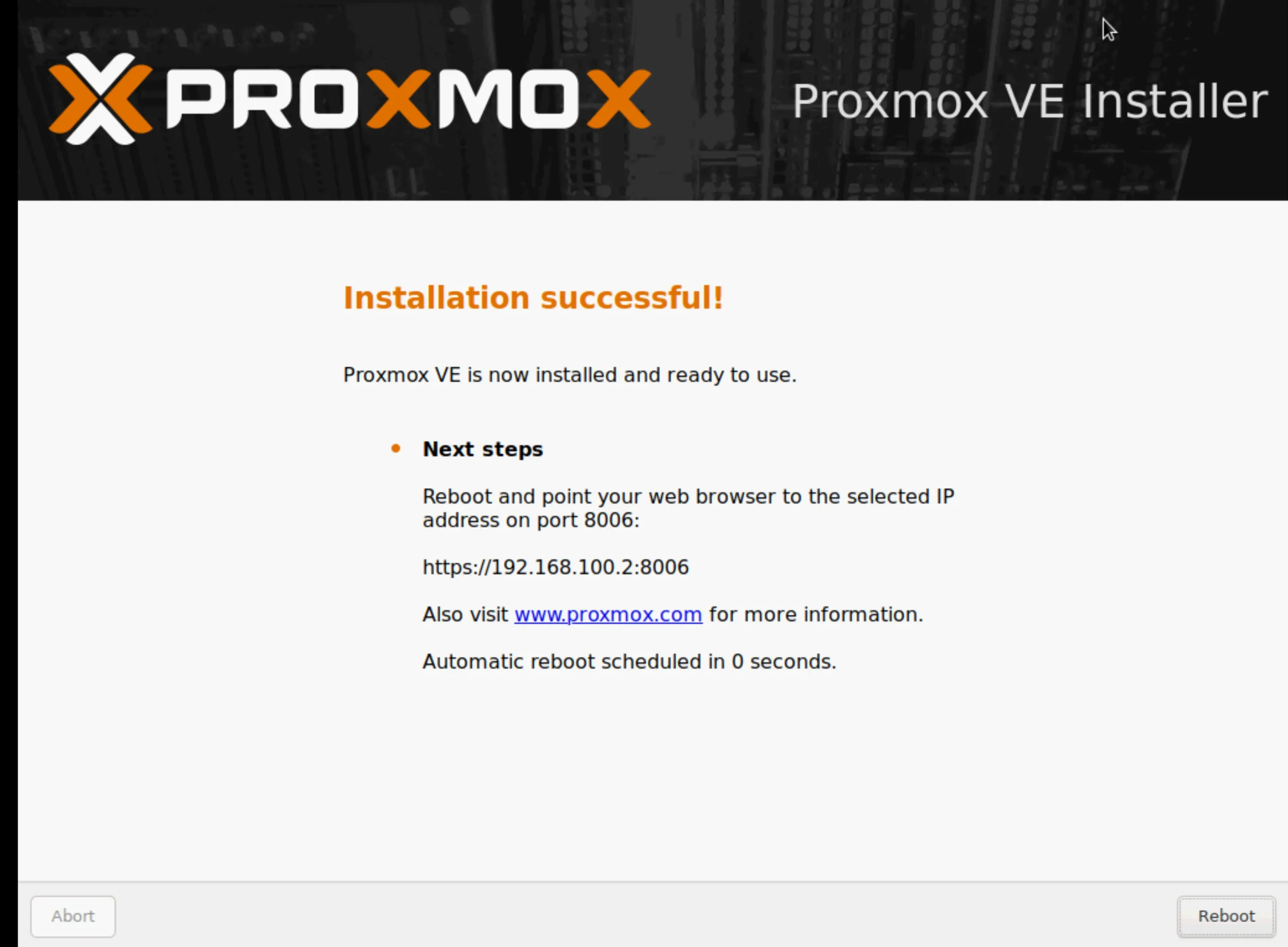 Let's initiate a server reboot. Please make sure to remove any bootable media or disconnect the virtual CD.
Step 3: Log in to the WebGUI
After the Proxmox installation and system reboot, note the IP address given in the welcome message. Switch to your web browser and enter the provided IP address in the address bar. On the login page, input your username 'root' and password.
The same credentials apply when logging in through the terminal console.
Congratulations, you're now in the dashboard! You can start exploring by creating virtual machines and tweaking Proxmox configurations.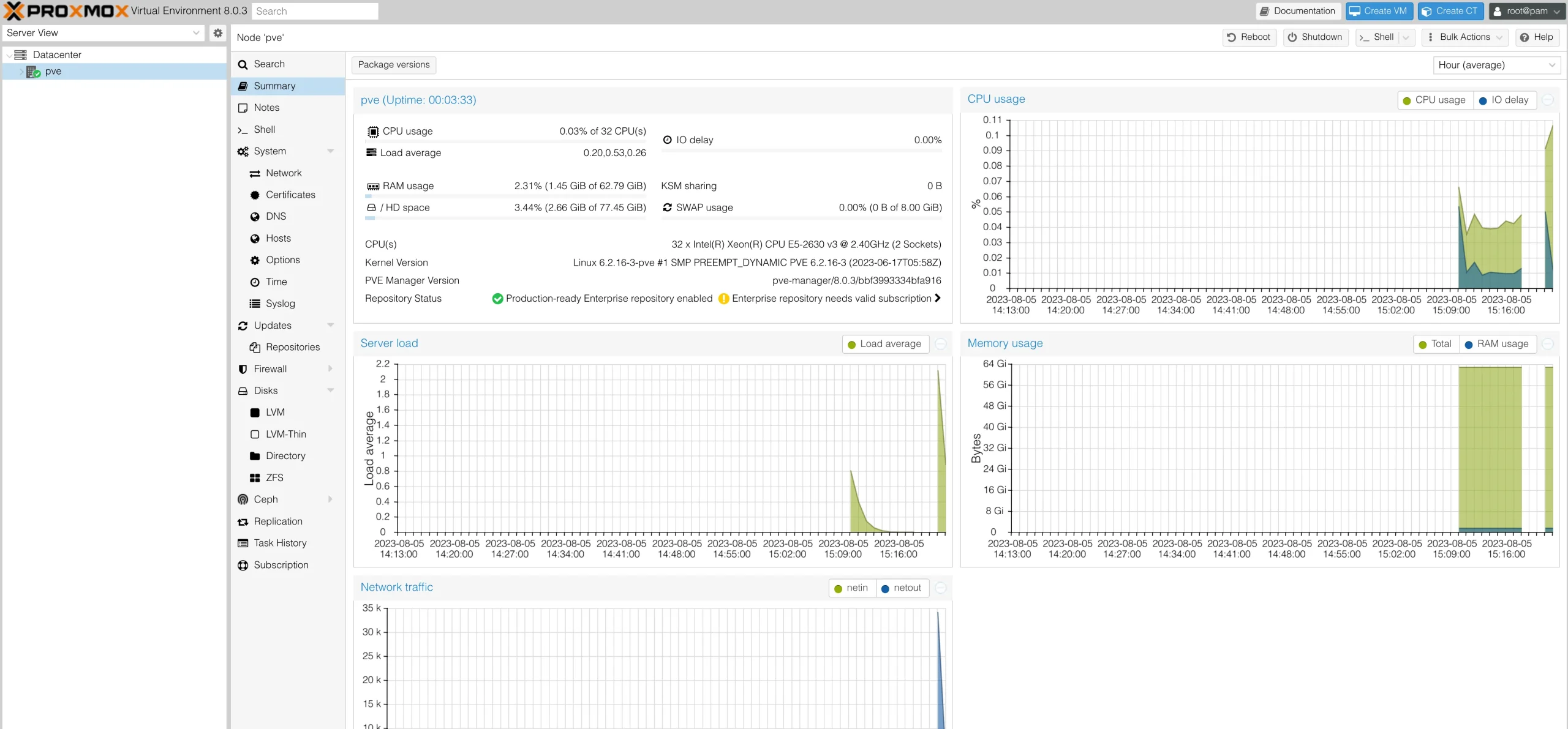 Expert tip: Familiarize yourself with the "Create VM" button at the web interface's right corner. This is your gateway to create and manage as many virtual machines as you need.
I have written an article detailing converting a VMware virtual machine to Proxmox.
Conclusion: Install Proxmox Server
In conclusion, installing Proxmox 8 on your home server in 2023 offers a powerful, user-friendly system for managing virtual machines and containers. Utilizing Proxmox might initially seem daunting, but it's well worth it due to its ability to handle various storage systems and offer superb data protection features. It also affords fabulous network capabilities and features a fantastic interactive web interface to simplify the entire process.
Thus, whatever your IT skill level, enhancing your home server with Proxmox 8 could immensely boost your virtualization management capabilities. It's an opportunity you can't ignore.
Please leave a comment below or send me an email at [email protected]
Any purchases made from clicks on links to products on this page may result in an affiliate commission for me. 
Please keep in mind that the quantity or price of items can change at any time.
As an Amazon  Associate, I earn from qualifying purchases.
As an Aliexpress Associate, I earn from qualifying purchases. 
Als Amazon-Partner verdiene ich an qualifizierten Verkäufen