How to Use Synology Hyper Backup: The Ultimate Guide to set up a backup task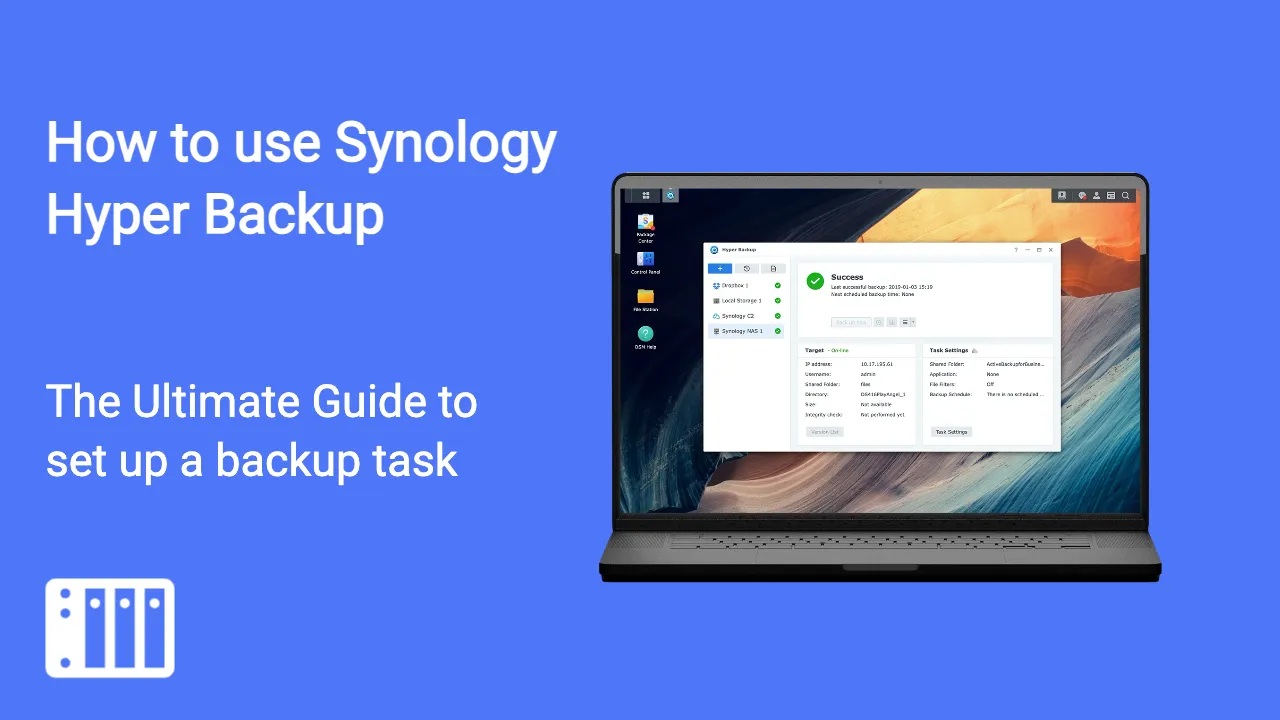 Introduction
In this blog post, I would like to introduce Hyper Backup. It is another powerful app available free of charge in the Synology DSM operating system. It's my go-to tool for backing up critical data to an offsite storage location. This article is part of my Synology Series blog posts.
What is Synology Hyper Backup?
Overview of Synology Hyper Backup
Synology Hyper Backup is a backup solution for Synology NAS that allows users to back up various kinds of data, including system configurations, shared folders, and applications/packages.
It provides intuitive and completes backup/restore solutions to help users back up/restore copies of critical data and restore applications and system configurations to a previous point.
It supports many backup destinations and a dedicated cloud backup service called Synology C2 for its users only.
The Best AI Content Creator
The Alternative to ChatGPT
Pros of Synology Hyper Backup
The pros of Synology Hyper Backup include the following:
A comprehensive backup destination supports local shared folders, external devices attached to your Synology NAS (e.g., USB flash drives), remote Synology NASes, file servers, and cloud services such as Google Drive, Amazon Drive, and Dropbox.
Supports block-level incremental backups for both shared folders & applications/packages so that only changes since the last backup are considered during a new backup job run. It helps reduce the overall time spent on each successive run of the job while ensuring consistency across all backed-up data sets.
Allows users to back up various data, including system configurations, shared folders, and applications/packages.
Cons of Synology Hyper Backup
The cons of Synology Hyper Backup include the following:
It is only available for Synology NAS boxes and does not support other NAS devices.
No client applications for Windows/MAC/Linux are available
Apple iCloud is not supported
Microsoft OneDrive is not supported
What you need to consider when using Synology Hyper Backup
1. User interface and Wizard
You will access Hyper Backup settings for Synology Hyper Backup through the WebGUI administration interface of your NAS. A backup task is configured intuitively with the wizard.
2. Select the correct backup destination for your data
Choosing the right backup destination for your data is essential, as this will determine how secure and reliable your backups are. The popular options are local, external hard drives, and Synology C2 cloud services. Each of these destinations has advantages and disadvantages that you should consider.
3. Synology Hyper Backup: Security and encryption
Synology Hyper Backup offers a range of security and encryption options to help users protect their data. The primary security measures are built-in AES 256-bit encryption available when backing up to an external drive or Synology C2 Cloud service. It is military-grade encryption that helps protect sensitive data from unauthorized access.
Every time a backup is initiated, an exclusive version key is created for that specific version. In other words, each of your backups has its unique identifier.
4. Synology Hyper Backup: Backup schedule and frequency
You set up a schedulable backup task to automatically back up various data. It also supports multi-version backup, flexible backup rotation, and other advanced features to ensure the best possible data protection.
It would be best to consider factors such as how often you need to keep copies of their data, where it should be stored, and how much storage space it will consume over time. You can then arrange your backup schedule accordingly.
5. Synology Hyper Backup: Backup history and statistics
Synology Hyper Backup provides information about backup history and statistics, such as the total number of backups created, the amount of data backed up, the last time a backup was performed, and the status of each backup. It also lets you view detailed reports on which files have been backed up and which ones have failed.
6 What is C2 Storage?
C2 Backups is a computer backup solution offered by Synology that allows users to back up almost all hard drives and data with up to 32 versions.
The solution comes with the ability to transfer files using SSL encryption, ensuring that your data remains secure in transit. C2 Backup has affordable rates, and it is cheaper than Amazon S3.
C2 Storage has a data center in Frankfurt, North America, Seattle, and Asia Taiwan.
How to use Synology Hyper Backup: The complete guide
Step 1: Install Hyper Backup from the package center
Log in to your Synology NAS device
double-click 'Package Center and search for the Hyper Backup app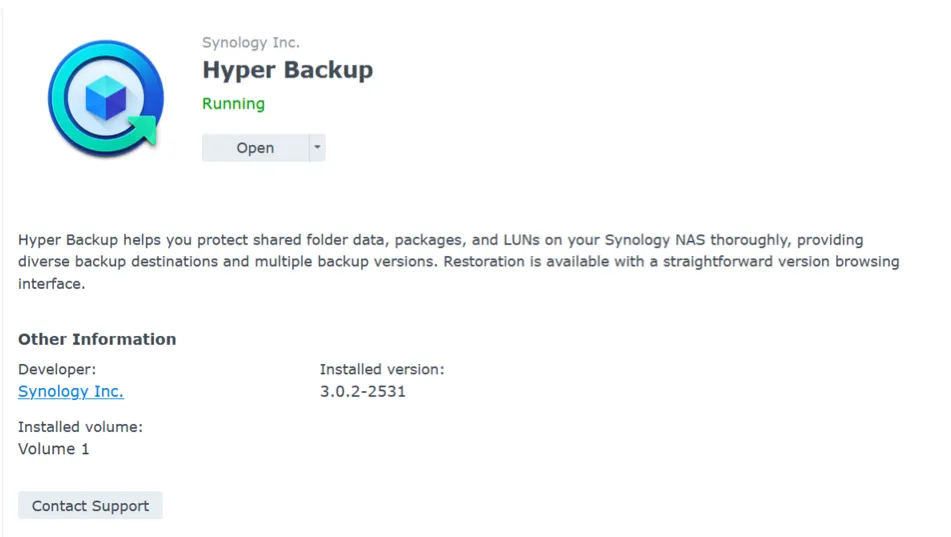 Step 2: Launch the Hyper Backup application and configure a data backup task.
This screenshot shows that I have already configured two backup tasks. Click the + sign to configure a new backup task and choose 'Data backup task'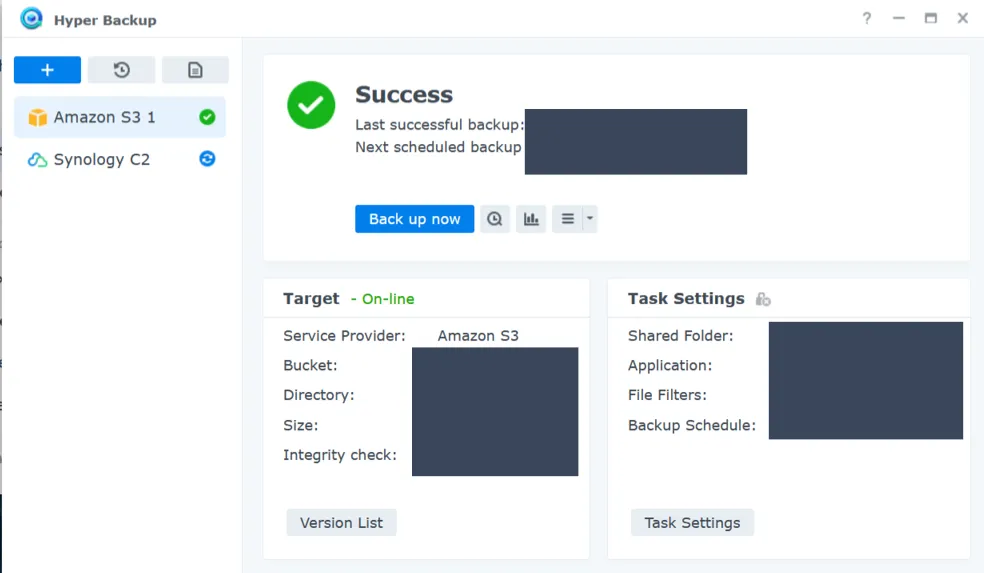 Step 3: Choose a backup destination provider
Synology supports all the popular Cloud services. I have been using for many years Amazon S3 service. But lately, I discovered that the new Synology C2 service is less expensive.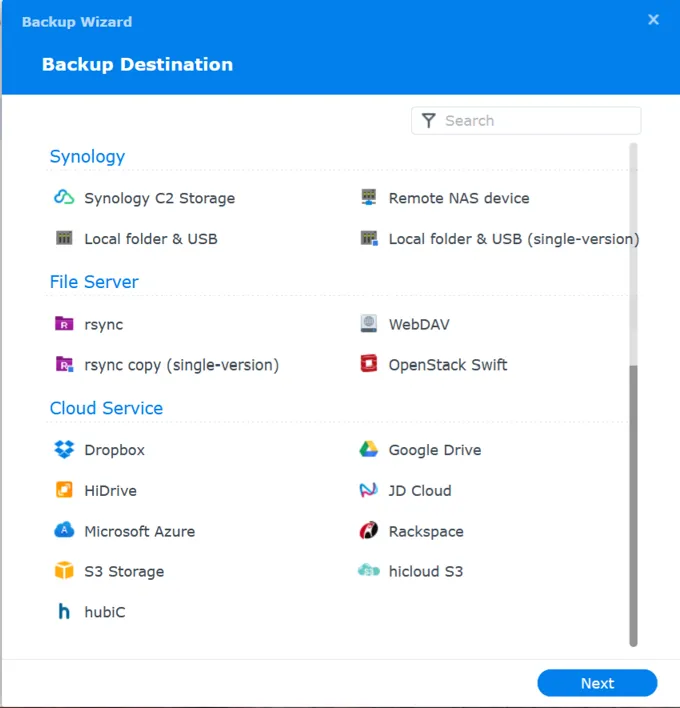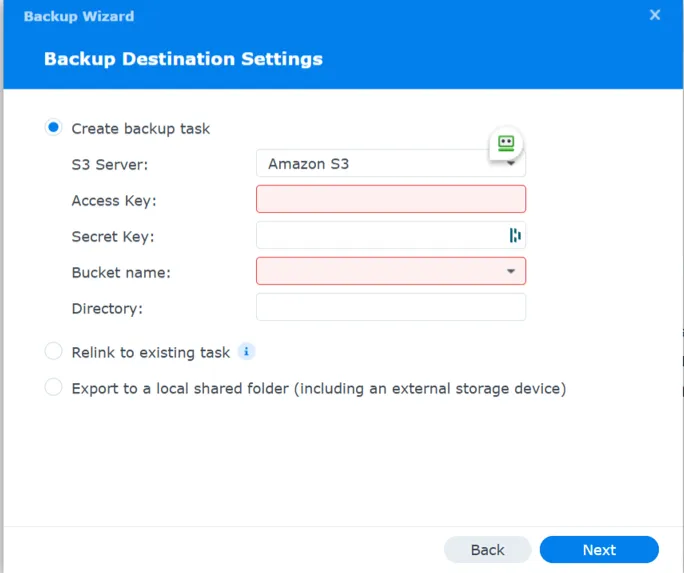 For Synology C2 Storage
When you choose Synology C2 Storage and click the 'next' button, a browser window will open and guide you through creating a Synology account if you don't have one yet. The wizard is pretty straightforward.
You will get a 30-day free trial. It is necessary to enter the payment information during registration, but you won't get charged until the trial period expires.
Here you will find some more information about C2 storage with pricing plans.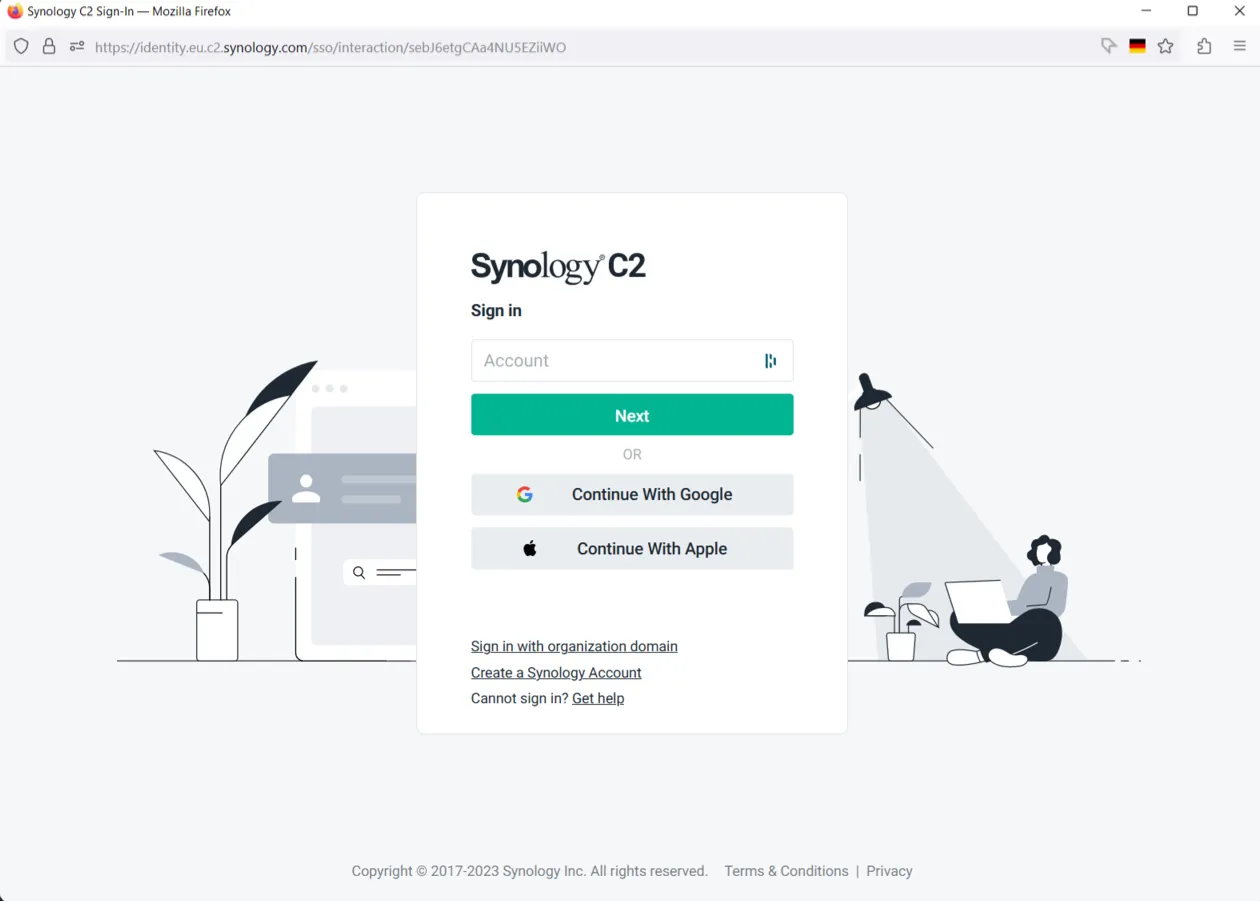 Based on my own experience with Amazon S3, S3 is a good choice if you want to back up less than 200GB, if you have more data to back up, Synology C2 is a better choice.
It is also possible to back up to a second Synology NAS. For this, choose 'remote NAS.' All you need to know is the IP address or public DNS name. In combination with the Synology account, Quickconnect is available, which is a public DNS service.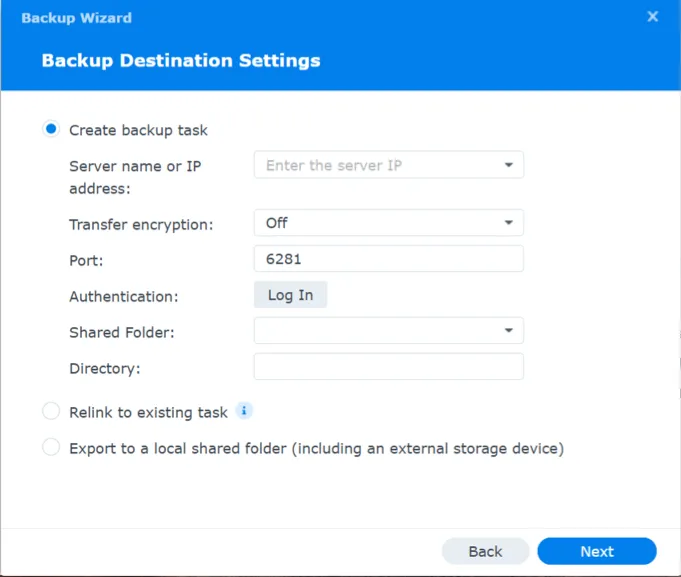 Step 4: Select folders/files to back up and settings
Select the folders and application of your Synology you want to back up. Followed by settings.
The last screen in the wizard is rotation which requires some more explanation.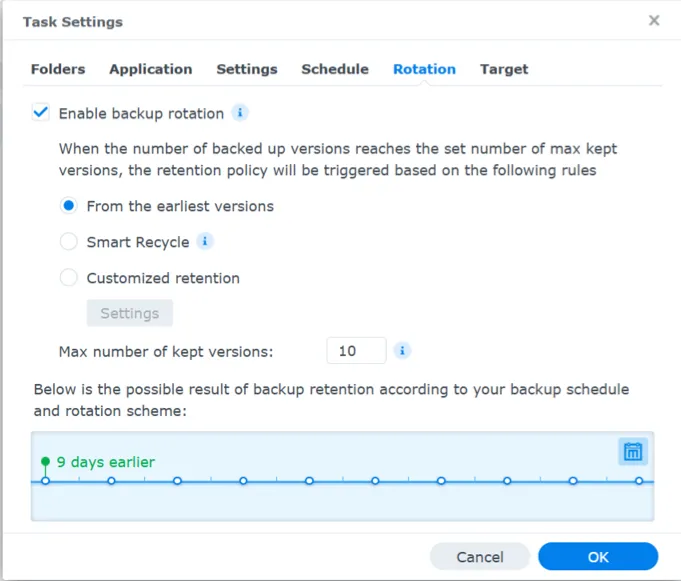 Backup rotation is a useful system for managing the various versions of your data backups. It works by automatically deleting any unnecessary older versions and potentially freeing up storage space. This allows you to quickly access the most current version of your data without searching through outdated, irrelevant files. You can easily enable this function in Task Settings or configure it when creating a new backup task. Backup rotation ensures that your most important information is always up-to-date, helping to reduce potential risks and saving you time in the long run.
From the earliest versions: Delete the earliest backup versions when the available versions exceed the defined number.
Smart Recycle: The system will retain every backup version until the specified number of versions is exceeded. When rotation is triggered, the system will first rotate the versions that do not meet any of the conditions; if all the existing versions meet the conditions below, the system will rotate the earliest version.
Customized retention policy: You can add up to seven rules to the retention period and versioning interval according to your needs. For example, setting up a one-month retention period and one-week versioning interval would indicate that one backup version will be retained per week. Four backup versions will be retained in total.
I recommend selecting 'from the earliest versions' and setting the number to the 'max number of kept versions.' Remember, the higher you set the number, the more remote storage you will need, which is a price factor.
Restoring Data from a Synology Hyper Backup Archive
Open the Synology Hyper Backup application
Select the backup task you want to restore files and click on it.
Click "Restore" Data, and the Restoration Wizard starts
Select if you want to restore the system configuration
Choose which data from the backup you want to restore (folder or individual files). If desired, choose a version of an item to be restored (by date). Here you see all the restore points.
Specify if you want to restore Synology Applications.
Confirm your selections by clicking the "Start Restore" button
Monitor the progress of the restoration process in real-time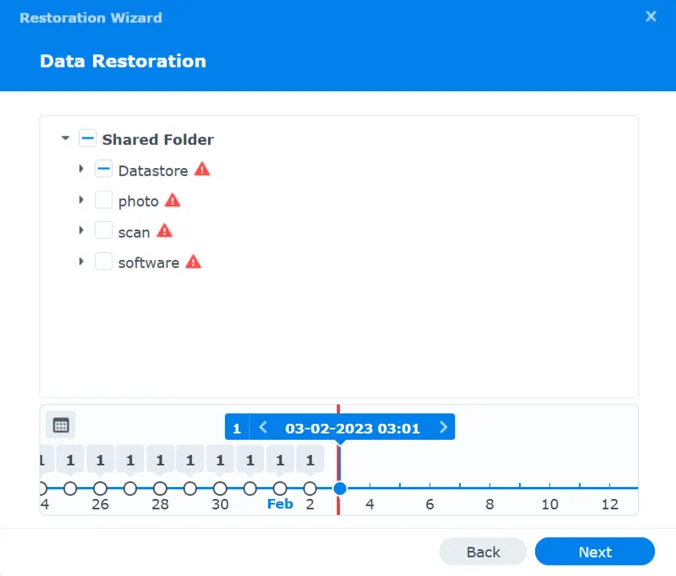 The warning symbol in the screenshot above indicates that the data will be overwritten.
Another method is restoring individual files and folders from Backup Explorer. Click the arrow shown in the screenshot.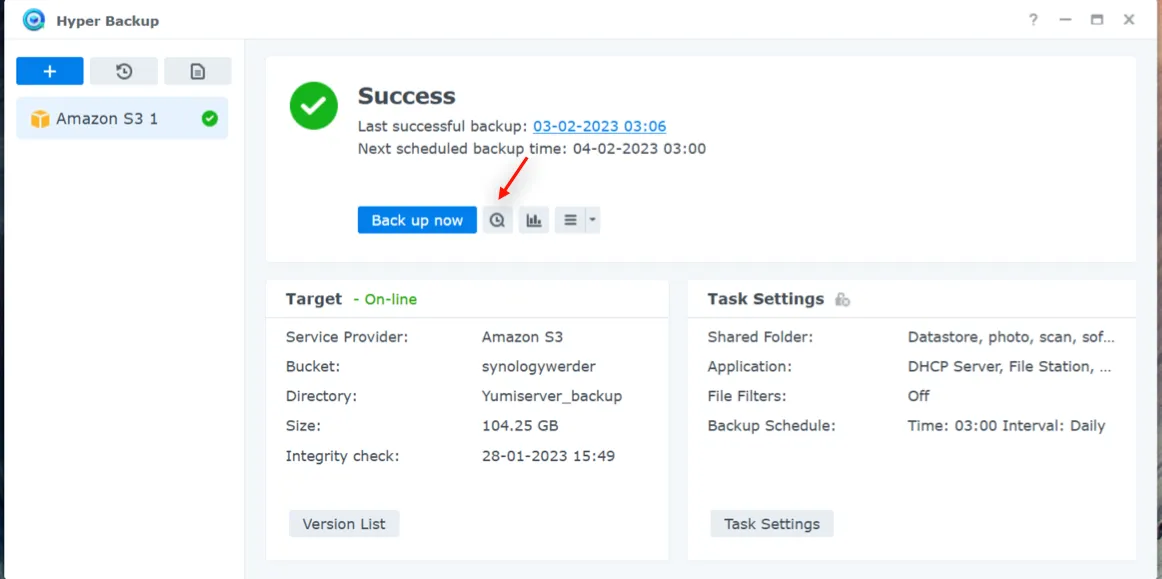 If Synology NAS is no longer accessible, you can restore directly from the Backup Vault. Hyper Backup creates a .hbk file. This works only if you back up to another Synology NAS.
My Synology article series
FAQ
What are the different backup destinations for the offsite side?
Synology offers many diverse backup destinations for the offsite side, including local shared folders, external devices, another Synology NAS, rsync servers, or public cloud services like Google Drive, Amazon Drive, Dropbox, and Microsoft Azure.
What encryption methods does Synology Hyper Backup use?
Synology Hyper Backup uses various encryption methods to ensure the security of your data. It supports AES-256 and Blowfish encryption for local shared folders, external storage devices attached to your Synology NAS, remote Synology NAS, and file servers. Additionally, it offers 256-bit SSL/TLS encryption for cloud services such as Backblaze B2.
What types of data can be backed up with Synology Hyper Backup?
Synology Hyper Backup can back up various data, including system configurations, shared folders, and applications/packages.
What is a Synology Hybrid Share Folder?
A Synology Hybrid Share Folder is a shared folder that combines local and cloud storage. It allows you to store data locally on your Synology NAS device while backing up your files to an offsite location in the cloud.
To set up a Hybrid Share Folder, you must first configure your Synology NAS device for backups using Hyper Backup. Then, create a shared folder that points to local and cloud storage locations. You can specify which files should be stored locally on your NAS device and which should be uploaded to the cloud for backup purposes.
Additionally, suppose there are files that you only want accessible when connected to certain networks or from specific devices (such as laptops or smartphones). In that case, you can use advanced settings like access restrictions or two-factor authentication codes for enhanced security purposes.
The Bottom Line
Synology Hyper Backup is an incredibly powerful tool for creating and managing backups of your digital data. It offers users a range of features to ensure their files are secure, such as easy setup, multiple backup destinations, flexible scheduling options, and more.
With this guide, you should now better understand how Synology Hyper Backup works and quickly set up your backup task. Whether you're backing up crucial business documents or want peace of mind knowing that all your important photos are safe from harm, Synology Hyper Backup can help make sure nothing ever gets lost in the shuffle!
Did you find this article helpful? Please leave a comment below or contact me directly by email at [email protected]
Any purchases made from clicks on links to products on this page may result in an affiliate commission for me. 
Please keep in mind that the quantity or price of items can change at any time.
As an Amazon  Associate, I earn from qualifying purchases.
As an Aliexpress Associate, I earn from qualifying purchases. 
Als Amazon-Partner verdiene ich an qualifizierten Verkäufen