Which is the best Synology NAS Diskstation 2023? Which Synology NAS should I buy for a home or small business?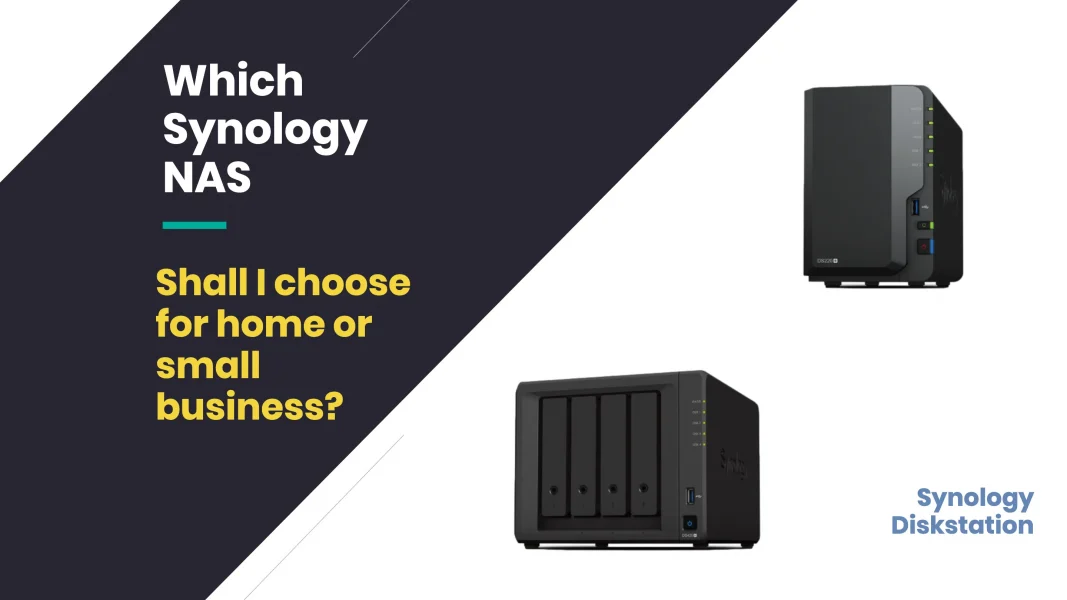 Synology has become synonymous with NAS devices. They offer a wide range of solutions, from basic file sharing to advanced data backup and recovery. Which Synology NAS model should I choose?
Synology is a leading manufacturer of network-attached storage (NAS) devices. Additionally, the company offers cloud services such as backup and disaster recovery. Their products include both consumer and enterprise models.
NAS is an excellent solution for small businesses looking for a cost-effective solution to build shared infrastructure. They offer many features and benefits, from simple file sharing to advanced solutions.
Which model should you choose? This article will tell you all you need to make an intelligent decision for home or small business use. I won't cover in this article enterprise usage for Synology NAS.
The Best AI Content Creator
The Alternative to ChatGPT
What exactly is a NAS server?
NAS is an acronym for Network Attached Storage. These servers are specialized computer hardware that allows seamless data sharing across multiple computers through network connections.
NAS servers also referred to as media servers or file servers, enable multiple computers to access shared folders. They are commonly used in both home networks and businesses. In-home networks NAS devices are mainly used to stream music and movies or store photos. In a business environment, media servers are popular for storing files. A NAS doesn't make noise and is ideal to put on the desk.
It also offers remote access from anywhere in the world, a backup option, and web server applications.
Hardware Level (CPU, memory on board)
When you are deciding on the CPU for a Synology NAS, there are several factors to consider:
1. Usage: The first thing you must consider is how you will use your Synology NAS. A lower-end CPU may be sufficient if you are using it for simple tasks like file sharing or backup. However, you'll need a higher-end CPU if you use it for more demanding tasks like video transcoding (hardware transcoding), mail server, or running applications.
2. Number of users: The number of users accessing your Synology NAS is another factor to consider. If you have a small number of users, then a lower-end CPU will be sufficient. However, if you have a large number of users, then you will need a higher-end CPU to ensure that everyone can access the NAS quickly and efficiently.
Synology NAS ships with the AMD Ryzen, Intel Celeron, or Intel Xeon processor. The choice of the CPU is a cost factor. Consumer NAS ships with the AMD processor, while the enterprise NAS ships with the Intel Xeon processor. Usually, the CPU power is not a significant factor for a Synology NAS. I would look for the memory specification, as this makes a bigger difference in combination of performance with SSD cache.
How much storage disk do I need for my data?
for home usage

Storage is one of the most critical factors in choosing a NAS. The capacity you need will largely depend on the files you plan to store. If you have a lot of high-resolution video or audio files, you'll need more storage than someone who just wants to keep photos and documents.
I recommend a Synology with at least 4TB storage. If you intend to store video files for streaming to home devices, go for 8TB at least. It will be more expensive but in the long run worth the extra cost.
for small business needs

Small businesses typically need more storage space than home users. For a small business, you will likely need at least a Synology NAS with a capacity of 8 TB. It will give you enough space to store files, backups, and applications. If the Synology should serve as a backup device to your existing file server, keep in mind to have restore points for several days. A NAS backup repository should have 3-4 times more space than the repository of your live data.
If you need more storage later, adding a Synology drive enclosure provides an easy way to upgrade storage. You connect the drive enclosure with the eSATA port to the Synology. In most cases, you don't need a drive enclosure; you better buy the Synology NAS with enough drive bays. An expansion is more for offsite backups, serving as redundant backups in an off-site location.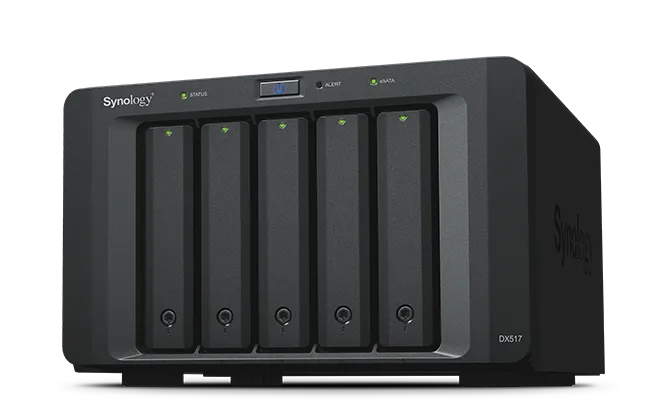 Which data storage space should I use? RAID 0, RAID 1 or RAID 5?
Synology has a wide range of NAS servers available on the market. But with so many options, it can be tough to decide which is best for your specific needs. This guide will help you understand the different types of Synology NAS servers and make a wise decision for your business. RAID 0, 1 or 5?
When it comes to small businesses, there are three main types of storage arrays: RAID 0, RAID 1, and RAID 5. Each has its advantages and disadvantages, so it's essential to understand the difference before deciding.
RAID 0 (two hard drives) is the most basic array type and offers no redundancy. It means that if one of the drives in the array fails, all of the data on the other drives will be lost as well. However, RAID 0 offers the best performance and is the most cost-effective option for small businesses that don't need redundancy.
RAID 1 (two hard drives) is more expensive but offers complete data redundancy. It means that if one drive fails, the data on the other drive will still be intact. RAID 1 is a good choice for small businesses that need to protect their data but don't require the highest performance.
RAID 5 (three or more hard drives) is the most expensive option but offers the best performance and data protection. This type of array uses a technique called "striping" to spread the data across all of the drives in the array. It means that if one drive fails, the data can still be accessed from the other drives. RAID 5 is a good choice for small businesses that need the highest performance and data protection.
I recommend RAID1 for home use and RAID5 for business purposes. RAID5 requires at least a 4-bay Synology NAS.
Do I want to use Btrfs or EXT4 for the file system?
Another critical decision when choosing a Synology NAS is which file system to use. The two most popular options are Btrfs and EXT4.
EXT4 is the most widely used file system compatible with all Synology NAS models. It offers good performance and data protection but doesn't have some of the advanced features of Btrfs.
Btrfs is a newer file system that offers many benefits over EXT4,
Why do I recommend BTRFS over EXT4?
In the first place, Btrfs is a self-healing file system. Data can slowly corrupt over time, and you may not even realize it until it's too late. The silent data corruption can be resolved by scheduling data scrubs and implementing RAID. In addition to being highly beneficial to all data, it is beneficial for those wishing to store media files on their NAS.
Btrfs provides the ability to schedule and take snapshots, which protect data by preserving your information at a particular time. These copies enable you to retrieve your data if it becomes damaged or lost and restore files from varied versions of your stored data as needed, with options for retention.
Snapshot is a benefit for business usage, not recommended for home use. It requires additional space.
The third benefit of BTRFS is to assign a quota to file shares. With quota, you can manage the storage usage of your NAS. It is actually great for home needs. For example, if you use the Synology NAS for MAC Time machine backups, without quota time machine will eat up all space on the NAS, which you certainly don't want.
Make sure the Synology NAS supports BTRFS!
How many drive bays does my Synology need?
Synology NAS servers come in a wide range of sizes, from one-bay to eight-bay models. The number of drive bays you need will depend on the TB of storage amount of data you need to store and the redundancy level you require.
1 bay Synology
One-bay models are typically used for personal data storage or as a backup server. They are the most affordable option but offer the least amount of storage and no redundancy.
I don't recommend a One-bay Synology NAS, even not for home use or as a backup device.
DiskStation DS118 does not support BTRFS
Synology 2 bay
Synology 4 bay
Synology 5 bay
A classic configuration for five hard drives is two for the RAID1 mirror and three drives for RAID5.
My recommendation
I recommend for home usage a two-bay Synology Diskstation, and for small-business two- or four-bay, if you have the budget go for a Four-Bay NAS.
If you're planning to buy a Synology NAS please do use my affiliate link to purchase it. Absolutely no additional cost for you (I would earn a commission from the seller), but definitely a huge help for me, as your gesture will contribute to covering the costs of maintaining this website and adding more great articles. Thanks in advance for your support!
NAS Hard Drive Selection
When purchasing a new NAS, purchase the correct hard drives. You need reliable equipment for NAS devices since they run 24/7.
There are a few things to keep in mind. First, you'll need to decide which type of drive you want to use. The two options are SATA and SSD drives. SAS drives are only supported in enterprise-level Synology NAS.
SATA drives are the most common type of hard drive and offer good performance and capacity. However, they are not as fast as SSD drives.
SSD drives are much faster than SATA drives but are more expensive.
Hard drives are the type of devices that fails the most. So it is vital to choose the correct drive. Manufacturers designed drives for NAS purposes, and I would highly recommend choosing one of these.
The most important thing to look for is the MTBF (Mean Time Between Failures) which should be around 1 million hours. WD Red and Seagate IronWolf are all excellent choices.
Which Synology NAS Diskstation models support SSD cache and memory for better performance?
Most Synology NAS models offer support for SSD cache, which can be established by adding either M.2 SSD or 2.5-inch drives. For reading and writing caching, you should install two drives.
The plus + models of the Diskstation support SSD caching. I recommend SSD cache with the M.2 interface. Such an interface is available even for two-bay NAS, which is a great way to speed up caching. It is an adapter card and purchased separately.
Which external connectors or ports do I need? Expansion, external drive
Nowadays, most devices have enough USB connectors and at least two network connections. So you don't need to pay attention to this question.
Make sure the USB ports support USB3. Some NAS even has an ESATA port to connect an expansion unit if you need to connect more hard drives.
However, you will hardly need it in a home or small business environment.
Can I use the Synology Diskstation for virtual machines?
Yes, you can use the Synology NAS as a virtual machine host. However, not all models are compatible with virtualization.
You'll need a model with at least 4GB of RAM and two Intel CPU cores to use the Synology NAS as a virtual machine host. I would opt for a model with at least 8GB of RAM and quad-core Intel CPU cores (not a Celeron processor) with at least two network ports for best performance.
Synology Operating system
Synology Disk Manager or short DSM is a beautiful visual interface and easy to understand. DSM is currently at version 7.1. DSM is based on the Linux system and you can also access the Synology NAS with ssh for even more customization.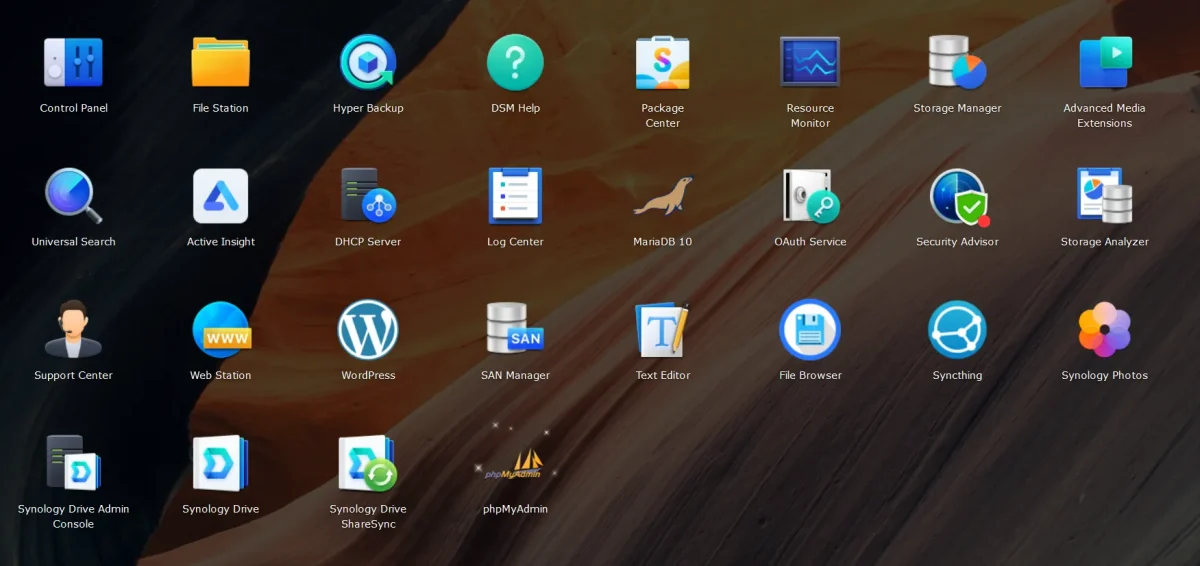 Read also read my popular article to use the Synology Diskstation for Active Directory. Yes, you can install an Active Directory Server without any cost.
What is Synology hostname?
The hostname is the name given to a computer or device connected to a network. It helps other computers and devices identify it on the network. Synology NAS devices use the same hostname for both local and remote access.
For example, if you have a Synology NAS named MySynoNAS, your hostname will be MySynoNAS.local. The '.local' at the end helps other computers and devices identify it as a local network device.
You can change your Synology hostname through the web-based interface by going to Control Panel > > Network > General. You can enter a new hostname for your NAS device on this page.
Why is Synology the best NAS choice?
There are many reasons why Synology is the best NAS choice. First, Synology offers a wide range of models to choose from, providing flexibility. There's a model to fit every need and budget for a reasonable price.
Second, Synology NAS servers are easy to use. They come with a user-friendly software interface that easily manages your files and applications. The Packager Center has a lot of software choices for home and small businesses. You can run WordPress on Synology and use the NAS as an IP Cameras Surveillance station, Email server, Video Station, and more. You can also integrate the Synology community's package station as an additional source for third-party apps.
Third, Synology NAS servers are reliable and offer good performance. A strong warranty and customer support back them.
So if you're looking for a NAS server, I highly recommend Synology. An alternative is NAS from QNAP. The QNAP software interface looks nicer at first looks. But I think what counts is the reliability of the NAS.
Which Synology NAS model do I recommend?
My favorite recommendation
Sale
Synology 2-Bay DiskStation DS723+ (Diskless)
Up to 471/225 MB/s sequential read/write throughput makes file operations quick and efficient
Leverage built-in file and photo management, dataprotection, virtualization, and surveillance solutions
Two 1GbE ports for simple integration into existingenvironments with optional 10GbE connectivity totackle more specialized, bandwidth-heavy applications
Add 5 extra drive bays with one DX517 expansion unitfor a maximum of 7 storage drives
Check Synology knowledge center or YouTube channel for help on product setup and additional information
Other recommendations
My Synology article series
What is the best Synology NAS for me?
With good reason, Synology is a well-known and respected name in the NAS market. They offer a wide range of models, all with user-friendly software interfaces. Their reliable products provide good performance. Synology should be your first choice if you're looking for a quality NAS server.
Which Synology NAS are you going to buy, or did you buy? Please let me know in the comment section below your thoughts. You can also contact me by email with any questions.
Any purchases made from clicks on links to products on this page may result in an affiliate commission for me. 
Please keep in mind that the quantity or price of items can change at any time.
As an Amazon  Associate, I earn from qualifying purchases.
As an Aliexpress Associate, I earn from qualifying purchases. 
Als Amazon-Partner verdiene ich an qualifizierten Verkäufen