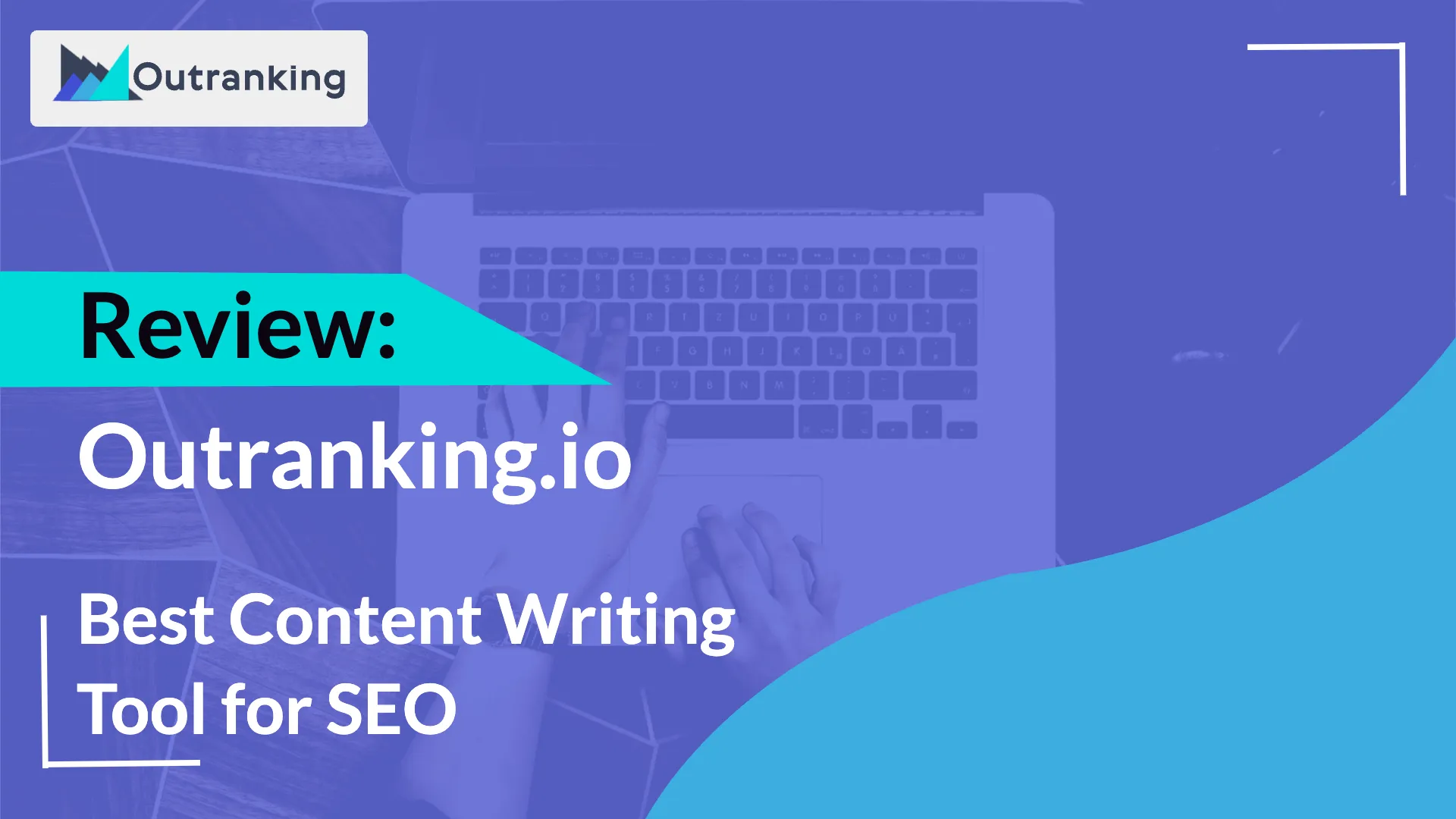 Outranking Review – Best Content Writing Tool for SEO 2023
Would you like to improve your SEO content writing skills? In this Outranking review, I will tell you how the complete writing process in Outranking works in four steps. It's my favorite tool for blog writing.
Outranking is a reliable SEO tool that simplifies adapting to Google's algorithmic changes. The tool analyzes various ranking factors, including title (H1), description, outline, content like common terms (NLP), uniqueness, media, and links, comparing them to the top 10 ranked pages in the SERP. By utilizing Outranking, you can effortlessly optimize your content to rank higher and outperform the competition.
Let's begin our Outranking review! But before we dive in, let's define SEO content writing and highlight why it matters.
What Is SEO Content Writing, and Is it Only for Business Agencies?
SEO content writing is the practice of creating and optimizing content to rank higher in search engine results pages (SERPs) for specific keywords or phrases. It involves identifying the relevant keywords that users are searching for and incorporating them strategically into the content to make it more visible and attractive to search engines.
The Best AI Content Creator
The Alternative to ChatGPT
SEO content writing is not only limited to business entities. Still, it is also essential for agencies and freelancers who want to improve their online visibility and attract more organic website traffic.
By creating high-quality SEO content, businesses can increase their engagement, brand awareness, and revenue while staying ahead of their competitors.
Why Is SEO Writing Important?
Why is SEO Writing Important? Creating optimized content for search engines isn't just about getting more clicks and traffic – it's also about providing value to your audience. You can communicate your message clearly and effectively by crafting high-quality SEO writing while improving your online visibility and authority. So if you want to reach more people and build a successful online presence, mastering the art of SEO writing is essential.
An online marketing strategy is incomplete without an SEO tool. It involves optimizing your website or blog to improve its rank in search engine results pages (SERPs). The upshot? Heightened traffic and increased conversions.
In addition, SEO is more than gaming the system; several factors determine how well your site ranks in SERPs, including the quality and relevance of your content, the domain authority (DA), and the page authority (PA).
When you produce high-quality content people want to read, share, and link to, you satisfy their needs and build trust and authority for your brand. And as Google continues emphasizing quality over quantity, good SEO writing tools are more important than ever.
How to write SEO content copy?
To write SEO content, you'll need to understand how to target keywords, structure your content for readability, and include those keywords throughout your content. You'll also need to ensure that you're using good grammar and punctuation and having images and videos to break up the text and keep users engaged.
Why Do You Need SEO Content Writing Tools?
Content authoring tools are imperative for search engine optimization because they assist in creating better content tailored to the target audience. They facilitate topic research, keyword identification, and headline creation. Infusing NLP capabilities, Outranking offers unparalleled assistance in improving writing quality by imparting linguistic clarity, style, and context that make text stand out.
Moreover, it enables targeted keyword optimization for search engines.
Outranking Review: Pros and Cons
Read on to learn more about Outranking.io.
The Outranking – Dashboard

Outranking.io provides a user-friendly interface that makes creating and publishing content quickly and efficiently easy.
The dashboard has three pillars:
AI Writer
Strategist
SERP Analysis
To create a new document:
There are three kinds of documents you can create.

SEO Brief
AI writing
Optimize existing content

For each document type, you enter a primary keyword; if you optimize existing content, you must also enter the URL.
Click the 'Advanced Settings' button to select the language, location, tag, and folder. For SEO briefs, there are more advanced settings.
This article focuses on the AI editor. It is the main area to create a new article/blog post.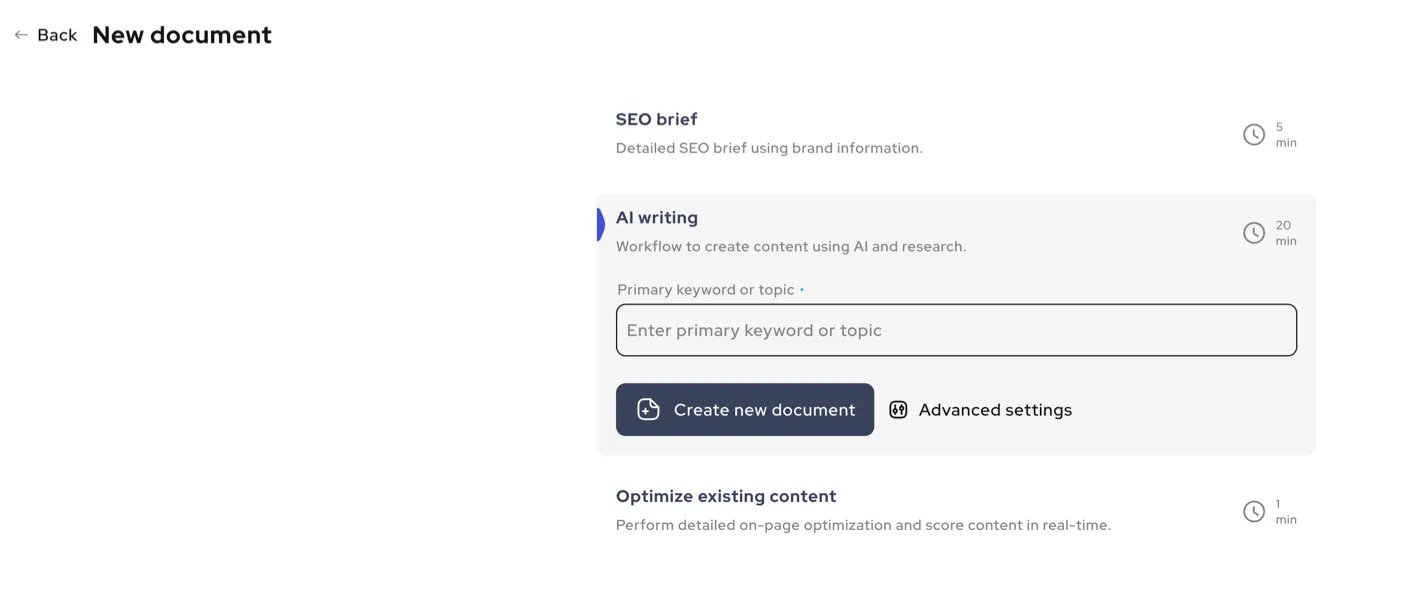 To compose a new article/blog, choose 'AI writing.'
Why is Outranking.io the best content writing tool for SEO?
Outranking.io is the best SEO content writing tool because it lets you quickly write high-quality, search engine-friendly content for your website.
Outranking.io also has a wide range of features that make it an effective tool for content marketing.
Its unique algorithm enables writers to produce engaging, keyword-rich content that ranks higher in search engines.
Outranking.io has advanced analysis of the SERP for various metrics and can provide valuable information on the competitive landscape. It also includes competitor analysis to help you understand how your competitors rank.
It has three outstanding features which make Outranking.io set apart from its competitors.
SEO Outline
Outranking.io can give you the edge over your competition regarding SEO outliners, giving you access to advanced AI-generated outlines and the automatic infusion of all the right keywords and topics that go into outranking competitors and achieving top search engine rankings.
With outranking.io, you'll have detailed outlines with intent matching, helping you outrank others in organic searches more easily than ever before.
First Drafts
Creating first drafts of blog posts can be daunting and grueling, but AI first drafts are here to help. Outranking offers you the chance to use automated technology designed to generate a factual and SEO-optimized first draft in just 15 minutes!
With this feature, you can get 80% of the way toward publishing your post without spending hours writing from scratch. All you need to do is add in any extra value that only you can provide – such as unique stories and insights – for the final touches on your post.
Writing with Prompts
Writing with Prompts allows you to give a set of instructions written conversationally to the AI to generate the desired response. These prompts can be generic or specific; the more specific they are, the more personalized and accurate the output will be2.
Outranking's AI is connected to the internet and only writes the prompt after doing background research and finding facts and information, scouting 100s of pages before writing the instructions..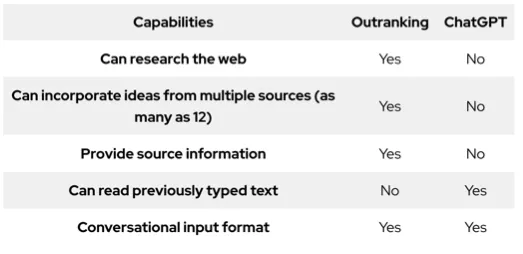 Outranking.io – The AI wizard
After creating a new document Outranking launches into the AI Wizard with the SEO meta title generator.
The AI wizard helps you start with the blog post to set the meta title and meta description, followed by the outline builder.
The Workflow
The AI editor has four parts,
Title
Outline
Optimize
Publish
Further, you can set an option for the Workflow or even change the document type while working with a document.
Researched writing is an additional step to add your sources for background research.
For the option 'Sources,' I recommend selecting it. Outranking.io will quote the sources of the content generated.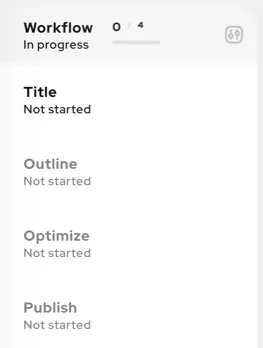 Step 1 – Title
Crafting an optimized blog title is one of the most paramount on-page SEO considerations. The text in your browser's tab and blue links within SERP must be no longer than 50 characters while containing a relevant focus keyword. This will improve rankings for that particular term and enhance discoverability, making it imperative to factor into your strategy!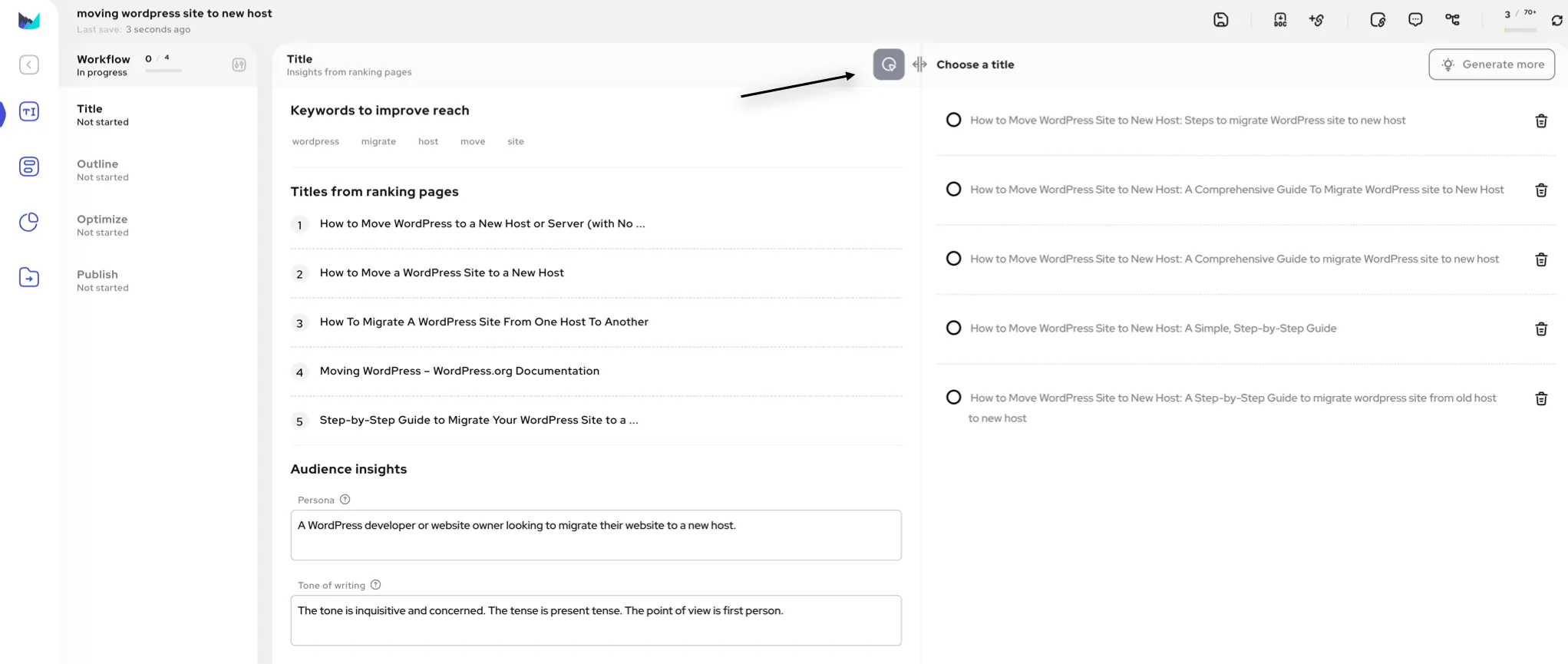 Most importantly, ensure your title accurately reflects the user intent behind the search query.
Outranking.io generates the title using AI. You can simplify it or change it entirely with ease.
Take your rankings to the next level with Outranking! Click on the highlighted icon in the image above for optimization title tips.

Step 2 – Outline Builder
The Outline building phase is probably the most important phase of the article. It is worth spending some time at this step. Outranking generates a uniquely outlined based on the 10 top rank pages in the SERP.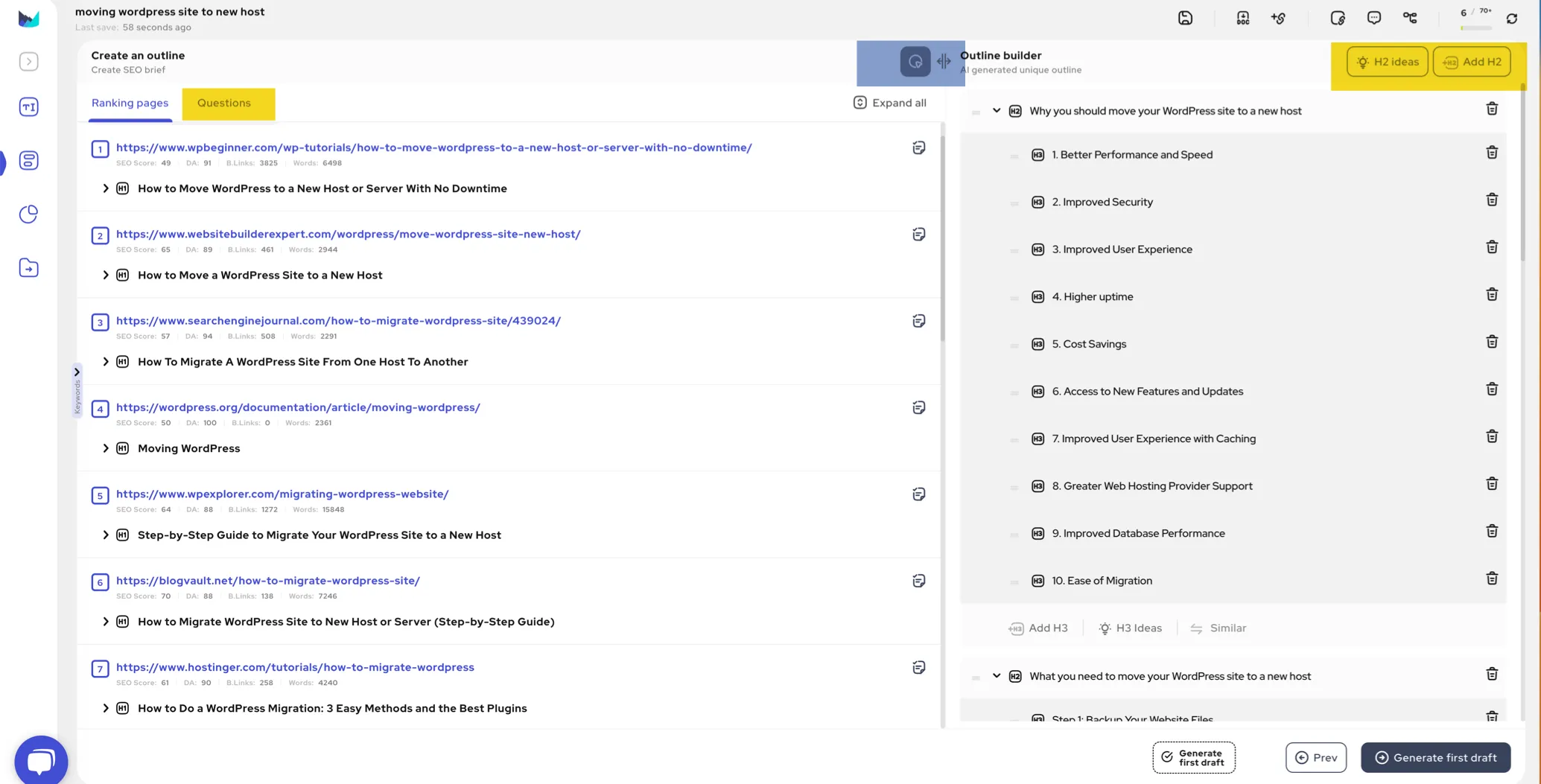 After selecting the desired title for your web page, you can click Outlines. This will divide the screen into two parts: Ranking Pages and Questions. Ranking Pages contain an SEO score, Domain Authority, Backlinks, and Outlines. Questions are based on People Also Ask queries.
You can use Add URLs to Background Data, which allows you to add up to 100 URLs. The right panel displays AI-generated Outlines, which you can further customize.
To optimize your outline, click the Optimization Icon (highlighted in blue).
You can optimize (see below 3 pictures)
Words to target in outline: common terms used in headings of ranking pages
The number of H tags: Outranking recommends a typical range and shows the number of H tags, for example, below in parenthesis 42.
Semantic search terms: Words to target with a typical range,, below in parenthesis 31
Words to target: High-Frequency keywords / NLP
Google's NLP capabilities can help you understand your users' intent and optimize your content for maximum reach and traffic. By understanding people's questions about your topic, you can create better content targeting high-frequency keywords and providing the answers people seek. It will help you rank higher in SERP and drive more traffic to your site.
The AI wizard presents you with all the high-frequency keywords. It works the same way as the related keywords. Again you should use 80% of the suggestions in your outline.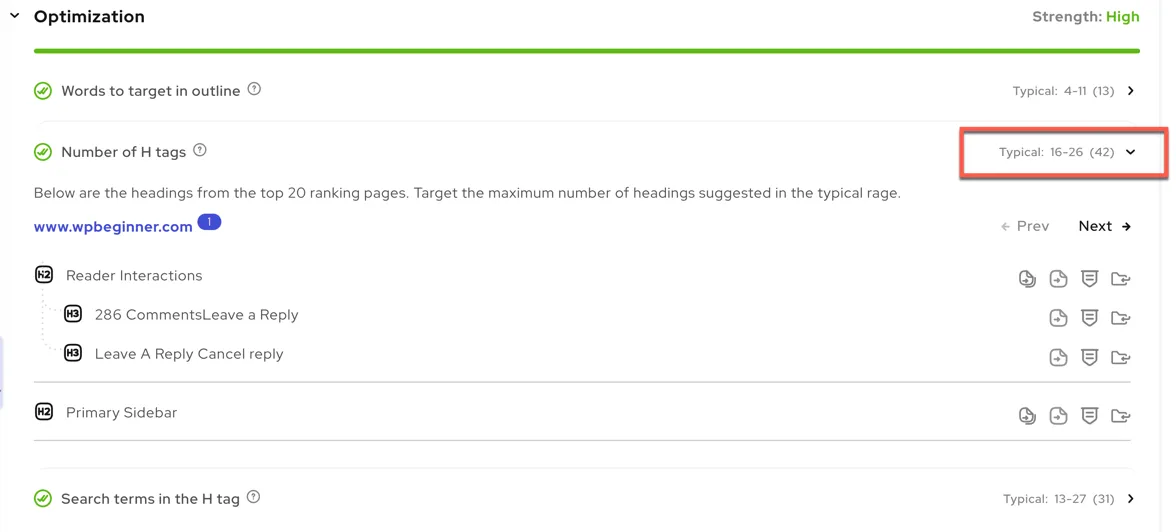 Related/Semantic terms
Adding semantically related keywords is a great way to help your content rank for additional terms. This can be done in a few ways, such as:
H2/H3 keyword opportunities help widen existing content's scope and eligibility to rank for additional keywords.
More keywords mean more traffic which increases the authority of the article overall. Additionally, it provides supplemental information to users interested in the topic.
Outranking shows related keyword suggestions and highlights them if you have already used them in the outline. The app suggests using at least 80% of the related keywords.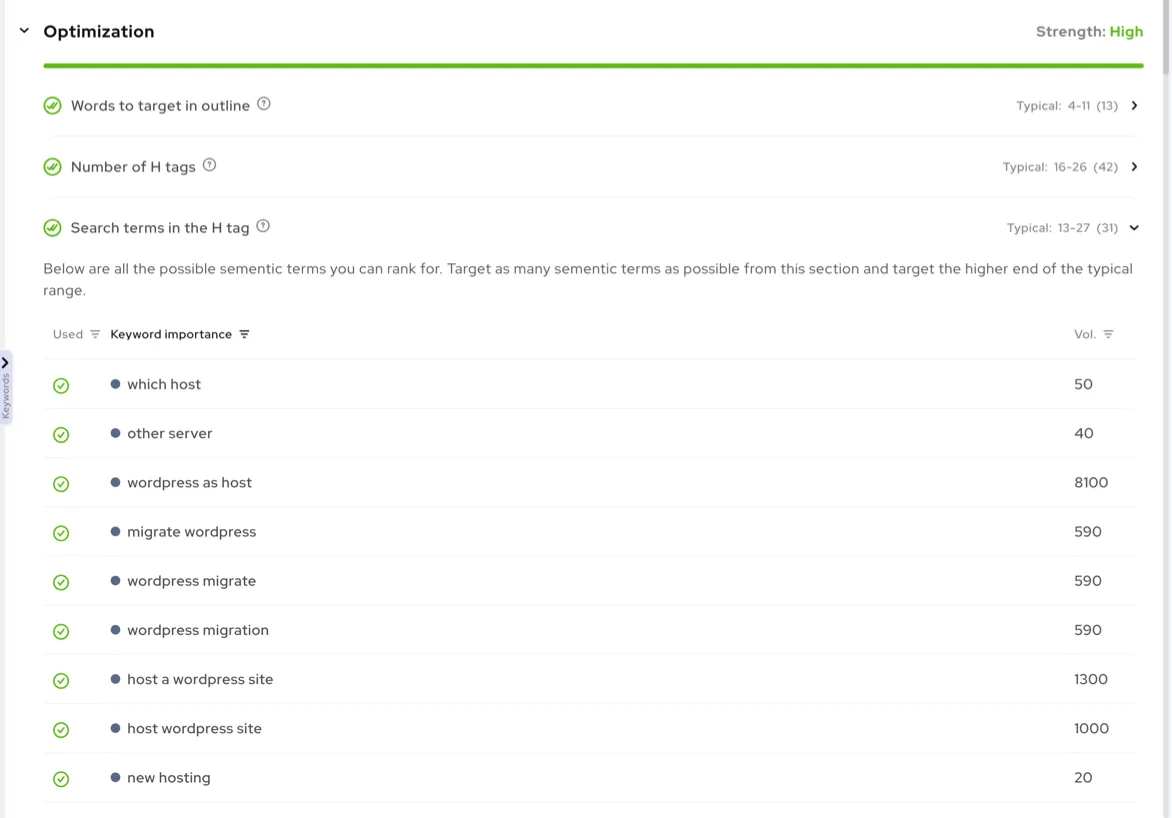 Questions: Google's People Also Ask
Part of the outline builder in step 2 is the tab for Questions (Google PAA). This provides you with some ideas of questions found in SERPs also asks or from the ranking pages. It is a good idea to integrate such questions in your outline too.
Google loves to extract questions from articles and present them in the SERPS. It's an additional way to rank better in the SERPs.
Once your outline is optimized, you can click on Generate First Draft. The complete first draft will typically take up to 10 minutes.
Step 3: Writing phase
Content editor interface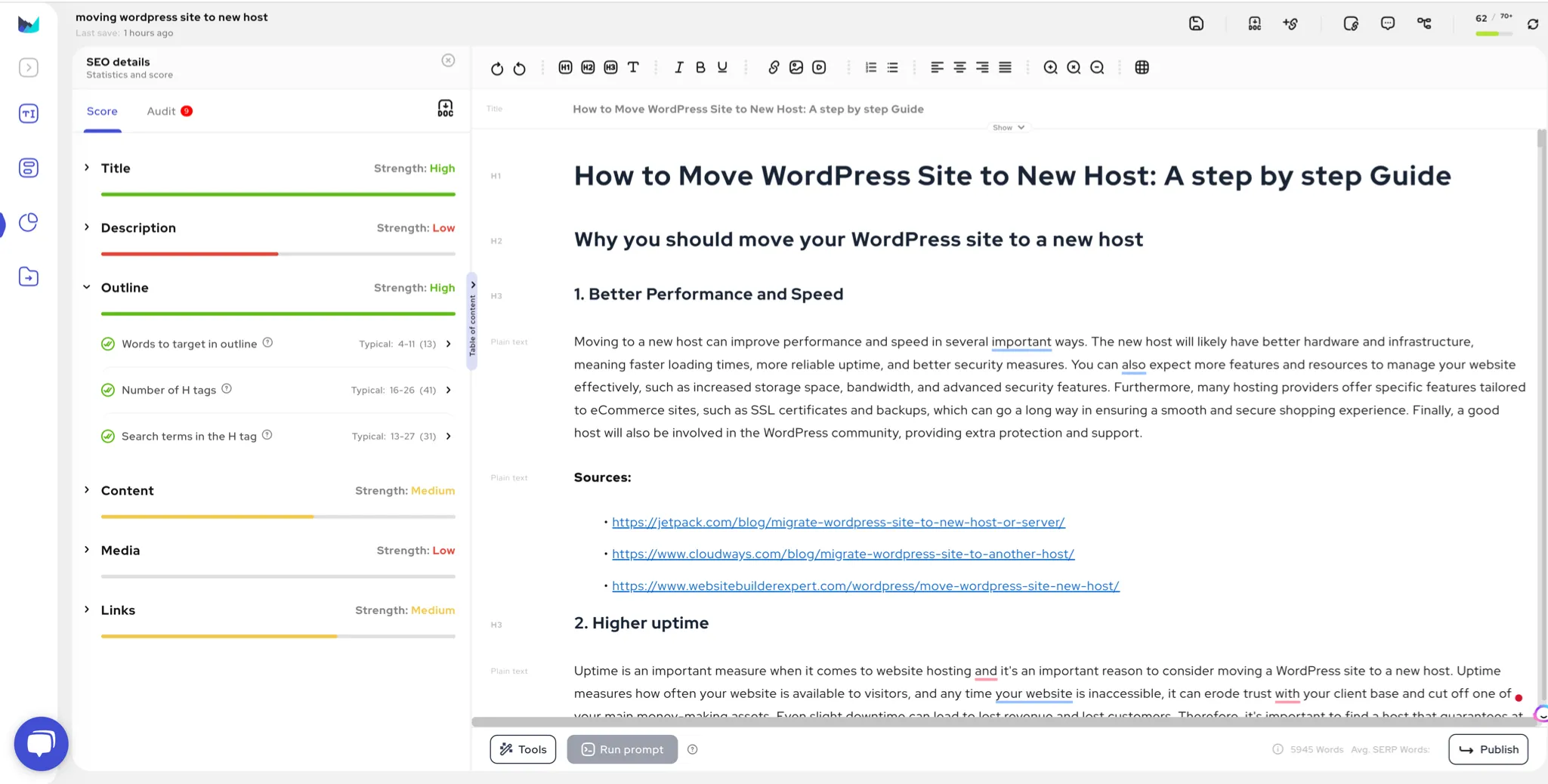 At the bottom are two buttons, tools and "run prompt." The tools button opens a new window with writing assistance tools
Prompts
Sections
Methods
Images
You can also open the table of contents window to see the article's structure.
Tools: Prompts
As mentioned above, Outranking has a chat function built in. The prompt section explains how it works. There is some additional function built in. You can guide the prompt with some search phrases for better factual research.
With Prompts, you can easily optimize your writing by entering it directly into the editor with > symbols. This innovative feature allows a fast and convenient way to ensure your content stands out!
Tools: Sections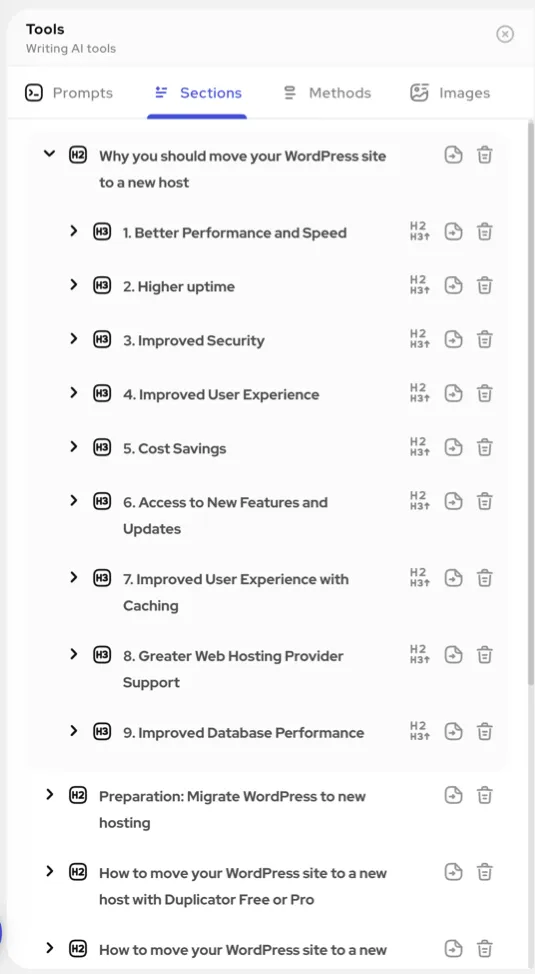 The section tool of Outranking provides detailed information about the research and AI generation results. With this helpful instrument, it is possible to evaluate and adjust the primary question and concept for the AI writer with your background data.
You can always review the suggested data in the URL provided and modify your research accordingly.
Custom concept ideas for the AI writer are:
Key Points
Pro / Benefit
FAQ's
Cons / Disadvantages
Altogether, within this tool, you have various options to set up an outstanding AI writer. With Outranking, you can trust the results of its reliable AI-driven performance.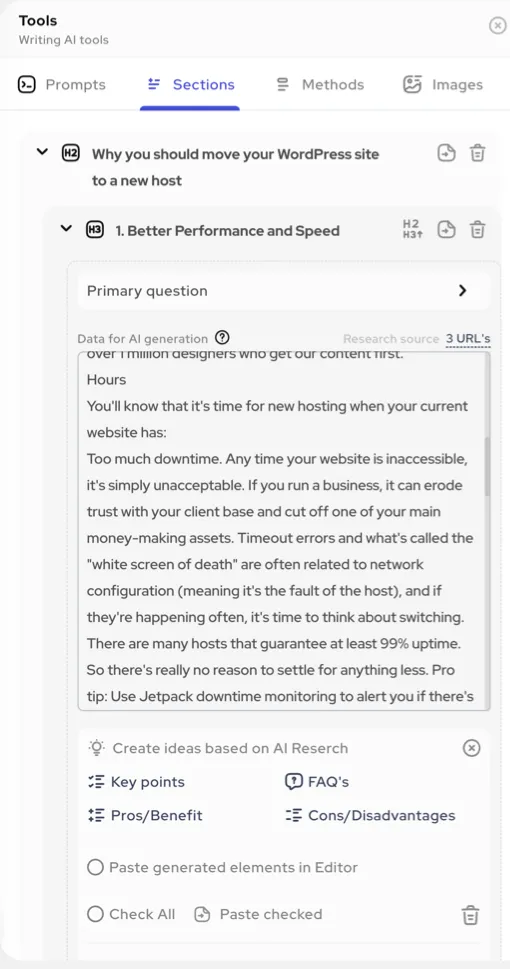 It is not forbidden to create your text entirely. I recommend it because it adds another "hand-crafted" touch to the article.
Some other AI tools are at your disposal, highlight a sentence, and some additional tools will pop up, like rewrite, expand, and shorten.
Tools: Methods
Outranking provides AI templates called Methods.
Whether you need to write a compelling press release, build an engaging blog, create some engaging text for Youtube, or post something attention-grabbing on social media, Outranking has the right template for your needs.
These ready-made and easily customizable templates enable users to produce top-quality content in minimal time as they eliminate the step of finding relevant information and organizing it properly.
With Outranking's helpful templates, taking your written content to the next level has never been easier!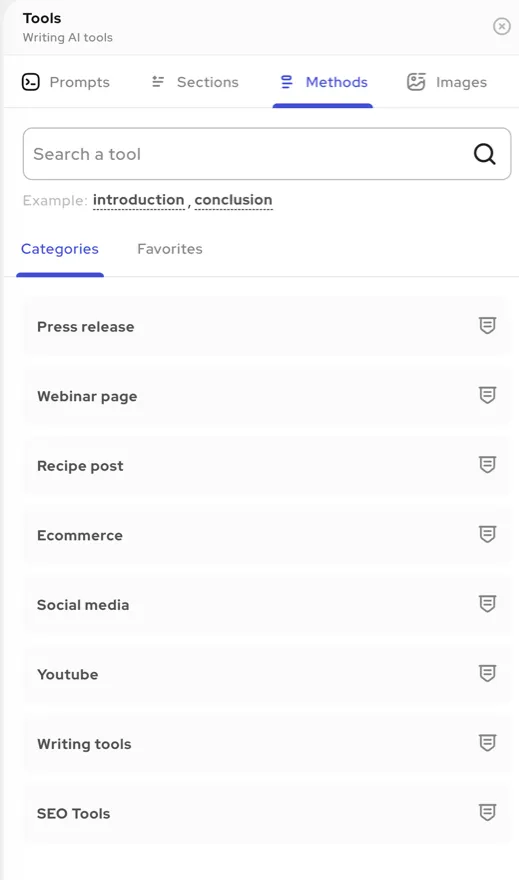 Tools: Images
Outranking doesn't just provide outlines, but it also supplies suggestions for images to accompany each one. Whether you're looking at visual data or emphasizing the main points of an article, these insights can make all the difference.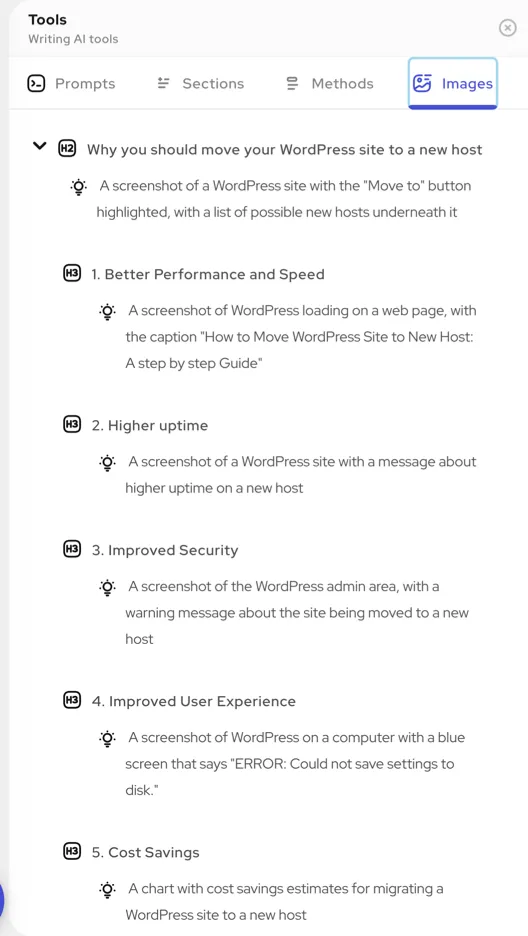 Step 4 – The content optimization phase
After completing the outline with content, it is time to go to the next phase. Click Optimize' in the SEO optimization phase on the left pane.
Before going to the technical aspects of the Outranking SEO tool, I want to point out why SEO is so important nowadays.
Search engine ranking is an important factor in determining the visibility of a website today. Search engines use algorithms to determine which websites appear at the top of their results pages when a user searches for a particular term or phrase. These algorithms consider keyword relevance, content quality, and backlinks from other websites. By optimizing these factors, businesses can improve their search engine rankings and increase their chances of appearing higher in the search results. This can lead to more website traffic and, ultimately, more customers.
The SEO industry has become increasingly complex in recent years. Google and other search engines use deep learning and natural language processing to display better search results. Because of this, what was once SEO-friendly content may no longer be relevant from Google's current perspective.
For this reason, you need a much more advanced SEO tool that utilizes similar search engine technology. You can no longer rely on a WordPress plugin. WordPress SEO plugins like Rank Math. They do an excellent job with on-page technical SEO, to say the least.
However, you shouldn't expect your rankings to improve overnight. Based on my experience, the optimization will take months to materialize (1 month is the minimum.). DA (domain authority) plays an essential role too.
Although this is not required, backlinks from higher DA websites can help your optimized content rank faster.
Okay, let's continue with Outrannking.
Optimize On-page SEO Elements
The left navigation pane shows the SEO details in 2 tabs, score, and audit
The Score tab has these sections
Title
Description
Outline
Content
Media
Links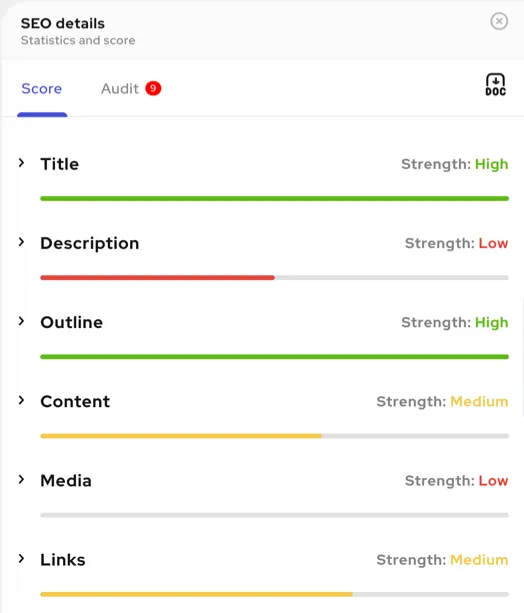 Click on each section to learn more about what Outranking suggests for optimization. The suggestion is based on the 10 top-ranked pages in the SERPs.
The SEO audit tab gives you additional suggestions on improving the article. You can review the detailed audit report and implement the suggested changes for better rankings.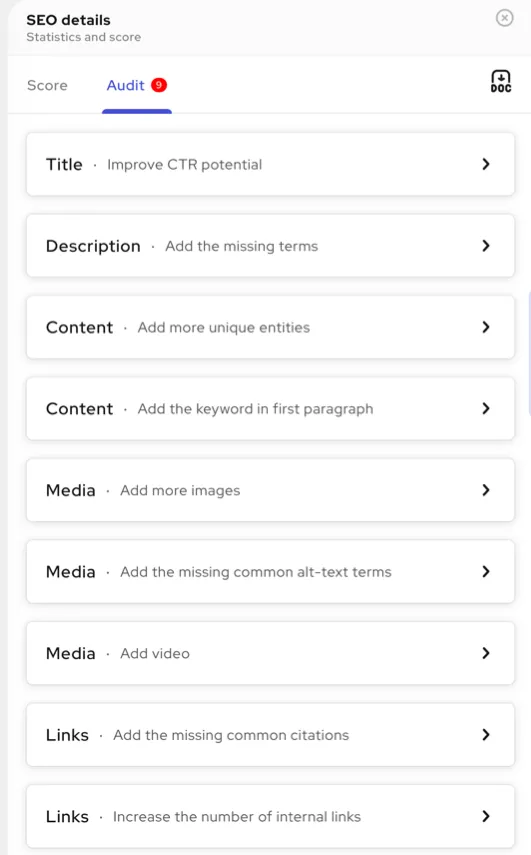 The SEO Content Score is a detailed on-page score with advice for improvement, and more importantly, it's always up to date! The score ranges from 0 to 100, with 100 being the best possible score.
Click on each section to learn more about what Outranking suggests for optimization. The suggestion is based on the ten top-ranked pages in the SERPs.

SEO Optimization For Higher Ranking
Here you can optimize the SEO title (meta title). As you remember, In Step 1, Outranking already constructs some suggestions for the title. A general recommendation is to use a superlative word or a number to improve the click rate. (see the audit tab)
The description is the SEO meta description. Outranking suggests words to target typical terms competitors are using.
See above in the outline topic. Here, you have a chance to review it and make some modifications.
Outranking analyzes your content against the top ten competitors deeply and provides suggestions for various important elements you should use.
Media tells you how many images you should use with the relevant ALT text.
Important factors are internal and external links for on-page SEO. Outranking can deliver internal link suggestions with anchor text based on the sitemap.
What are related keywords And Google NLP?
Related keywords are opportunities to rank for additional keywords and not only for the focus (primary) keyword.
Identifying related keywords is a valuable experience for content creators. It expands the ability to be found by readers looking for content on the primary subject and those searching for secondary (or related) topics. This widens the reach without needing hours spent on keyword research and targeting only one phrase or concept.
Google NLP stands for Google Natural Language Processing. The technology allows the software to understand and derive meaning from human language. Google uses NLP in its search algorithms to better understand search queries and content
NLP is also used by Google to identify entities and their meanings, making it possible to extract knowledge from unstructured data
Topics (Google NLP) are similar to related keywords. It compares how often it is used in the article to the minimum and maximum. Color labels show recommendations about the keywords.
Strategist
Strategist is available on the Dashboard.
SEO is more complex than it used to be, and content needs to be built with a purpose if you want to rank well. To create topical authority, you must carefully execute new content and optimize existing content.
The Strategist feature in Outranking assists with SEO content strategy planning and execution. It has three main tools for SEO content strategy:
The best opportunities to create content.
Related keywords.
Mapping of these two tools.
Strategist is an SEO tool for professionals to improve their authority and rank for difficult keywords. The AI can learn from the same data from Google's Search Console page and adjust its strategy according to new trends. Additionally, the Strategist has a close match feature, allowing it to find the most important topics. Lastly, the software uses semantic terms to brainstorm ideas.
Strategist is entirely free for everyone. It is not an add-on.
If you're planning to buy Outranking please do use my affiliate link to purchase it. Absolutely no additional cost for you (I would earn a commission from the seller), but definitely a huge help for me, as your gesture will contribute to covering the costs of maintaining this website and adding more great articles. Thanks in advance for your support!
What are the pricing plans for Outranking.io?
Outranking has four pricing plans: Starter, Solo, Pro, Company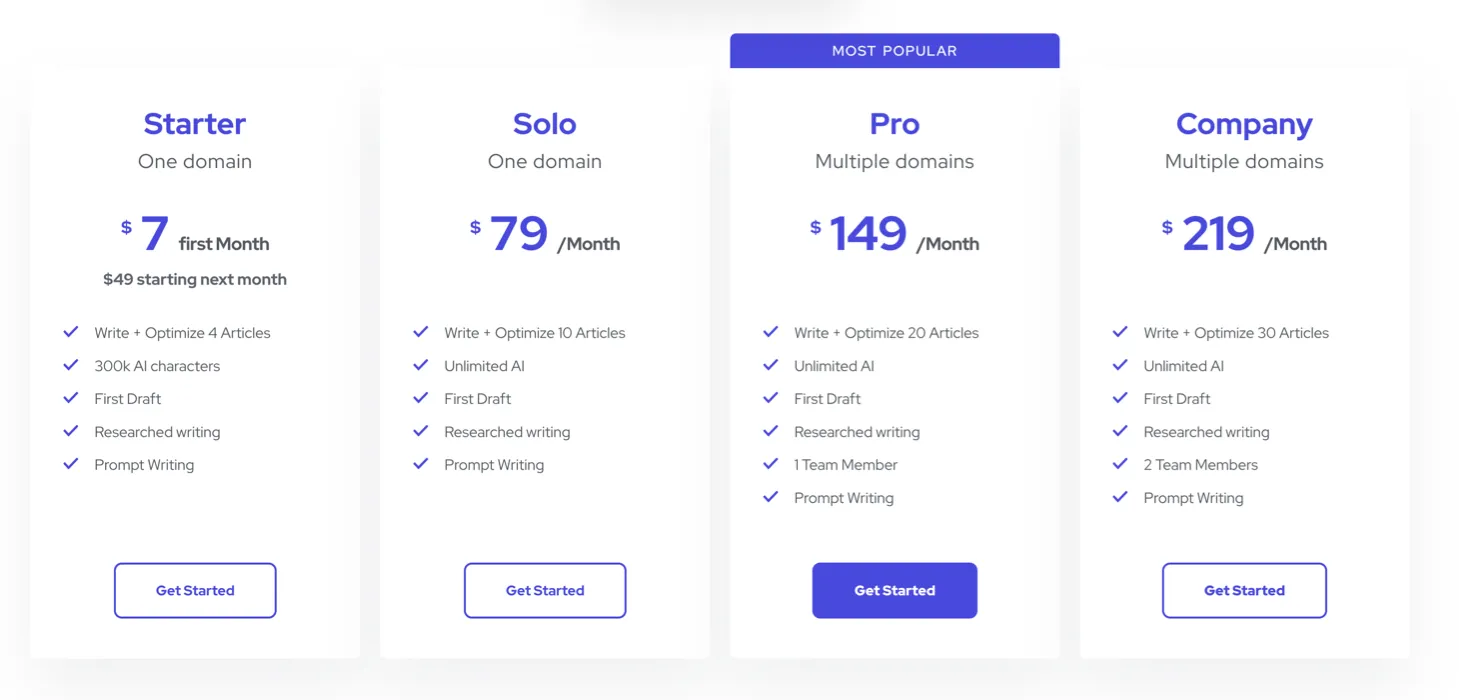 Each plan consists of the following:
Write & Optimize for 4-30 articles
AI characters, only the Starter plan has limits
First Draft
Research writing
Prompt writing
If you need Outranking.io for Teams, get the Pro or Company plan
Currently, there is an Add-on available for 300 cluster searches/m. You only need it for the Strategist tool if you perform keyword research.
Content Optimization Software: Outranking vs. Frase
The content optimization software market is growing. Two of the most popular are Outranking and Frase. Both have pros and cons, but which is the best for you?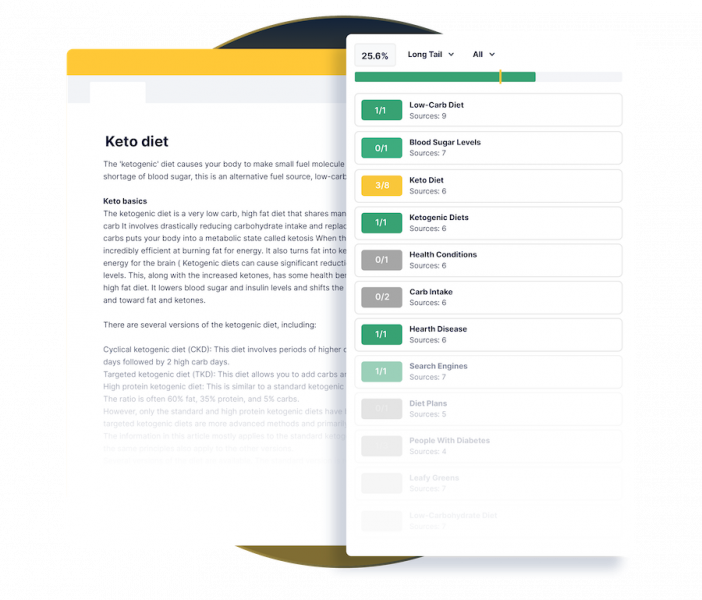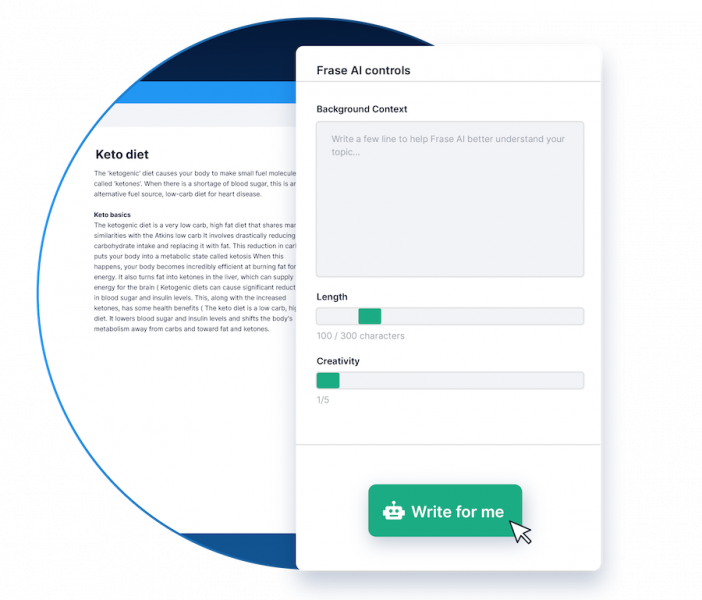 Frase is a more mature Saas app than Outranking. Some key points of Frase are:
You can create custom templates as needed to save time on writing drafts of the same type of content so that you are not reinventing the wheel whenever you need a blog intro or product description.
There is a topic model for scoring the article.
The dashboard is designed to help you find your best content opportunities.
You can compare your keywords with your top competitors.
Advanced AI creates content that outperforms the competition.
Frase is the #1 rated AI Software on Capterra
Frase initially started with content optimization only; in late 2021, Frase also introduced AI assistant writing based on predefined templates.
According to the Frase team, there are using GPT3.5 for AI.
"Frase NLG (Natural Language Generation) is artificial intelligence software designed to create content based on text inputs. The NLG is trained over billions of documents" and attempts to gain a universal understanding of the world through language."
The big plus is that Outranking offers the AI wizard. It helps you create the skeleton of your article with recommendations on which additional keywords to use in the outline. I understand that a good outline could save valuable time– in my opinion, Outranking is better for this than Frase.
Outranking vs Frase
Feature Comparison
| Feature | Outranking | Frase |
| --- | --- | --- |
| AI guided wizard | ✅ | ❌ |
| AI writer tools | ✅ | ✅ |
| First draft AI writing | ✅ | ✅ |
| Content briefs | ✅ | ✅ |
| Topic Planner (Strategist | ✅ | ✅ (Beta) |
| Google Search Console integration | ✅ | ✅ |
| Outline Builder | ✅ | ✅ |
| suggestion for meta title and meta description | ✅ | ❌ |
| Image ALT tags suggestions | ✅ | ❌ |
| WordPress plugin | ✅ | ✅ |
| team members | ✅ | ✅ |
Re: pricing Frase has a different pricing structure and offers three plans too, but AI writing needs an addon called SEO.
Overall, Outranking is slightly more expensive than Frase.
My winner is Outranking.io.
My workflow for a blog post
Okay, I hope you have a good impression of Outranking by now. In this section, I would like to tell you about my workflow from the idea to produce an article until I publish it on my WordPress websites.
To produce a high-ranking blog post, you should follow a specific workflow.
This workflow includes six steps:
research topics and keywords
building the outline (content brief)
writing/editing
optimization
proofreading
Publishing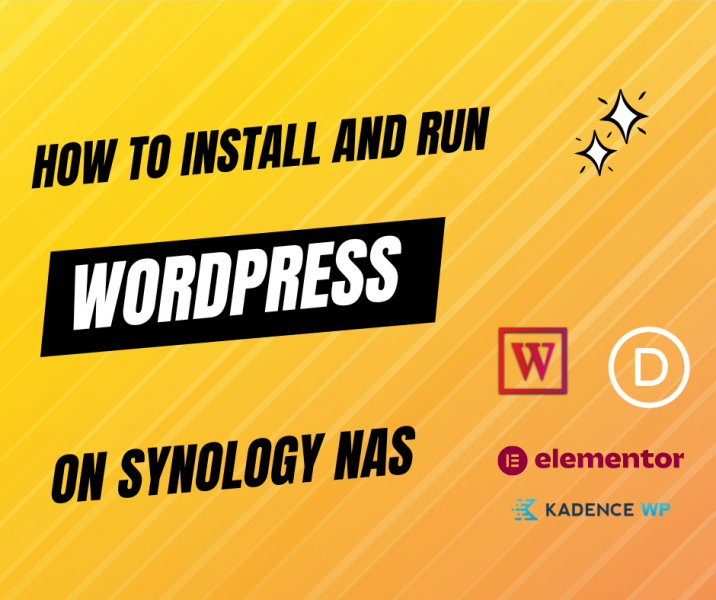 Elementor Pro Review
Full Comparison – Elementor Pro VS Free
Outranking is best for the three steps (building the outline, writing/editing, and optimizing). Outranking is not a research tool. It would help if you did the research with other tools before going to Outranking.
Keyword Planner
My favorite product for research is Writerzen. Writerzen is ideal for topic and keyword research. A free product is the Google Keyword Planner, which is also very good.
Blog Outline
Outranking has an excellent outline tool as part of the AI Wizard. However, I also like Contentpace (Postpace), which is basically the same but has a friendly and colorful interface for topics.
Grammarly Premium
For Proofreading, grammar checking, and readability, I use Grammarly Premium. I love this tool. I'm not a native of English. Grammarly has a free version, but the Grammarly Premium Version is worth the investment.
Hemingway app
Hemingway is another grammar checker similar to Grammarly, focusing on more readability. It's a free tool. I don't use it, but it is worth mentioning it.
Publishing
My websites/blogs are built with WordPress. Outranking has a WordPress plugin to import and export articles from Outranking to WordPress. It is pretty basic but works fine.
Please read my blog here for a detailed discussion about my workflow. I decided to post a separate article.
Rank Tracking Tool
Using Serpple's keyword-checking capabilities has added invaluable insight to my SEO research. Not only does the Serpple keyword checker let me review how well my chosen keywords are performing, but it also suggests monitoring the same keywords as my competitors.
With a few clicks, I can build full profiles of all the contenders in my niche, giving me immediate insights into how to best compete for search engine audience attention.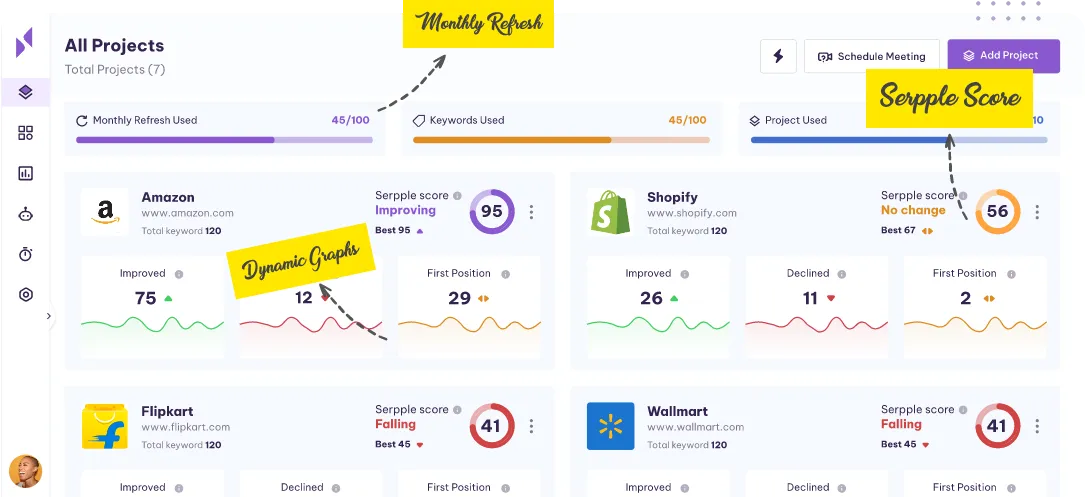 Outranking – the Story
I learned about Outranking in May 2021. I watched an hour-long interview with the founder demoing the app. After this demo and other recommendations I read, I decided to buy the early bird offering, a Lifetime deal.
Since then, Outranking has continued to improve a lot. The Outranking team developed many new features for SEO optimization and AI assistant writing. As of this writing in August, Outranking is at Version 12.
Version 12 introduced GPT4 and a lot more analysis under the hood. Adaption to modern SEO with AI. A much-improved workflow with super UI/UX experience.
Outranking is a complex app, and with Version 12, the team reinvented the wheel to make it easier to understand.
I conducted a test with Jasper Chat, ChatGPT, and Outranking. Read my separate test. The clear winner was Outranking for a full blog post.
Frequently Asked Questions
What are some good keyword research tools?
Some of the most popular keyword research tools include:
Semrush, Ubersuggest, KWFinder, Ahrefs, Google Keyword Planner, KeySearch. Moz Keyword Explorer
How do I start SEO content writing?
You start by building your content strategy based on the keywords you target. You then decide how to rank for those keywords and create an optimized blog for SEO.
Which free content writing tools do you use to write SEO-friendly content?
Use Google Docs, WordPress, and HubSpot.
What are some excellent content optimization tools for content writing?
Outranking, Frase, MarketMuse, SurferSEO
What are the best free SEO tools for WordPress website article writing?
Rank Math, Yoast SEO, SEOPress, SEO Squirrly
Conclusion
Outranking.io is a powerful SEO content writing software that can help you write high-quality, engaging, optimized blog posts. Outranking lets you easily create well-researched, keyword-rich, and quality articles to help your website rank higher in search engine results pages (SERP).
If you're looking for a resource to assist you in producing quality content that ranks well on search engine results pages, look no further than Outranking.io!
And most importantly, yes, your blogs will rank if you follow the suggestion Outranking makes. Outranking helped me to monetize my blog!
Any purchases made from clicks on links to products on this page may result in an affiliate commission for me. 
Please keep in mind that the quantity or price of items can change at any time.
As an Amazon  Associate, I earn from qualifying purchases.
As an Aliexpress Associate, I earn from qualifying purchases. 
Als Amazon-Partner verdiene ich an qualifizierten Verkäufen