Discover Glorify: The Best Canva Alternative for Bloggers, Web Designers, and E-commerce Enthusiasts
Are you, like me, a blogger, web designer, or e-commerce expert constantly searching for the best Canva alternative? Let me introduce you to Glorify. It's not just another design tool; it's an app similar to Canva with unique features that stand out in the digital world.
In this comprehensive guide, I'm excited to show you why I consider Glorify not just as the best Canva alternative but as an app similar to Canva in user-friendliness yet far more advanced in its capabilities. Whether creating engaging content for my blog, designing unique websites, or crafting eye-catching visuals for e-commerce, I find Glorify's AI-powered features and intuitive templates incredibly useful. It's my top pick for a digital creative tool, especially if you're looking for something that offers more than what Canva can.
Dive with me into the world of Glorify and discover how it redefines digital design standards, proving itself to be an exceptional app similar to Canva yet distinct in its empowering features.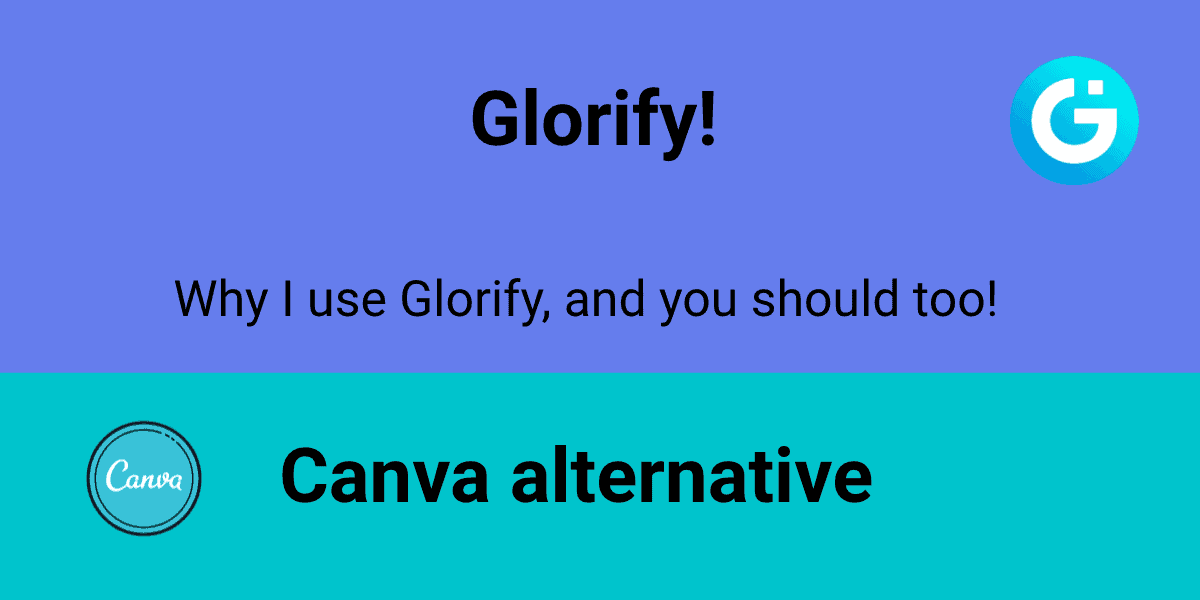 Introducing design software Glorify, the best Canva alternative
As an ecommerce business, product photos are essential to your success. They give potential customers a glimpse of what they are buying and can make or break a sale.
But professional product photography can be expensive, and many small businesses can't afford it. That's where Glorify comes in.
Glorify is an online design platform specifically designed to create product images. You can create beautiful product images in minutes without design skills with easy-to-use tools.
Glorify vs Canva – What option should you consider when choosing the best.
When it comes to design features, there are a few things to consider before deciding on Glorify or Canva. Canva is an excellent option for those looking for an easy-to-use platform with many templates and options. However, Glorify offers more comprehensive features for those who want more control over product image design for the e-commerce sector. So, if you're looking for more flexibility and control over your designs, Glorify is the better option.
Glorify: Interface and look and feel
Glorify is a SaaS app with an easy-to-understand interface with the perfect look and feel to simplify the design process workflow. Glorify's the user interface is so intuitive that you can start immediately with little to no learning curve. Glorify's sleek and modern design makes it stand out from the other design tools in the market.
Glorify: graphic design and social media templates with stock photos
Canva has been a market player for way longer, so they naturally have a huge stock of design templates and stock photos. What I like about the Canva alternative Glorify is its integration with Icon8, which you get as part of the paid plans. There are tons of ready-to-use icons in the collection. With Glorify, you can modify the icon color or even add effects.
The Glorify social media templates are a great alternative to Canva. In addition, Glorify gives you access to these libraries:
Pexels
Pixabay
Photo Creator
Ouch
The Noun Projects
Icons8
Text Templates
Models
Dive into the World of Creativity with Glorify's Extensive Template Library
Imagine having access to over 11,000 templates at your fingertips. That's what Glorify offers – a vast and diverse template library designed to cater to all your design needs. Whether you're crafting visuals for an e-commerce site, social media, or any other digital platform, Glorify's templates provide a solid foundation to start from.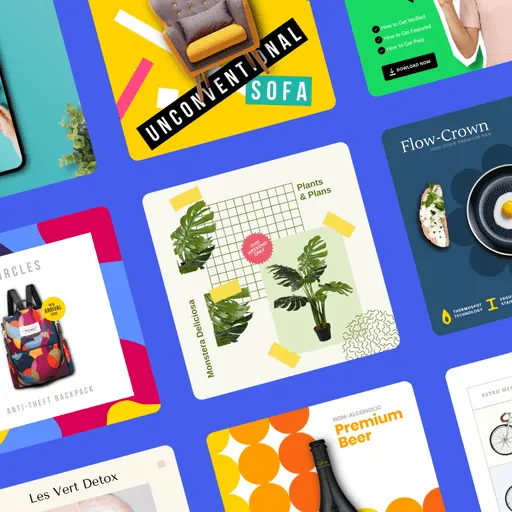 These templates aren't just numerous and meticulously crafted for various themes and industries. This means you can easily find a template that resonates with your brand's aesthetic and message.
The best part? Each template is fully customizable, allowing you to tweak and transform it to align with your vision perfectly.
With Glorify's template library, the journey from a blank canvas to a captivating design is just a few clicks away.
Glorify: Brand Kits
A personal brand kit comprises your logo, and fonts for heading, subheading, and paragraph. Also, you can create one or more color palettes for each brand account. The Glorify Pro plan has ten brand kits; Canva Pro has a meager one!
In Glorify, you first select which brand kit you want to work with. All created designs are stored in the brand kit. It is possible to copy a design to another brand kit. Both Canva and the Canva alternative, Glorify, suggest color palettes when an object is selected using the colors available for your brand kit. Of course, you are also free to choose any other color. Besides, Glorify has a "brand it" button, which rapidly changes the color of your image using your chosen brand colors. Press the button repeatedly to see which color combination works best with your design
Canva only has one account, so designs and brand kits are not stored together. But basically, it works the same way as Glorify. Canva offers a folder concept like a file system to organize your designs. Glorify, on the other hand, lets you tag a design or use multiple tags.
Once you understand how brand kits work, I think the Glorify way is an excellent one to organize your images with all your brands. It is one of the features where Glorify scores over Canva. If you need more than one brand kit, Glorify is a great Canva alternative.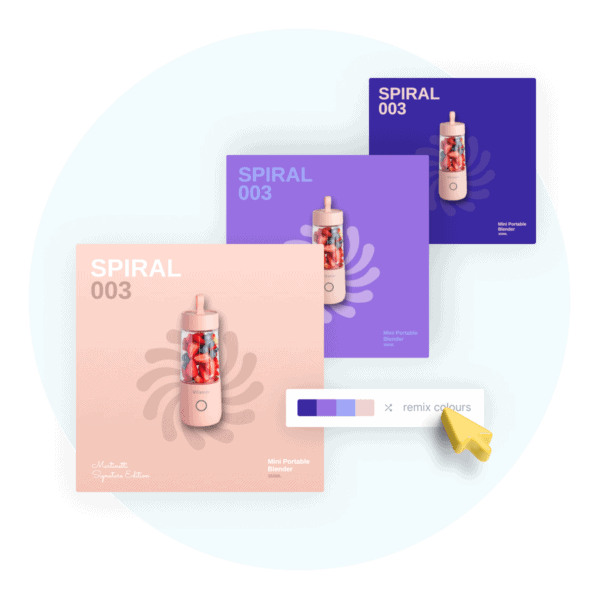 Glorify: Images, infographics, color palettes, Icons, Logos, and more
Similar to Canva, Glorify offers a vast library of images and infographics.
over 12 million images
1+million photos of models
2+ million Illustrations/Icons
1+ million 3D Illustrations
190 color palettes
Glorify: Infinite design freedom
Your business is your canvas. You have big ideas, and you want to bring them to life. But before you can do that, you need to get organized. You need to gather your assets and craft a brand identity.
With Glorify's Infinite Canvas, losing track of marketing assets is a thing of the past. Imagine having a single workspace for all your brand elements, copy libraries, storyboards, and ads. With our Zoom to Content feature, you can easily find what you're looking for and make the most of your infinite workspace. Glorify's Infinite Canvas is the perfect solution for teams who want to boost their efficiency and access all their marketing materials in one place. Stop clicking through multiple files and start making the most of your time with Glorify's Infinite Canvas.
Infinite Canvas is unique for Glorify, with multiple designs on the same page. No other design tool offers this ability.
Glorify AI: The Future of Ecommerce Design
Glorify takes the game to the next level with its AI-powered features. This advanced technology offers a range of capabilities that are game-changers for ecommerce businesses:
Easily Generate Any Image: Imagine designing and generating any image your mind can conceive—all with a simple text prompt.
AI-Generated Scenes for Products: Reuse the same product image across multiple variations by effortlessly inserting your products into AI-generated scenes. This cuts down on expensive photoshoots while still achieving top-notch visuals.
High-Converting Copy Generation: If crafting the perfect words isn't your strong suit, Glorify AI has you covered. Use basic prompts to generate compelling titles, descriptions, and more, all tailored to boost your ecommerce business.
Glorify: Realistic shadows & reflections
Adding shadows and reflections to your images can give them a polished, professional look. And there's no need to hire a designer for you. With just a few clicks, you can add shadows and reflections that will make your images pop.
Shadows are a great way to add depth and contrast to an image. Using a drop shadow, you can create the illusion of your product or image floating above the background. Ground shadows can be used to create a sense of weight and substance.
Shadows and reflections can also highlight details or create a sense of movement.
Glorify: Smart Resize
Say goodbye to the hassle of manually resizing every design. With our Smart Resize tool, you can create multiple variations of an image in just a few clicks.
Repurpose your designs across all social media platforms, or choose your custom sizes. The Smart Resize tool can quickly create perfectly sized versions of your designs, no matter where you want to use them.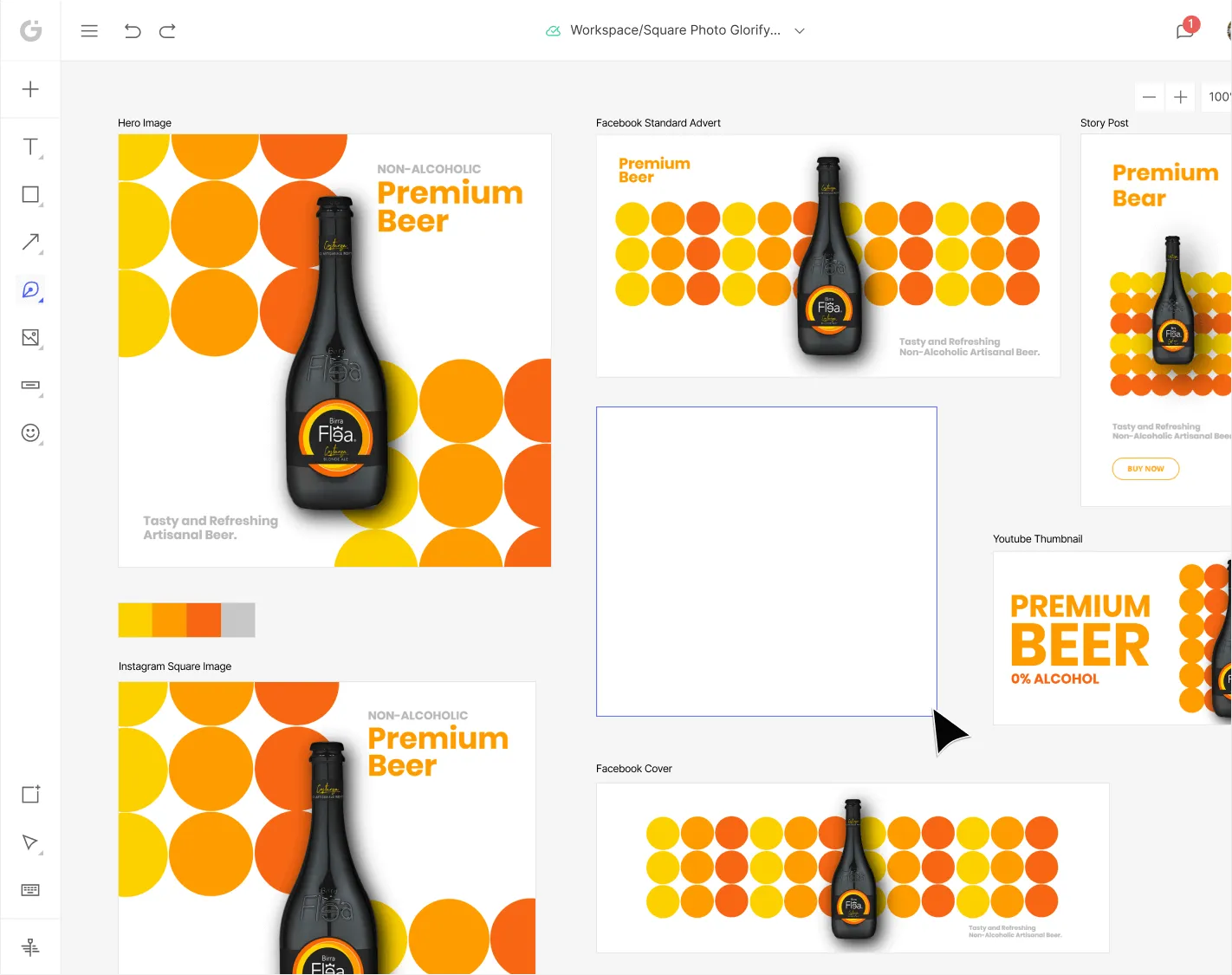 Glorify: Background Remover
Whether you are a professional graphic designer or just starting, removing backgrounds from images can be a time-consuming and tedious task. Glorify's background remover takes all the hassle out of the process, allowing you to quickly and easily remove backgrounds with just a few clicks. Simply upload an image, and the AI tool will do the rest, quickly and accurately removing the background while preserving the integrity of the original image.
I uploaded a picture of myself, removed the background so only the person is visible, then saved the image. You can use the newly-created picture with any other background image or colored background.
Glorify: Annotate Tool
Glorify's annotate tool allows you to indicate the prominent features of your product with clean lines and arrows. By taking full control of this design element, you can customize the color, length, width, line head, and style of the indicator to create informative, professional product images. This annotation tool is also essential for creating stunning product photos that grab attention and communicate key information about the featured item. Whether you're a professional photographer or just trying to take great pictures for your online store, Glorify's annotation tool will help you take your photos to the next level.
Glorify: Realistic Mockups
Product mockups are an essential part of any marketer's toolkit. They provide a realistic, three-dimensional representation of your product and can be used in various marketing materials. Whether you're creating a digital ad, a website banner, or a print brochure, product mockups can help you bring your products to life. With just a few clicks, you can create realistic mockups to help you sell more products and achieve your marketing goals.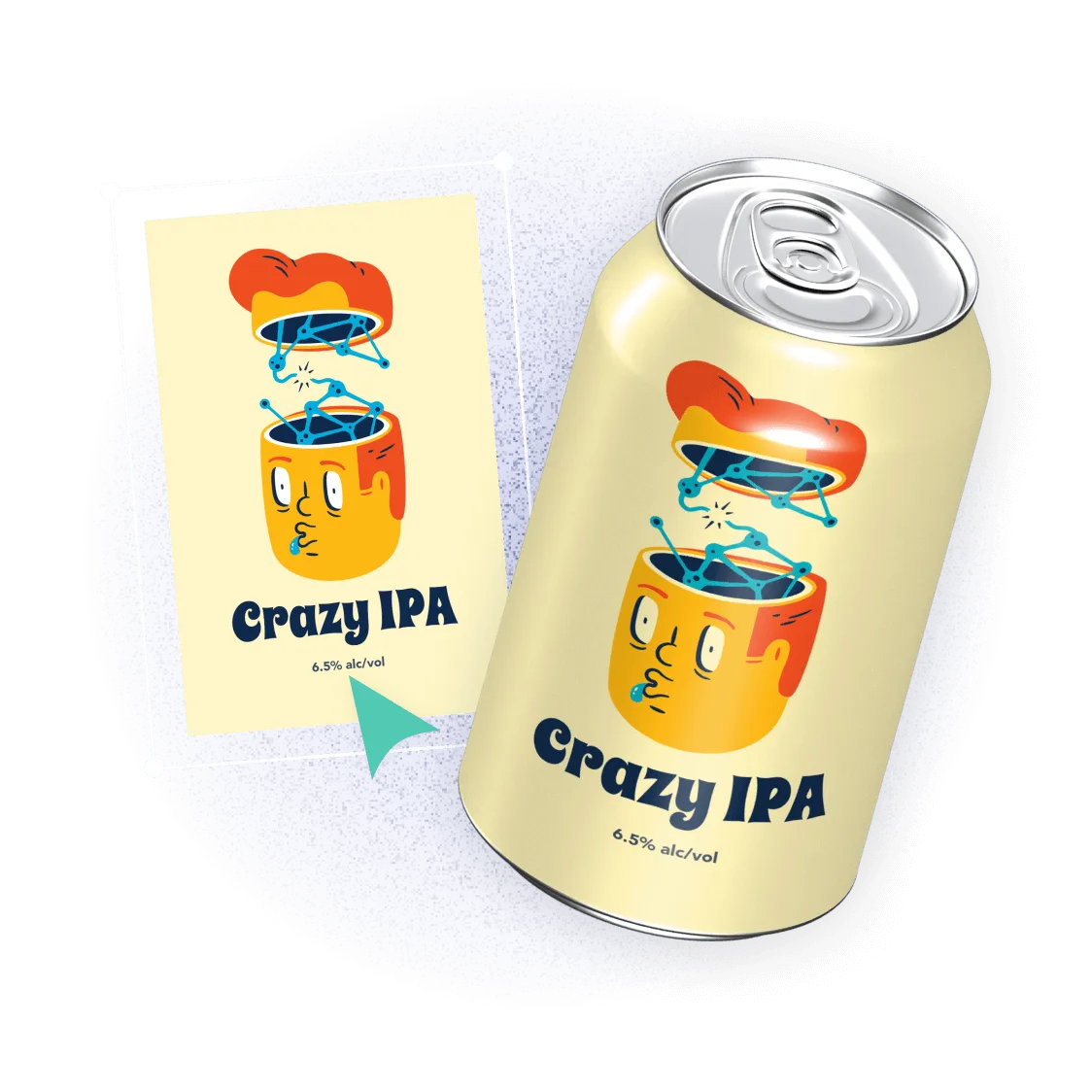 Glorify: SHARE & EXPORT
Designing something new can be complicated, especially when working with a team. In the past, designers would have to email files back and forth, which could lead to confusion and lost work. However, with the new design platform, you can easily share your designs with your team and keep all of your work organized in one place. Once you finish designing, you can export the images to your device, website, or store. You can also share them on social media with just a few clicks.
Working in teams – Collaboration features
Glorify has a Business Plan for five users and five workspaces with unlimited brand kit accounts and 100 background remover credits.
The Canva Pro plan is only for one user. You need the Enterprise plan for working in teams.
Why is Glorify a better tool than Canva for e-commerce businesses?
Glorify's simple, easy-to-use design tools make it the perfect choice for ecommerce businesses. With Glorify, you can quickly create stunning product images that will help you sell more products online. Canva is a great tool, but it's not as focused on ecommerce as Glorify is. Glorify's design tools are specifically tailored to help you create beautiful product images with ease. In addition, Glorify offers a wide range of templates and design options that are perfect for ecommerce businesses. Canva does not have as many templates or design options for ecommerce businesses, which makes Glorify a better choice for these businesses.
The new infinite canvas feature in Glorify 3.0 is helpful when trying to create a bunch of product images at once for different platforms. It can be tedious to open up a new document or a page and start from scratch every time you want to create a new product image variation, but with the infinite canvas feature, you can keep adding new images to the same workspace. Then, when you're done, you can export all of the images at once.
Do you need a Canva alternative for graphic design features?
There are pros and cons to both Canva and Glorify, so it's important to weigh them carefully before deciding.
Pros for Canva:
Canva is very simple to use and user friendly
the biggest collection of templates
mature product, well know
app for iOS and Android available
creating videos, presentations, and even a website
integration with apps like Instagram, Facebook, Google, and so on
Cons for Canva:
the online tool needs Internet access all the time
no way to back up projects
the free version is limited
the learning curve to find the way into the app
no in-app chat support
Pros for Glorify:
Icons8 collection
in-app chat support
infinite canvas unique for graphic design tools
easy to understand interface and almost no learning curve
unique templates made for e-commerce use
Affordable pricing plan for teams
Cons for Glorify
Glorify needs internet access all the time
It's not the app for stationery and printing.
sometimes a bit buggy
Pricing and free plan information
Like Canva, Glorify offers a free trial plan, which is totally free forever. It's recommended to purchase the Glorify Pro plan as it comes with a 30-day money-back guarantee, giving you enough time to return it if you're not satisfied.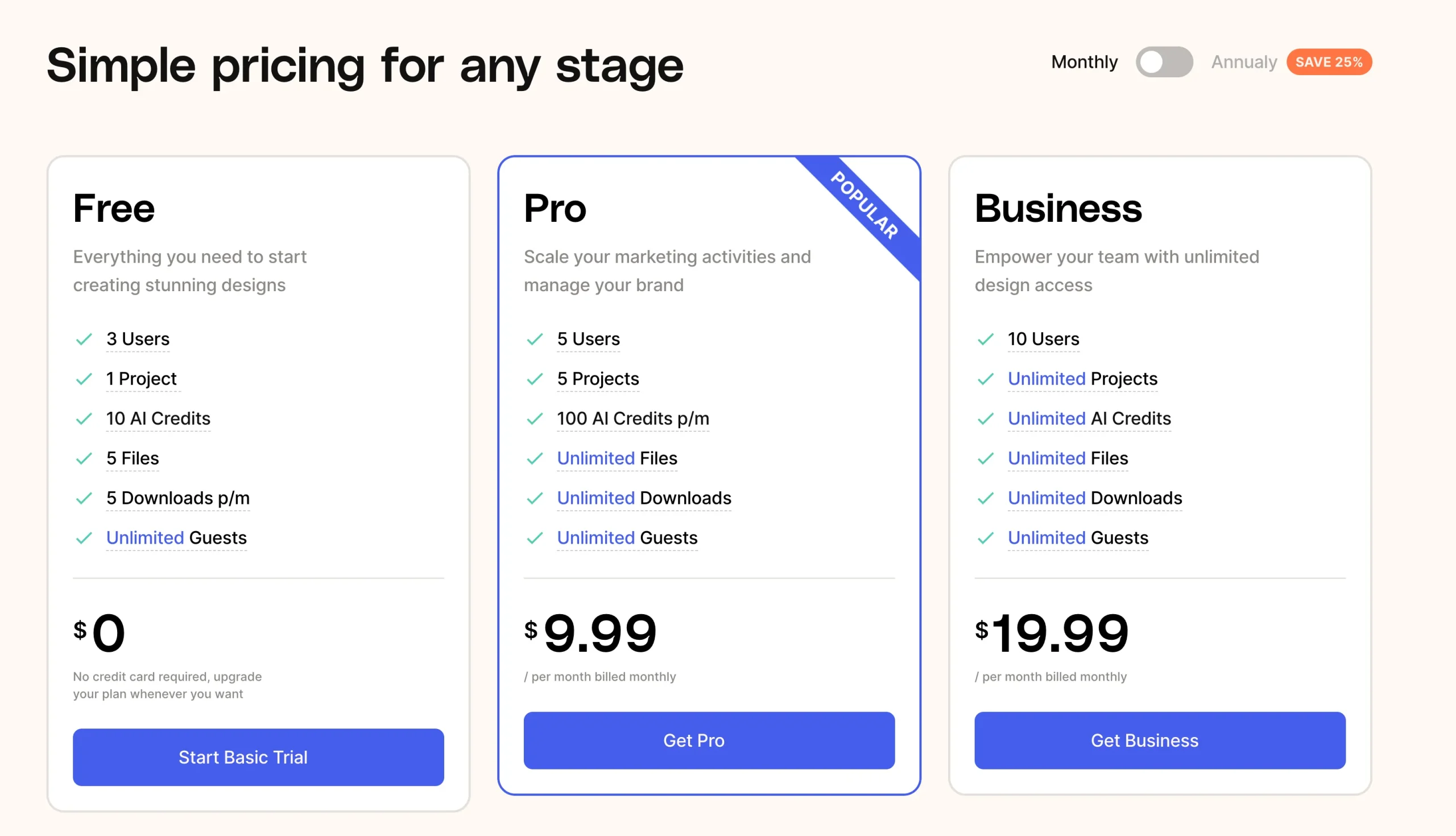 Updated September 2023
| Features | Glorify PRO | Canva PRO |
| --- | --- | --- |
| Cost | $ 9.99/m or 89.88/y | $ 14.99/m or 119.99/y |
| Number of users | 5 users included | one user included |
| billing cycle | billed monthly or yearly | billed monthly or yearly |
| Stock Photos | Pixabay, Pexels, Photo Creator | Pixabay, Pexels, Bitmoji, Emoji |
| Free templates | 11'000+ | 420'000+ |
| infinite Canvas | ✔️ | ❌ |
| icons8 | ✔️ | ❌ |
| Human models photo | ✔️ | ❌ |
| Brand Kits (Logo, Fonts, Color palettes | 5 | 1 |
| Background remover | ✔️ | ✔️ |
| curved text | ✔️ | ✔️ |
| drop shadow | ✔️ | ❌ |
| add image to shape | ✔️ | ✔️ |
| reflection | ✔️ | ✔️ |
| design birthday, christmas or invitation card | ❌ | ✔️ |
| social media templates with size | ✔️ | ✔️ |
| post directly to social media | ✔️, limited | ✔️ |
| Smart resize | ✔️ | ✔️ |
| Video editor | ✔️ | ✔️ |
| AI powered image creation | ✔️ | ✔️ |
| Cloud Storage | not known | 1TB |
| Team member | ✔️ / 10 with Business plan | with Canva Teams |
| Upload your own font | ✔️ | ✔️ |
| Annotation tool | ✔️ | ❌ |
| Mockup | ✔️ | ✔️ |
If you're planning to buy Glorify please use my affiliate link to purchase it. Absolutely no additional cost for you (I would earn a commission from the seller), but definitely a huge help for me, as your gesture will contribute to covering the costs of maintaining this website and adding more great articles. Thanks in advance for your support!
Why I use Glorify as a Canva alternative, and you should too!
Glorify is a great Canva alternative for those seeking an easy-to-use yet powerful design tool.
Glorify claims, to create high-converting product images in a few clicks on their website, and this is a fact. A few clicks are all you need to make your product stand out from others when you use a Glorify template.
If you are in the e-commerce business or a shop owner, you should get Glorify. Glorify has the right feature set for your specific needs, which Canva lacks. Glorify is the premium alternative for Canva when it comes to product images.
On the contrary, Canva tries to cover a broader market. It has elements like videos, music, ready-made animation, or fancy stickers. It is undoubtedly a sound design tool.
Which is better, Glorify or Canva?
Well, this question cannot be answered with yes or no. Both Glorify and Canva has their strength. I have a subscription to both tools. In my opinion, both should have a space in your arsenal of tools.
If you can only afford one tool, then Canva is the better option. Glorify stands out with its product templates. Canva is a more one-fits-them-all product. Glorify has a great selection of icons, which can help create product images. Glorify also provides unlimited downloads, while Canva limits the number of downloads depending on your subscription plan. Both have free plans, but Glorify's free plan is more generous.
In conclusion, Glorify and Canva are excellent design tools and offer much value. It is up to you to decide which one is right for your needs. I think Glorify is the better tool for ecommerce businesses since it has unique templates explicitly tailored for product images and ecommerce use. Canva might be a better option if you need to do more than just product images. It offers many features and templates for design, presentation, and video creation. Ultimately, the decision is up to you!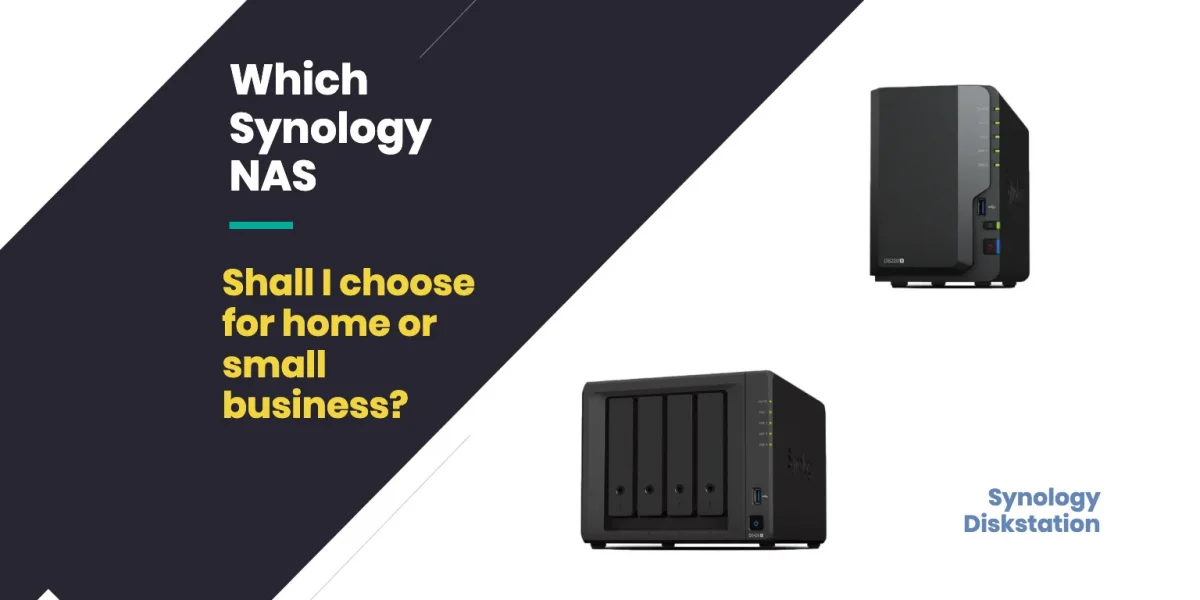 Which Synology NAS
Should I choose for home or a small business?
What are other Canva alternatives?
Here is a list of other Canva alternatives. They are all great tools.
VistaCreate (formerly Crello)
Adobe Spark
Snappa
Stencil
Design Wizard
PicMonkey
I hope this article helped you decide which tool is right for you. Good luck in your graphic design journey!
Glorify is an excellent option if you're looking for an alternative to Canva. It offers realistic mockups, background removal, and more. It's perfect for creating images that will look great on social media and in your online store.
Before you go …
I wanted to share something else that might pique your interest. I recently wrote another blog post titled "WordPress on Synology" that dives deep into the world of WordPress hosting solutions.
If you've enjoyed learning about Glorify and how it's shaping the future of ecommerce design, I think you'll find this one equally intriguing. In it, I share my personal journey of using Synology for WordPress hosting, the triumphs, the challenges, and everything in between.
Any purchases made from clicks on links to products on this page may result in an affiliate commission for me. 
Please keep in mind that the quantity or price of items can change at any time.
As an Amazon  Associate, I earn from qualifying purchases.
As an Aliexpress Associate, I earn from qualifying purchases. 
Als Amazon-Partner verdiene ich an qualifizierten Verkäufen