Why I switched from Yoast SEO to Rank Math to write my blogs.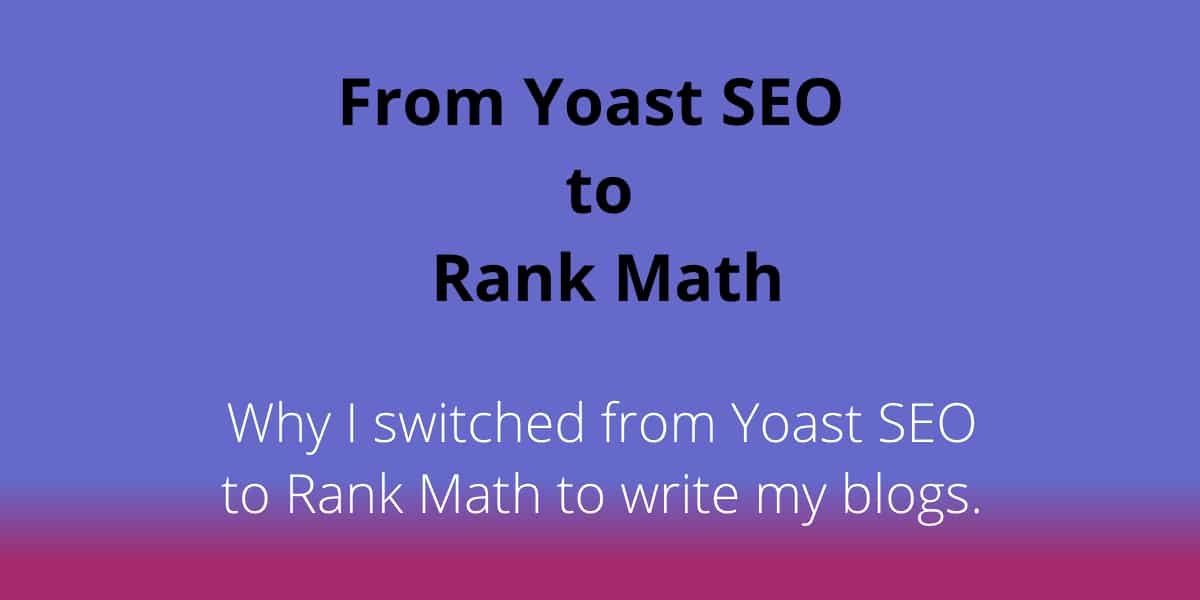 Introduction
I hope you're not expecting a review of Rank Math, the new WordPress plugin for SEO. Because then you're going to be disappointed. This blog post is actually all about how and why I switched from initially using Yoast SEO to write my blogs with WordPress to Rank Math.
If it's a review you're after, there are some good Youtube videos available. Rank Math itself has a good website where all features are explained in detail.
This is a nice video from Adam from WPCrafter.com. He shows the initial setup of RankMath.
Almost exactly a year ago I wrote my first blog post. I didn't use any SEO tool for this article. As an IT geek I tend to dive in and explore new fields quickly. The world of WordPress was totally new for me. I invested many hours watching Youtube videos, reading blogs and bought online courses on Udemy. I also bought some Kindle books.
The Best AI Content Creator
The Alternative to ChatGPT
Building a website, creating pages and posts and getting a good ranking on Google. This is where SEO comes into play. It's a skill.
SEO involves making certain changes to the website design and content that make your site more attractive to a search engine. An SEO plugin for WordPress helps you to make those changes.
Last summer I redesigned my IT freelancer WordPress website by applying all the new WordPress plugins I had learned about: OceanWP theme, Elementor Pro, Divi page builder, and using Yoast SEO as my SEO tool.

All my blogs deal with IT topics/problems.
Yoast SEO, my first SEO tool
At that time Yoast SEO was highly recommended on videos, blogs and in books. I had to learn about the concept from scratch: what it is and how to use it. Yoast SEO helps to create the meta information, title, slut (url) and description. It's the information you see in a Google search and it is based on that same information that you decide to click (or not click) on a particular article. For example, SEO tools guide you on what the allowed length of text is for each section.
Yoast SEO checks your content for easy reading (flesch reading), passive voice, transition words (as a result, because, so, finally…). The good thing about Yoast SEO is that all those sentences in the text can be highlighted, so the content can be easily adapted to improve reading.
Part of SEO is also using keywords or, in modern SEO theories, "focus keyword".
Yoast SEO is free and there is also a premium plugin that costs €75. I personally found the price tag too high for what it offers and did not go for it.
About two months ago I heard about a new WordPress plugin called Rank Math. A new SEO kid on the block. I think it was on the Facebook group "WordPress For Non-Techies by WPCrafter". People had commented saying it is better than Yoast SEO, that it offers more features and it's free.
It spiked my interests, but I knew that it's not a good idea to install two plugins which do the same thing. A little digging around led me to the Facebook group for Rank Math "Rank Math SEO Plugin". Here I obtained more information about Rank Math and discovered that there is a feature to import Yoast SEO information. So I decided to take a risk and tried out RankMath for my website. The import tool is really fantastic (see video above) and does import all your Yoast SEO information. There is no need to type in the information again. It's important though, to deactivate Yoast SEO first in the plugin section.
RankMath offers all the features of Yoast SEO and much more. It checks the content for all keywords defined. I love that I can click on the keyword and it shows tips on how to improve the content for the particular keyword. This ensures content optimization for all keywords. In comparison, Yoast SEO supports only one focus keyword in the free version.
Rank Math
Rank Math has a button to "Edit Snippet". So does Yoast SEO. Most noteworthy is that there is also a preview for Facebook and Twitter with the possibility to add an image. The preview displays how you would see the link (with image) on Facebook or Twitter.
There are a lot more features that Rank Math offers. Schema integration builds rich snippets Google will understand. For example, an image for an article. However, Google decides if the rich snippets will be show on the serps. What's cool is that the Google Search Console is integrated. Meaning you see your results directly in the WordPress dashboard with lots of information. This is something that stopped working in Yoast SEO since Google introduced a new search console. Yoast SEO never bothered to fix it or at least remove it from their dashboard.
I love Rank Math a new WordPress plugin for SEO – I can highly recommend it , A Pro version is planned, but I believe all the features in the free version will remain free. The (paid) Pro version will offer some more in deep SEO services according to information from their Facebook group.
So why I switched?
Well, I think I was won over by the sheer number of features Rank Math offers. I also did not clearly understand the advantage of premium version of Yoast SEO and the free version. They do not offer a free trial or money back guarantee for the premium version. Full disclosure: I had never tried any other SEO plugins. Yoast SEO was the clear winner, so why look further? But now I think Rank Math is a serious contender. I like their support on the Facebook group. Very helpful always and having an open ear for feature enhancement requests.
What will Yoast SEO do to deal with those who leave their ranks and go to Rank Math? And I'm guessing there will be many. They might strike back with something new. What will it be? Stay tuned.