Elementor Pro Review / Full Comparison – Elementor Pro VS Free
You have been looking at Elementor Pro for a while now and it's time to decide if you should buy Elementor Pro or not. Elementor is a drag-and-drop page builder that will help you create your website from scratch, but can Elementor Pro do everything? In this blog post, we'll discuss whether Elementor Pro is worth the price or not.
What are the benefits of using a WordPress page builder?
First a short introduction to WordPress page builders. Are you struggling to build and modify your site? It's where page builders come into play. Page builders are plugins (or, in some instances, themes) that act like drag and drop software. It allows you to design the site with a lot of ease, just by dragging and dropping blocks or modules wherever you want on your page.
Page builders allow you to do almost everything with your site. You will create and edit images, post widgets, share buttons, etc., to make the best website that perfectly fits your needs and requirements.
There are many page builders (Divi) & drag and drop WordPress themes (Kadence or Blocksy) out there for all kinds of niches, but some excel more than others. Elementor Pro is one such plugin.
Elementor Pro is a complete plugin that offers you a fantastic page builder with multiple features, including Elementor's unique drag and drops editor. It has the expertise to develop your site. This easy-to-use layout tool can also make changes in design without any coding skills required by you. Elementor Pro Page Builder provides various functions that will help you build website pages much more effortless.
My favorite WordPress page builder – Elementor Pro
In a previous post, I compared Elementor vs. Divi. Page builders: which one should I use? The next few paragraphs are dedicated to Elementor Pro alone. Pro is the version that requires payment. It's no secret that I am a big fan of Elementor Pro for WordPress.
A page builder for WordPress that truly sets it apart in 2021 is Elementor. A visually rich website without coding is what you'll get with Elementor if you're creative. Once you've worked with the free version for a while, you'd want the Pro version.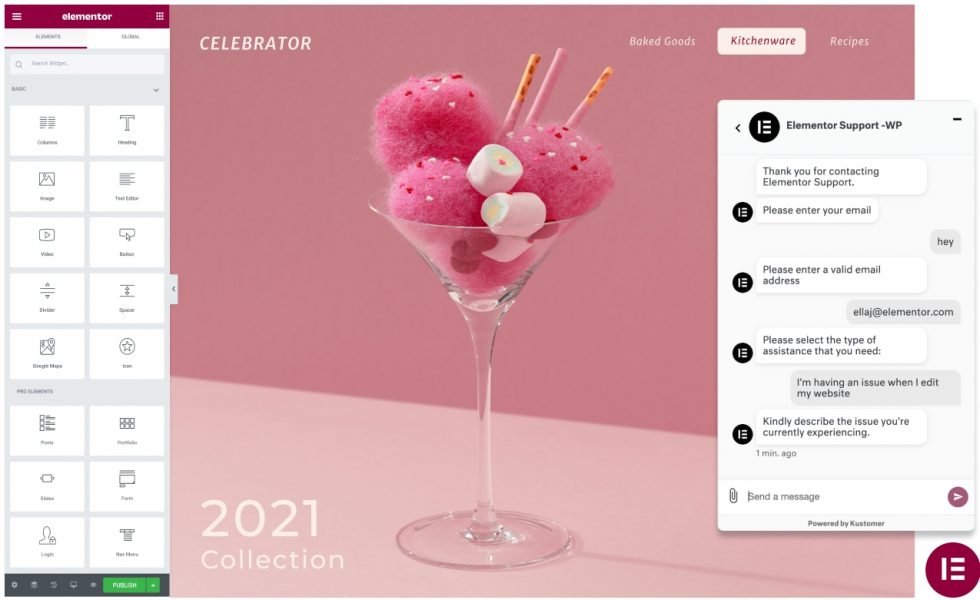 Why go Pro – What can you do only with the Pro version?
Those who use Elementor are often asked whether they should go for the Pro license or stick with the free version. There isn't actually much difference in terms of functionality because both can be used for WordPress websites. However, there are specific features that only the Pro version lets you do.
If you manage a Woocommerce website, it is highly recommended that you buy the Pro version. Elementor Pro 3.5 (released November 2021) enhanced the customization of every aspect of your store, including the product catalog, individual product pages, and the add-to-cart process, checkout page, and my account page. Release 3.5 added new widgets for woocommerce. Boost your store's traffic with custom landing pages, popup advertisements, and more.
In addition, to customize the header and footer, you would need the Pro version too.
The following feature and widgets are available only in the Pro version.
Elementor Pro template library – over 200+ beautifully designed
Global widget -Save your favorite widget settings and reuse the widget on any page with a simple drag and drop.
Popup Builder – Popup Builder gives you the freedom to create pixel-perfect popups, including advanced targeting options.
Theme Builder – Use Elementor's industry-leading Theme Builder to edit every part of your site without code.
Motion effects – Add interactions and animations to your site using Scrolling Effects and Mouse Effects.
Form Widget – Goodbye, backend! Create all your forms live, right from the Elementor editor.
Testimonial Carousel widget – Increase your business' social proof by adding a rotating testimonial carousel of your most supportive customers.
Countdown widget – Increase the sense of urgency by adding a countdown timer to your offer.
Action links – Easily connect with your audience via WhatsApp, Waze, Google Calendar & more apps
Display Conditions – Decide exactly where your global templates appear across your site.
Header and Footer – Customize the header and footer areas of your site visually, without any code.
Sticky Header – Add a sticky header to any page, or across your website, with a click of a button. No additional plugins are needed.
404 page – Visitors can be directed to custom 404 pages that are built entirely within Elementor.
Archive page – Design your entire blog in Elementor or designate different templates to different areas of your blog.
Single Post – Create your blog post template and attribute it across your site or to any category, page, or taxonomy.
Nav Menu Widget – Use the most advanced Menu Builder for WordPress and customize it visually; no coding is needed.
Table of Contents – Make your long-form content more readable for site visitors & search engines by adding a TOC
Price Table Widget – Create advanced price tables that display your products or services.
Woo Product Widget – Display your WooCommerce products and filter the exact products you want to display.
Full Site Editing: Change the header and footer and more in one place!
Image Hotspot (new in 3.3)
Video Playlist (new in 3.3)
Woocommerce widgets for the checkout process (new in 3.5)
and more
Starter Template and Template Kits
Elementor ships with over 100+ designer-made premade templates. Covering almost all industries. All you need to do is replace the content and customize it. It's a great starting point to get some inspirations
All templates have a fully responsive layout and are shipped with the creatives. it is also possible to add just a section from the template to your webpage.
Recently, Elementor has added a new feature called 'Template Kits' which allows designers to create their own templates. With a template kit, you get ready-made web pages for each type of content — home page, about us, services, products, blog posts, events, etc. You don't need to spend hours creating them from scratch.
Visual theme builder in Pro only
Have you ever tried the new Elementor Pro visual theme builder? The theme builder is much more attractive to use than the text-based theme builder under Templates in the WordPress dashboard. Right inside, you can click "Add new" select for which part of your website you want to create a template—for example, header, footer, body text, and so on. Then, the visual builder opens, and you can choose from a full-page template or a block. Another option is to use your saved customized template to create a new template or close the wizard and open the visual editor with a blank template.
When you create a theme element, it will replace an element of the active theme. In the example above, if you make a header and publish it, the new header will replace the existing one. Before posting any theme element, you can set a display condition. Then, either apply the header to the entire website or a specific page(s).
Popup builder Pro only.
Under Templates, there is an item called Popups. Unless you use Elementor Pro, clicking Popups will only display a "Get Popup Builder" message. You can use this feature to create any type of popup, from ad banners, subscription forms, announcements, exit intents, and so on. Just click "add new" to give your popup template a name then you can choose premade popups. It's convenient to get some ideas.
It is possible to display popups on some pages by setting specific parameters. For instance, you could display a popup right after the landing page has completely loaded. Triggering a popup is another option. A popup can be displayed after your visitors have clicked a button.
I recommend using popups very sparingly. When the advertisement appears too prominent, visitors tend to leave the site. Do not use too much text in popups or use them in the footer. There is the possibility that it could hurt SEO insofar as Google will index the pop-up as part of the page.
Dynamic Content Pro only
Dynamic content is a term that refers to building pages with dynamic widgets. By using these widgets, you can create fluid website content based on your visitors and their actions. In order to build dynamic content, you'll need to use the color field in the widget builder and have a PRO account.
Additionally, landing pages are created by taking static websites and adding dynamic features such as animations or interactions based on visitors' actions.
Blog pages can be designed to provide a customized experience for different users. With the use of dynamic content, blogs are able to create unique experiences by building custom pages and content automatically.
Dynamic Content is an effective way for websites to build their user base because it allows them to show more relevant information based on what people are looking for.
Elementor Pro theme – Integrates easily with most themes and plugins
Since Elementor works with nearly any WordPress theme and plugin, you can continue to use your favorite tools and enhance your work. It is not recommended that you use Elementor along with another page builder like Divi or Oxygen. Elementor has its own theme Hello that allows for complete design freedom. It's free.
I recommend using Elementor with Astra theme or Kadence theme.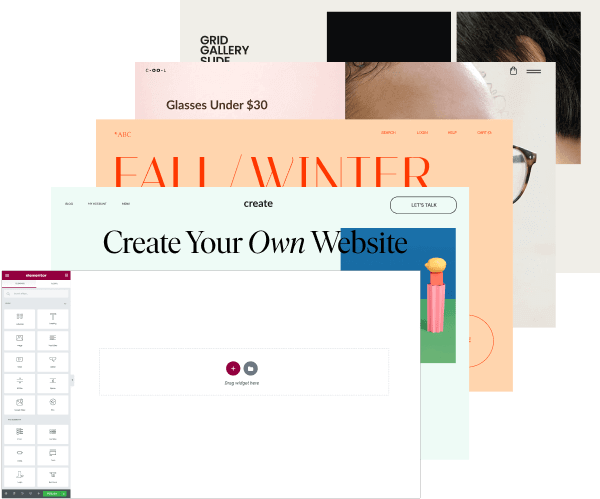 Elementor Pro Price plans
There are different pricing plans: Essential, Advanced, Expert, Studio, and Agency. The only downside is that you can't get a Lifetime plan. Pro Pricing plan includes a 30-Day Money Back Guarantee For New Purchases​. Renewal is 25% OFF.
People post about discount codes on blogs or on the internet about Elementor Pro discount coupons. The statements are untrue. There are no coupons available through Elementor. Exclusive sales of Elementor Pro will be available only on the company's website.
Do not waste time trying to find a discount code.
What can you expect in upcoming versions?
Google is currently in the process of updating the algorithm. Web Core Vital. Elementor Pro has a reputation for adding unnecessary bloat code and therefore slowing down webpage speed. The company has already announced that it will streamline the framework for improving web speed. In fact, in the latest version, 3.5 features were added for improved asset loading and optimize DCOM output. Although still in experimental stages. All the experimental features in Elementor you can check in the Elementor, Settings, Experiments tab.
Elementor added a new widget Flexbox on the developer channel. Flexbox will replace sections and inner sections. No eta date yet. I think this will be a major step forward to improve website performance.
Support
The level of support you will receive depends on the plan you purchase. You only get premium support for the Essential, Advanced, and Expert plans. The Studio and Agency plan to add VIP support.
What is Premium Support?
Ask any question and get answers within one day.
What is VIP support?
Chat live with the support team and get priority support within 30 minutes.
In addition to the Expert up to the agency plan, you get an Elementor Premium profile. Showcase your at any time with the chance to get hired.
You will get all the support options when you purchase any plan with an active license. You need to have an active license, and if not, you do not get any support.
Online Support
Elementor offers a vast help center with online documentation, knowledge base articles, video tutorials, and recently launched the Elementor Hub (community)
To directly open a support ticket and not go through the help center, you need to log in first to your portal. Elementor tries to guide you first to the knowledge base and find an answer before contacting Support. Then click at the left site Support, followed by Support Center, Find a solution, Click the red button Contact Support, choose a category, choose a topic, and finally get to the contact formula where you can write your problem and upload a file.
I find this not user-friendly because we know best what our problem is and if we need to contact Support directly or search for an answer in the help center. There should be a way without wasting time to contact Support directly.
I hope Elementor will work on their support process.
My recent experience with Elementor email support was exceptional, though.
Frequently Asked Questions
What happens when Elementor Pro expires?
When you cancel your auto-renewal, all your existing projects will remain intact, as will the Pro features you used in your designs.
What is the latest version of Elementor Pro?
In November 2021, the latest version is 3.5
How does deactivating Elementor Pro affect my website?
Your site will not display advanced designs created with Elementor Pro if you deactivate or delete them. However, if you reactivate or reinstall Elementor Pro, your designs created with Pro will show up once again.
Do I need both plugins Elementor Free and Elementor Pro installed?
It is technically an add-on to the free plugin. That is, if you purchase Elementor Pro, you'll have both the free Elementor plugin and the Elementor Pro plugin active on your site
Is Elementor compatible with Posts and Custom Post Types?
Yes, Elementor is fully compatible with WordPress custom post types and posts.
Is Elementor Pro worth buying?
Well, it's definitely worth it. It's still easier to design a webpage with a page builder than with Gutenberg Blocks.
Summing up
Pro feature to create sliders with ease. Elementor Pro has many features that the free version does not have. The widgets in the Pro version are worth paying for because they make designing websites much easier, and there is a lot of them to choose from.
In conclusion, Elementor Pro is worth buying if you want more control over your website design process without coding experience or knowledge about HTML/CSS code. The Pro version is a bit expensive for some users, but in my opinion, the price is worth every penny. It provides you with more advanced features than the free version and allows you to create almost anything quickly. Elementor Pro has many pros over its free counterpart.
Don't forget about all of the other fantastic improvements coming soon in future versions, like faster page loading times!
Any purchases made from clicks on links to products on this page may result in an affiliate commission for me.
As an Amazon Associate I earn from qualifying purchases
Als Amazon-Partner verdiene ich an qualifizierten Verkäufen