Vmware to Proxmox:
A step-by-step procedure for converting a virtual machine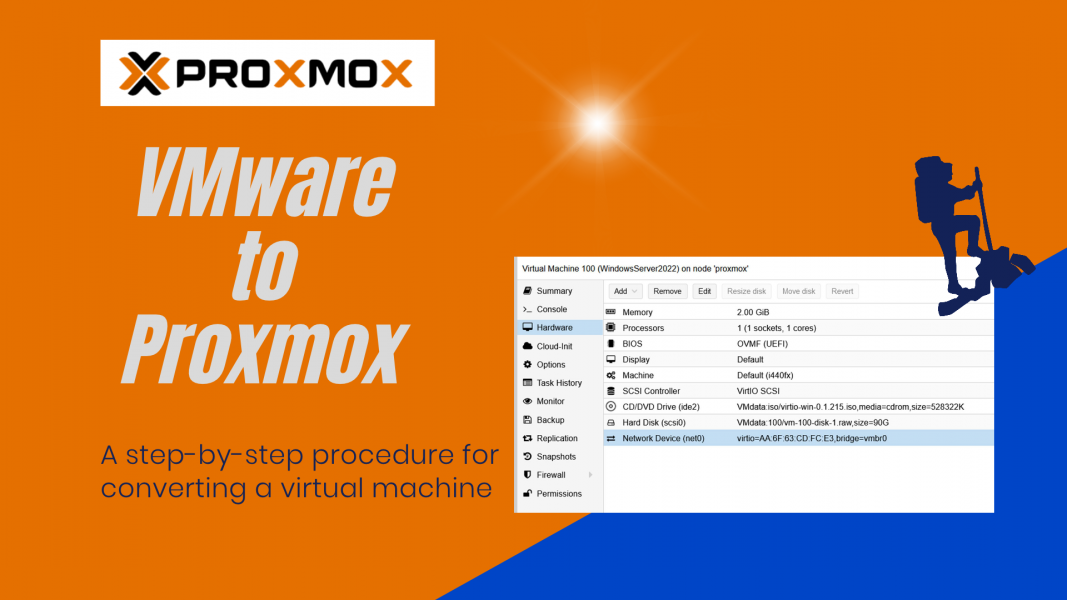 Making the move from VMware to Proxmox may be stressful, but I'll make it simple for you. It is far easier than you would think to import a VM from the VMware environment.
Introduction Vmware to Proxmox migration
Migrating from Vmware to Proxmox can be daunting, but it doesn't have to be. This article will discuss the benefits of using Proxmox and walk you through the steps necessary to switch from VMware to Proxmox.
Proxmox offers several advantages over Vmware, including increased flexibility and lower costs. Proxmox delivers the same features as VMware, plus many more. So if you're considering switching from Vmware to Proxmox, read on to learn more.
Benefits of using Proxmox
Proxmox VE is an open-source server virtualization platform based on KVM and LXC. It provides integrated containers and full virtualization on a single platform, making it an ideal solution for running virtual machines and containers. Proxmox VE is easy to install and manage, offering a wide range of features to meet your needs.
Some of the benefits of using Proxmox VE include:
Scalability: Proxmox VE can be easily scaled to meet your needs. It supports up to 32 nodes and 16,000 virtual machines in a single cluster.
Flexibility: Proxmox VE offers a wide range of options for configuring your virtual environment. You can choose from various storage options, networking configurations, and more.
Reliability: Proxmox VE is a stable and reliable platform. It has been in use in production environments for years, backed by a strong community of users and developers.
Cost: Proxmox VE is a free and open-source platform. There are no licensing fees or other costs associated with using it.
If you're considering migrating to Proxmox VE, keep a few things in mind.
First, while Proxmox VE is easy to install, it does require some good knowledge of Linux administration and an understanding of LVM storage and how to implement storage systems.
Second, while Proxmox VE offers many features and benefits, it may not be the best platform for every use case.
Third, when migrating from another platform to Proxmox VE, there will be a learning curve as you get accustomed to the new platform.
Walkthrough the steps necessary to convert a VM from VMware to Proxmox
I assume that you have already installed Proxmox and with local storage configured. My sample Proxmox installation for this article is on a Dell Poweredge T630. I have 6 Disk attached to a Dell PERC Adapter. I use Proxmox VE 7.1.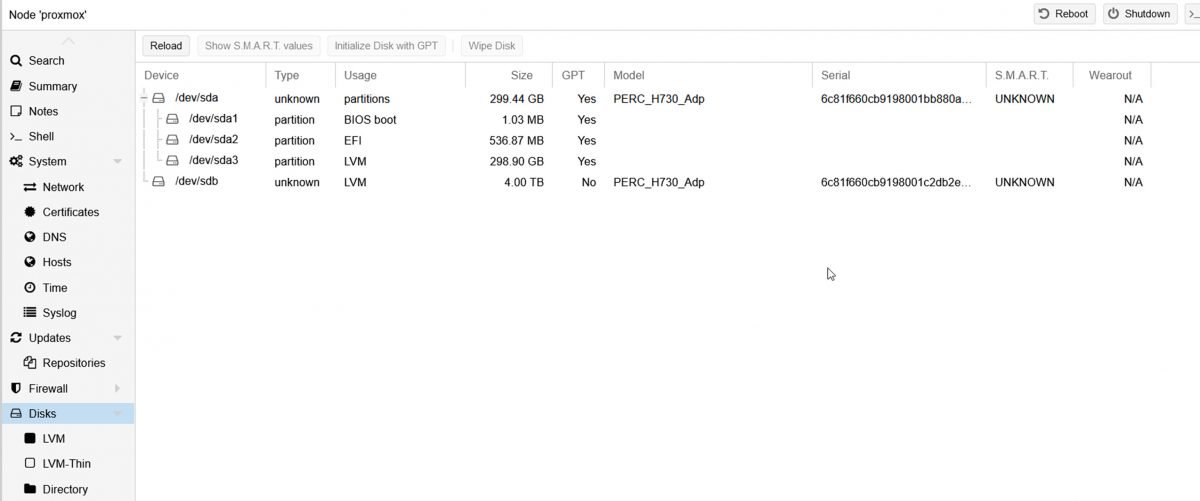 In this article, I won't tell you how to configure LVM. I recommend this blog to configure local storage as a repository for your VMs.
Step 1: Locate the VM(s) in your VMware environment
Enable the SSH service in Vcenter or ESXI. It's best to SSH with Putty or Kitty directly.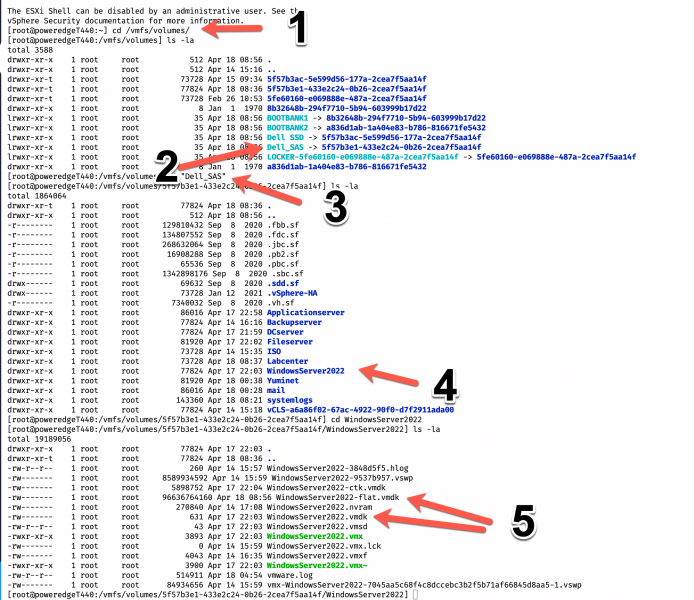 cd /vmfs/volumes is where the datastore is located
locate the storage where the VM reside
in my case, it is on the storage 'Dell_SAS, cd /"Dell SAS"
I want to convert the VM 'WindowServer2022'
We need to move both vmdk files to Proxmox
Step 2: Transfer the files with scp to the Proxmox environment
Go to the Proxmox environment and open the 'shell' console
scp -v [email protected]:/vmfs/volumes/5f57b3e1-433e2c24-0b26-2cea7f5aa14f/WindowsServer2022/WindowsServer2022-flat.vmdk /mnt/lvol/images/WindowsServer2022-flat.vmdk
for the flat vmdk file, repeat the same step for the vmdk file (shown in the picture above. My destination location is /mnt/lvol/images, which I configured earlier (not the scope of this article). SCP transfer may take a while, depending on the size of the vmdk files. Shut down the VM before the transfer and delete any snapshots. It is also a good idea to deinstall the VMware tools from the VM.
Step 3: Create a Proxmox VM with the GUI
There are two things to consider, choose the correct BIOS, and select SATA as the type for the HD drive. The size of the hard drive doesn't matter. My virtual machine has the ID 100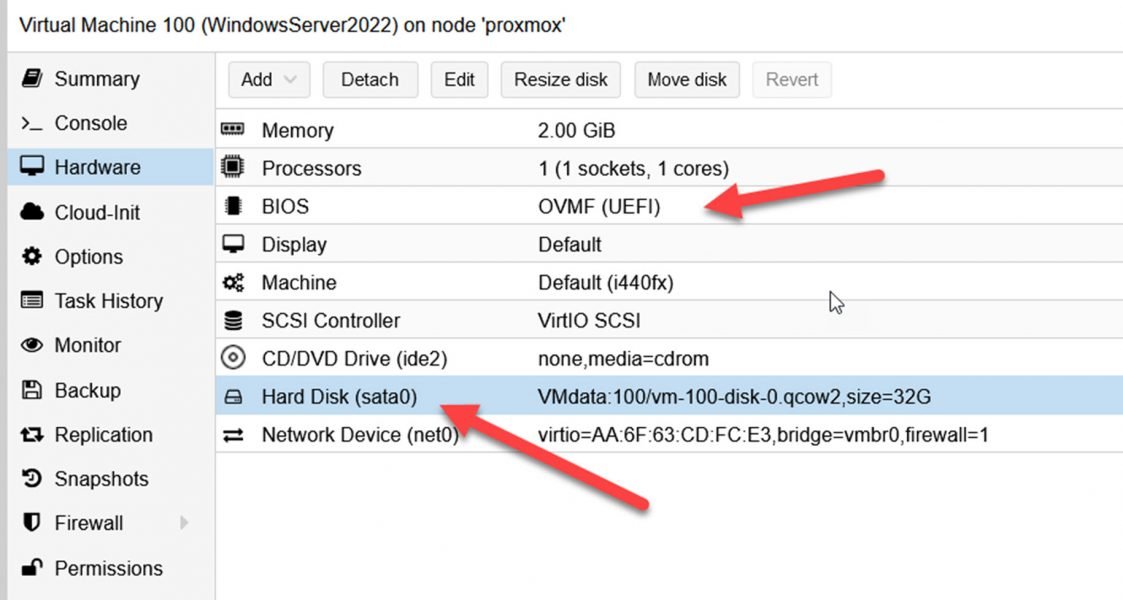 Step 4: Import the VMDK disk
qm importdisk 100 /mnt/lvol/images/WindowsServer2022.vmdk VMdata -format raw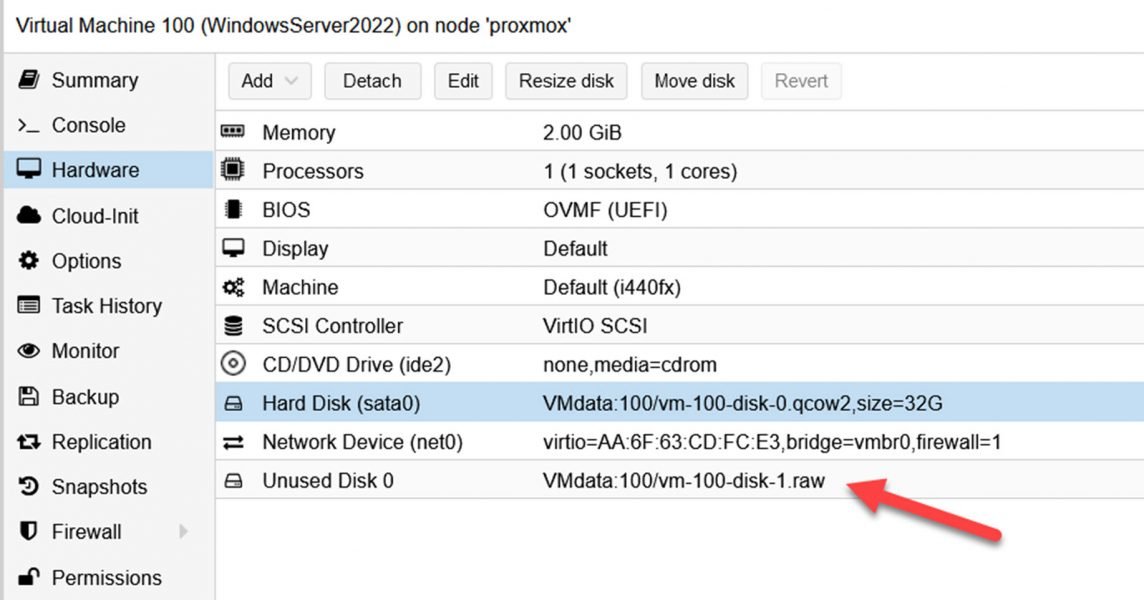 The converted vmdk disk will automatically appear as 'Unused Disk' in the Proxmox GUI. Now highlight it and click 'Edit'. Make sure the 'bus/type' is SATA too. A converted Windows VM would not boot in Proxmox without SATA as the bus type. In the next step, we are going to install the VIRTio drivers.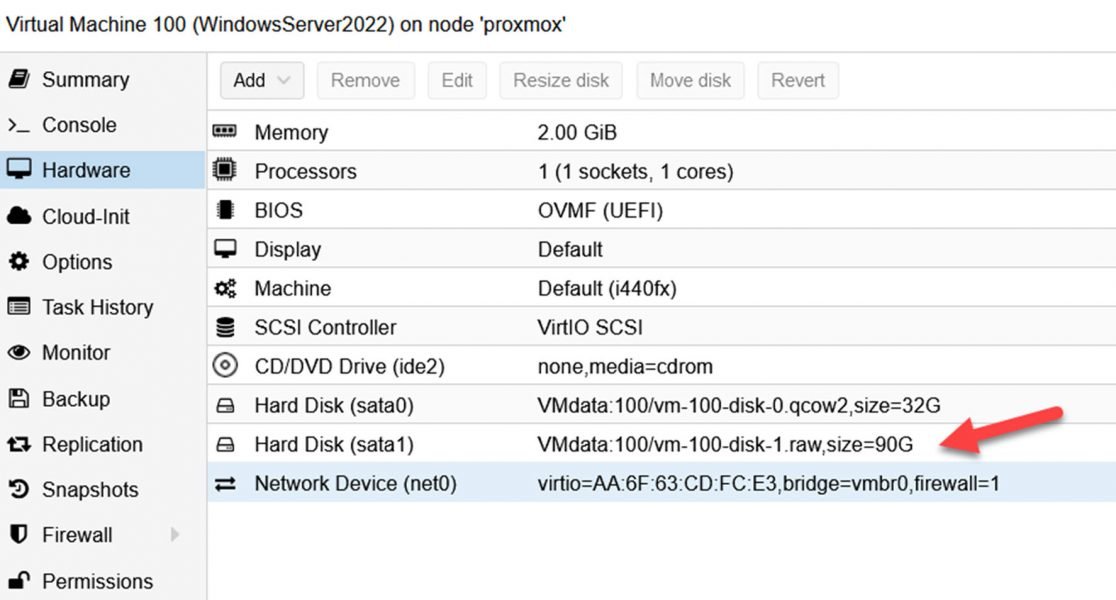 Proxmox Mini-PC
Beelink SER6 MAX Mini Computers| Mini Gaming PC 7735HS AMD Ryzen 7 8C/16T & 32GB RAM 500GB NVMe SSD Desktop Computers, Wi-Fi6 BT5.2, 4K Quad Display, USB4, HDMI 2.1, 2.5G LAN
【 High-Performance Ryzen 7 7735HS Processor】Beelink Ser 6 max Mini Computers uses Ryzen's high-performance "Zen 3" architecture, which represents higher single-core performance, higher energy efficiency, and lower latency. With an 8 Core 16 Thread, Up to 4.75GHz processor, whether it is designed: PS, PR, CAD, or games: GTA 5, PUBG,LOL, it can provide excellent performance
【Flexible Expansion Options】 Beelink SER6 Pro Mini Computers Equipped 32GB DDR5 4800 MHz memory, which can configurable memory to 32GB of a single card and 64GB of a dual card. And equipped with 500GB, read speed up to 3500MB/S, and is scalable to 2TB storage.It is widely used for Photo Editing, Graphic Design, Video Editing, Audio Production, Software Development, STEM.
Go to 'Options', change the boot order, and ensure the newly attached disk is enabled.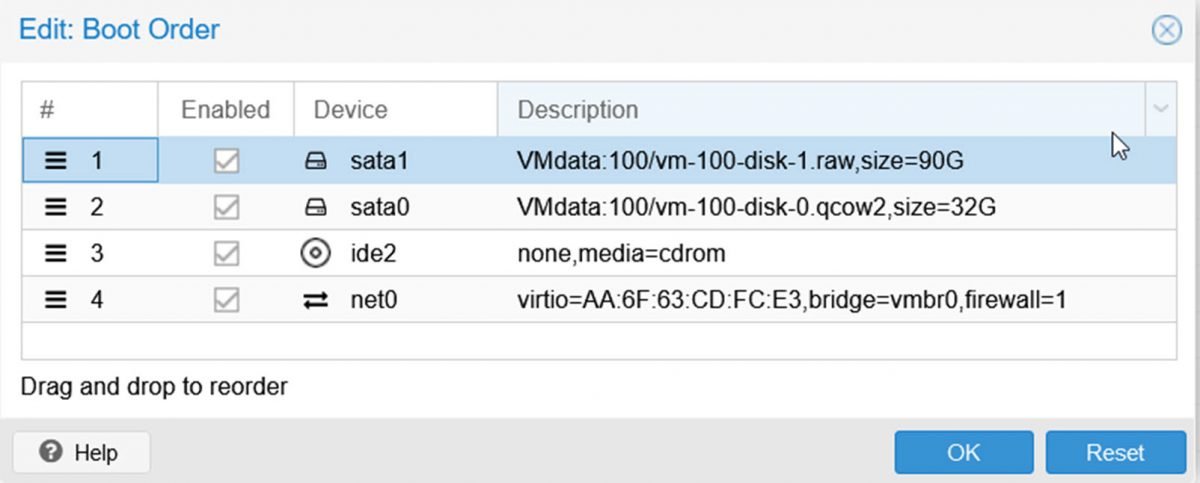 Step 5: Start the VM and install the VirtIO drivers
You can download the VirtIO drivers from this page. Windows VirtIO. Depending on how you set up the local storage, you can upload the ISO directly to the Proxmox store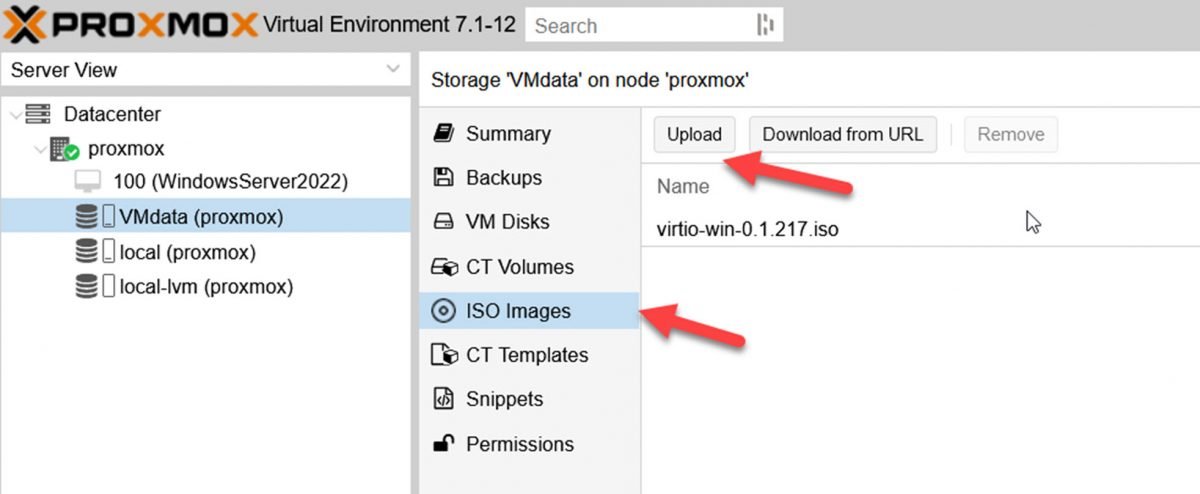 and attach them to the CD-ROM in the VM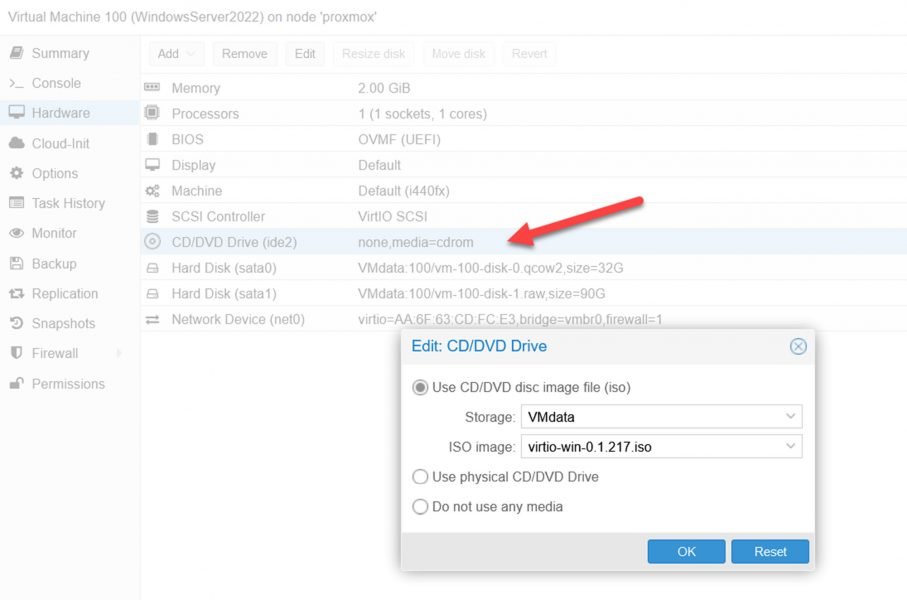 Now we are ready to start the VM for the first time on the Proxmox environment.

Now we can install the drivers for Windows. Since I already attached the VirtIO driver ISO, it is mounted in the Windows VM. In most cases, it is the 64-bit driver's virtio-win-gt-x64 to execute
After installation, shut down the VM, and then, you can change the SATA bus/type of the attached hard disk to 'VirtIO' for best performance. Also, you can remove the disk which was created when we set up the Proxmox VM.
Windows crashes during boot-up with VirtIO driver
I have seen instances where Windows crashed at boot-up when the VirtIO driver was installed. A solution is to add another hard drive with the bus/type 'VirtIO.' Windows loads the VirtIO driver for the new HD. After that, you can remove the second HD and change bus/type to 'scsi' for the first Hard Disk.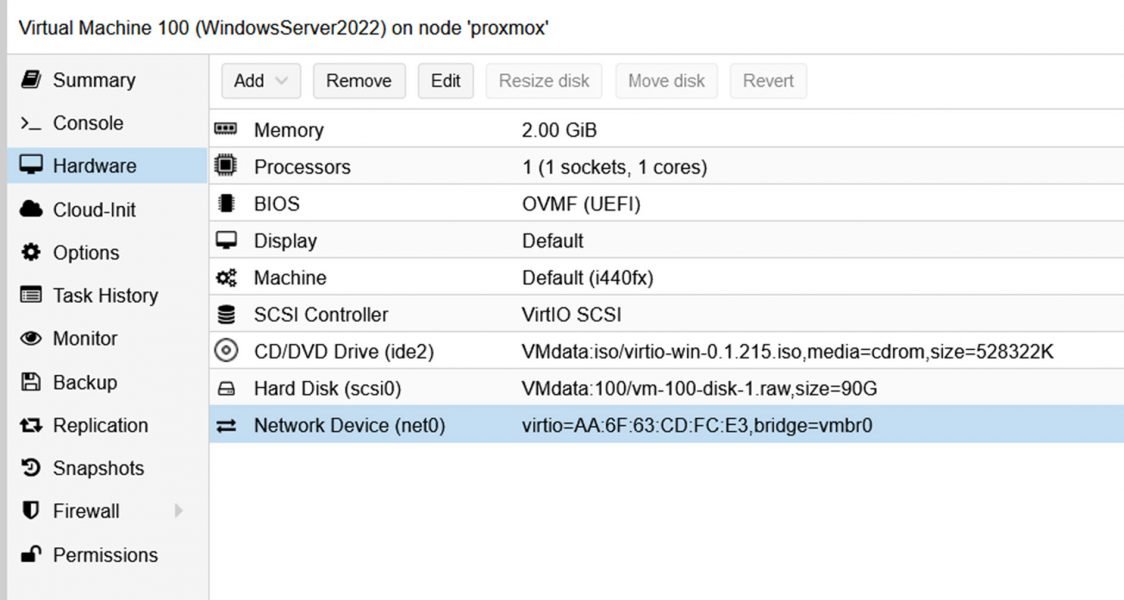 Please note in this example; I converted a Windows Server 2022 VM from VMware to Proxmox. I had issues with the latest VirtIO drivers (0.1.217 / April 2022). I downloaded an earlier version (0.1.215), and the Installer ran fine.
Here you will find earlier VirtIO drivers.
Some resources for further reading
Proxmox vs. VMware
Convert Proxmox to VMware
Learn Ubuntu Group
Linux File Permissions
Conclusion
This article aimed to show how VMware VMs can be converted to Proxmox using straightforward instructions. VMware is known to be challenging to use and has a higher price point, while Proxmox is more affordable and has more features. Although Proxmox may have a steeper learning curve, the extra effort may be worth it in the long run for a more efficient system.
What are your thoughts on this article? Leave a comment below!
Any purchases made from clicks on links to products on this page may result in an affiliate commission for me. 
Please keep in mind that the quantity or price of items can change at any time.
As an Amazon  Associate, I earn from qualifying purchases.
As an Aliexpress Associate, I earn from qualifying purchases. 
Als Amazon-Partner verdiene ich an qualifizierten Verkäufen