Build a WordPress site with Divi Website Builder: The ultimate visual page builder.
WordPress users looking for an easy-to-use drag and drop theme builder should consider Divi Website Builder from Elegant Themes.
Divi is perfect for both experienced website designers and beginners with its intuitive drag-and-drop layout editor.
No coding knowledge is required to create any design with Divi.
All the features included in the Divi Website Builder are designed to save time, including live frontend editing.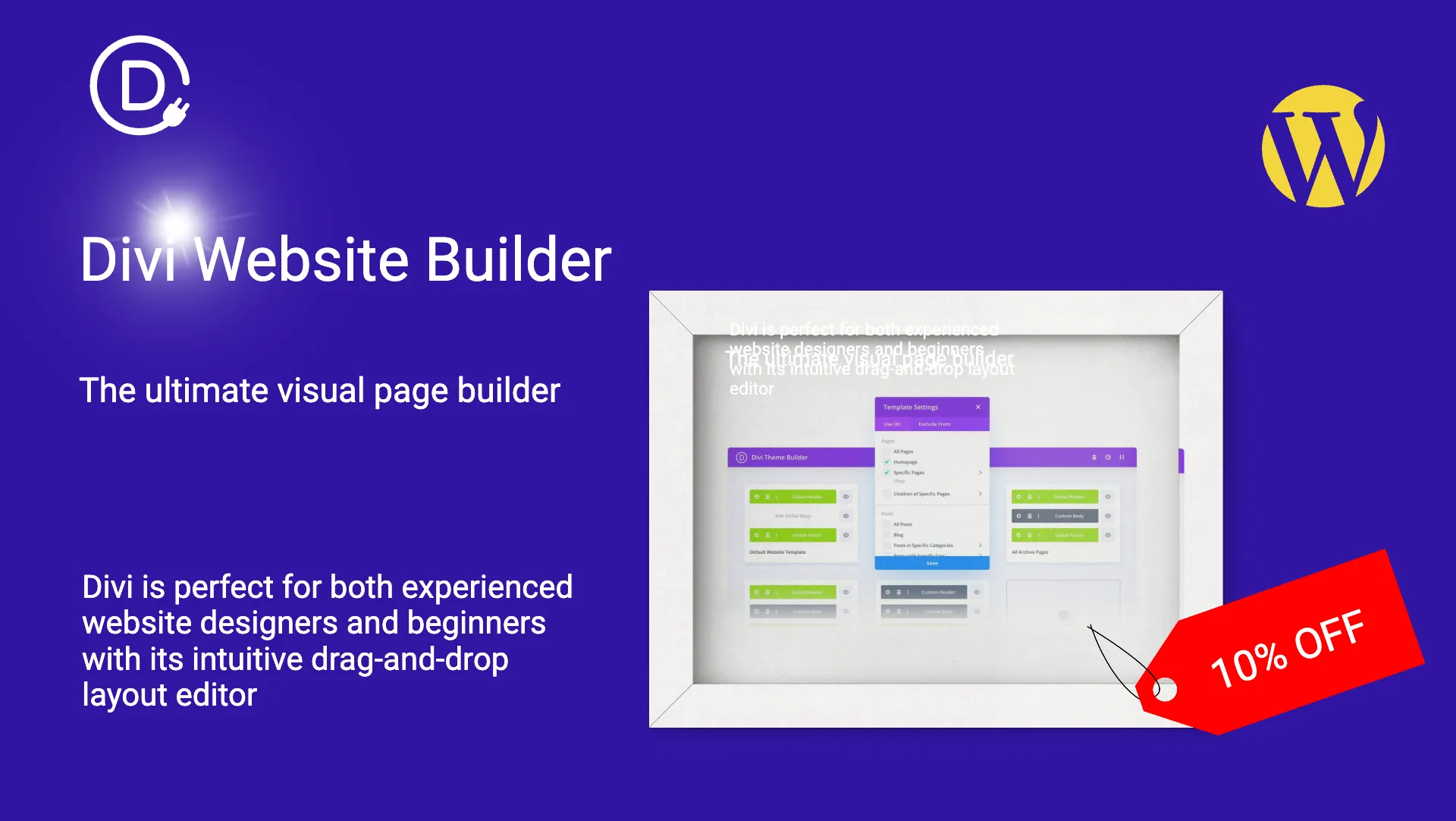 The live frontend editing allows people without any technical experience to see changes as they happen, so there's no need for lengthy back and forth conversations.
This article will give you an overview of all the features that make Divi Website Builder one of the best website builders available today!
Divi from Elegant Themes is a versatile premium theme for all websites, including business, portfolio, blog posts, and e-commerce sites.
The Best AI Content Creator
The Alternative to ChatGPT
What's included in Elegant Themes Divi Page Builder?
Divi offers a lot of bang for your buck with its all-in-one theme, layout libraries, and various plugins. Namely, the all-in-one Divi builder, premade layout libraries, additional plugins called Extra, Bloom, and Monarch.
The intuitive drag-and-drop visual page builder will allow both experienced designers and beginners to create any website they can imagine without coding knowledge required.
The bundled prebuilt layouts give endless combinations of design possibilities, from the classic blog layout to modern eCommerce sites, without compromising quality or style.
Divi theme also has WooCommerce integration, which means it is perfect for online shop owners.
The theme is SEO friendly, so you can be sure your website will show up on the first page when someone searches for your services or products.
Compatible with all modern browsers, tablets, and phone
A Product For Every Design Layout
Divi is a modular theme with a built-in visual interface.
You can use the Divi website builder to design your site using Divi's visual interface or use the Divi theme as a "regular" theme where you set up your header/footer/layouts using Divi's built-in Theme Builder option.
Most content modules are customizable, giving you total control over how your site looks.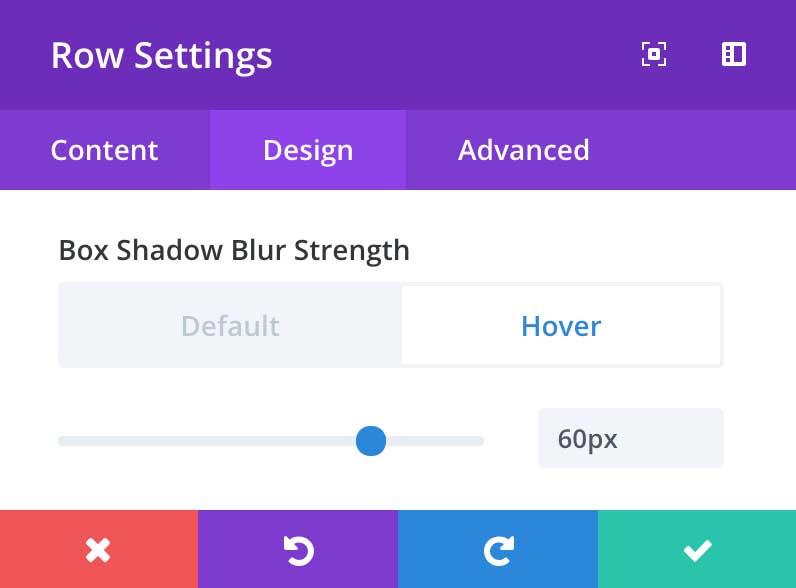 How to use Divi Theme Builder?
Installing Divi is quick and simple, even for a beginner. First, you must download the Divi theme files from Elegant Themes, which will come as a .zip file. Next, log in to your WordPress website, navigate to Appearance > Themes, and click the Add New button. Click Upload and select the .zip file to upload and install Divi. Finally, activate the theme, and your WordPress website will officially run Divi!
To start with the Divi theme builder, you must create a new page or post by going to Pages > Add New or Posts > Add New from your WordPress dashboard. Then look for an option labeled "Use Divi Builder," which will let you open up the editor screen where all your content will go.
Is a custom Divi child theme option needed?
A custom Divi child theme is not always needed but can be a useful tool if you want to customize the look and feel of your site beyond what is provided by the main Divi theme. With a custom Divi child theme, you can create and save custom designs that will override the default settings of the main Divi theme, allowing you to create a unique look for your site.
In addition, you will have more control over the code of your website and can make further customizations if needed. If you decide to use a custom Divi child theme, it is important to remember that it must be kept up-to-date alongside the main Divi theme so that any changes made to the Divi theme do not affect your custom design.
Divi Theme Builder template - How many are included?
The Divi Theme Builder has over 100+ templates included
Divi Layout Packs are pre-made, individual page layouts you can to a single page, post, or project at the click of a button.
They can be imported to your Divi site using the Divi Library's portability system.
Since images are automatically encoded, they sync directly to the WordPress Media Library.
You can download Divi Layout Packs from several sources, including Elegant Themes and Divi Theme Examples.
100+ Website Packs to help you get started with content marketing Includes templates and resources for creating engaging content. Each pack includes helpful tips and advice
Use the Woocommerce module to build a shop with products
The Divi Theme Builder includes WooCommerce Modules that allow you to edit and style WooCommerce elements without resorting to external CSS or modifying WooCommerce templates with custom code. The modules make it easy to create beautiful WordPress themes that include all the functionality of WooCommerce.
Divi's WooCommerce Modules allow for a high degree of customization. You control every detail, from the layout to the colors and fonts. With these modules, you can start from scratch and create the perfect page for your products.
Divi comes with 16 Woocommerce modules. You have to type "woo" when inserting a module. The list of available modules will appear.
Any Divi Module supports dynamic content from WooCommerce. Therefore, every Divi Module can pull dynamic content from the WooCommerce data stored in your WordPress database. As a result, Divi Modules can be used to style WooCommerce content in limitless combinations.
For more detailed information about Divi's Woocomerce modules click here
Divi Marketplace offers extensions to enhance the core functionality of the plugin.
Divi is the most popular WordPress theme, offering an extensive collection of full-site template kits.
The Divi Marketplace is a collection of plugins, themes, and other resources to create stunning websites.
The Divi Marketplace offers various products for users to choose from, including themes, plugins, and tools.
The Divi Marketplace is easy to use and provides users with many resources to help them create stunning websites.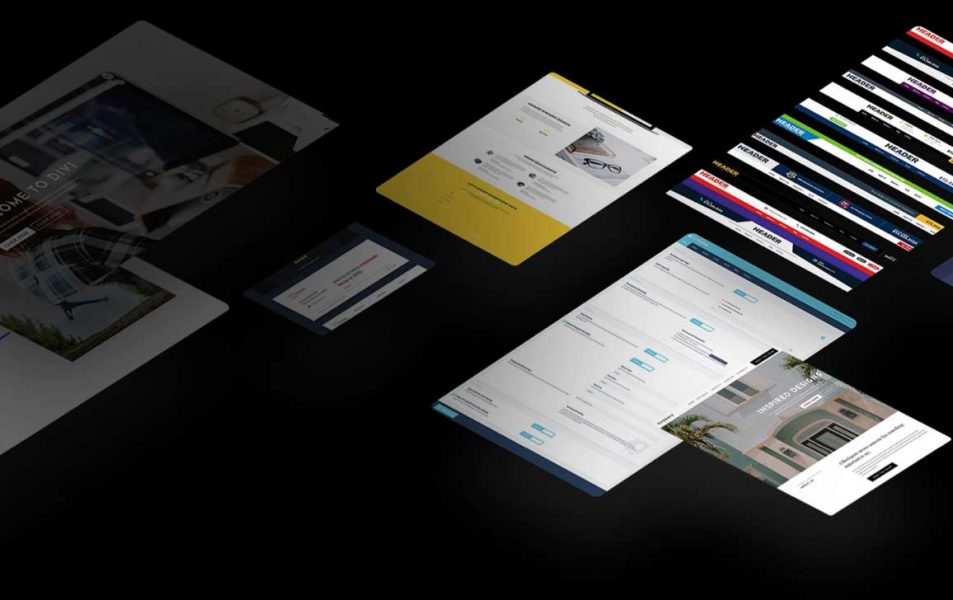 Are you looking for a web developer job?
Remote Web Developer jobs can be found at
Create Global Header and Footer Layout
Use the Theme Builder to create global header and footer layouts. The Theme Builder is incredibly useful for creating global header and footer layouts. With it, you can easily design a consistent, unified appearance that will be applied to all your pages. Creating different custom headers or footers for certain custom post types is possible. For example, create a different header for the blogs, 404 page, or category page.
Monarch is a social media share plugin for WordPress. Take social sharing to the next level. Nowadays, it's crucial to be present on most social channels. Monarch helps you to share your content on all major social networks.
The Extra plugin is the magazine builder theme for WordPress. Extra adds more modules to Divi. It's a great way to create an online magazine or any other type of publication.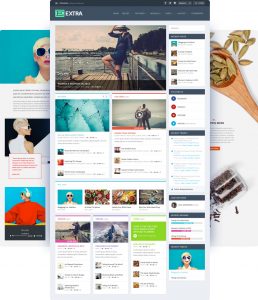 Bloom plugin is the email opt-in plugin for WordPress. It fits perfectly with Divi. Bloom is a great way to create email campaigns with Divi.
Bloom lets you design beautiful emails and send them out through your WordPress site or any other type of website! Bloom comes loaded up ready-to-go, so all that needs installing before using it – install on like normal in the same manner as every plugin for WordPress does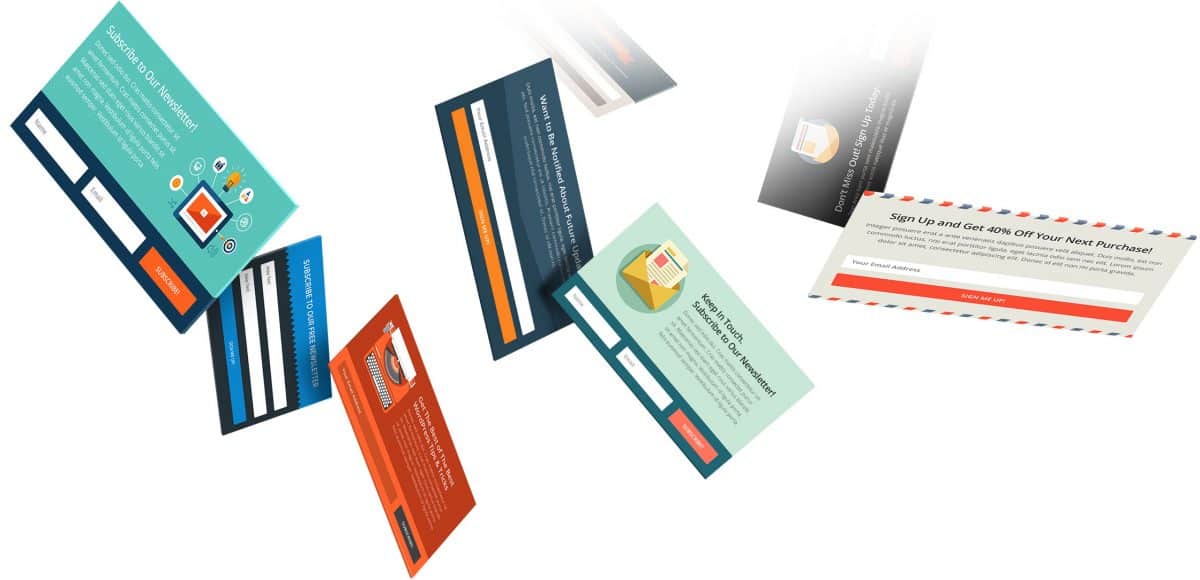 Divi Website Builder Feature: Divi Presets
Divi theme is a user-friendly, responsive advanced web design tool to create any website. With the Divi Presets feature, you can distribute your uniform module designs across multiple pages in one go and with minimal effort! If you later decide to change a design (for example, button), adapt the Divi Preset, and it changes on every webpage.
– Divi Presets is a time saver for any web designer.
Divi Website Builder Feature: Divi Responsive System
The Divi responsive system is a great way to see how your website looks on different devices. You can change the viewpoint by drag and drop, which will show you how your webpage looks in the tablet and mobile view. It also ships with many presets, so you can see what your website would look like on an iPhone 6, Samsung Galaxy, or any other device!
Responsive design without the need to code with CSS
Save time and money by focusing on what you love without worrying about complicated code.
Divi Website Builder Feature: Divi Cloud
Divi Cloud is an innovative cloud storage solution designed specifically for web designers, developers, and WordPress site owners. It provides a secure, reliable, and efficient way to store data related to the Divi Theme Builder, such as layouts, elements, and images.
With Divi Cloud, you can organize your library into categories and folders, search quickly and easily for saved assets, and sync your library with the cloud. In addition, Divi Cloud generates screenshots for easy browsing visually, allowing you to identify and choose the right asset for your design quickly.
Divi Cloud makes it easier to manage and share your Divi Theme Builder projects with others, whether working in a team or managing multiple websites for clients. You can keep your Divi layouts, elements, and images in one centralized place and access them easily from any device.
This helps to reduce the time spent managing multiple sites, streamline development and project collaboration, and ensure your website assets are always up to date.
Divi Cloud is like DropBox for your websites.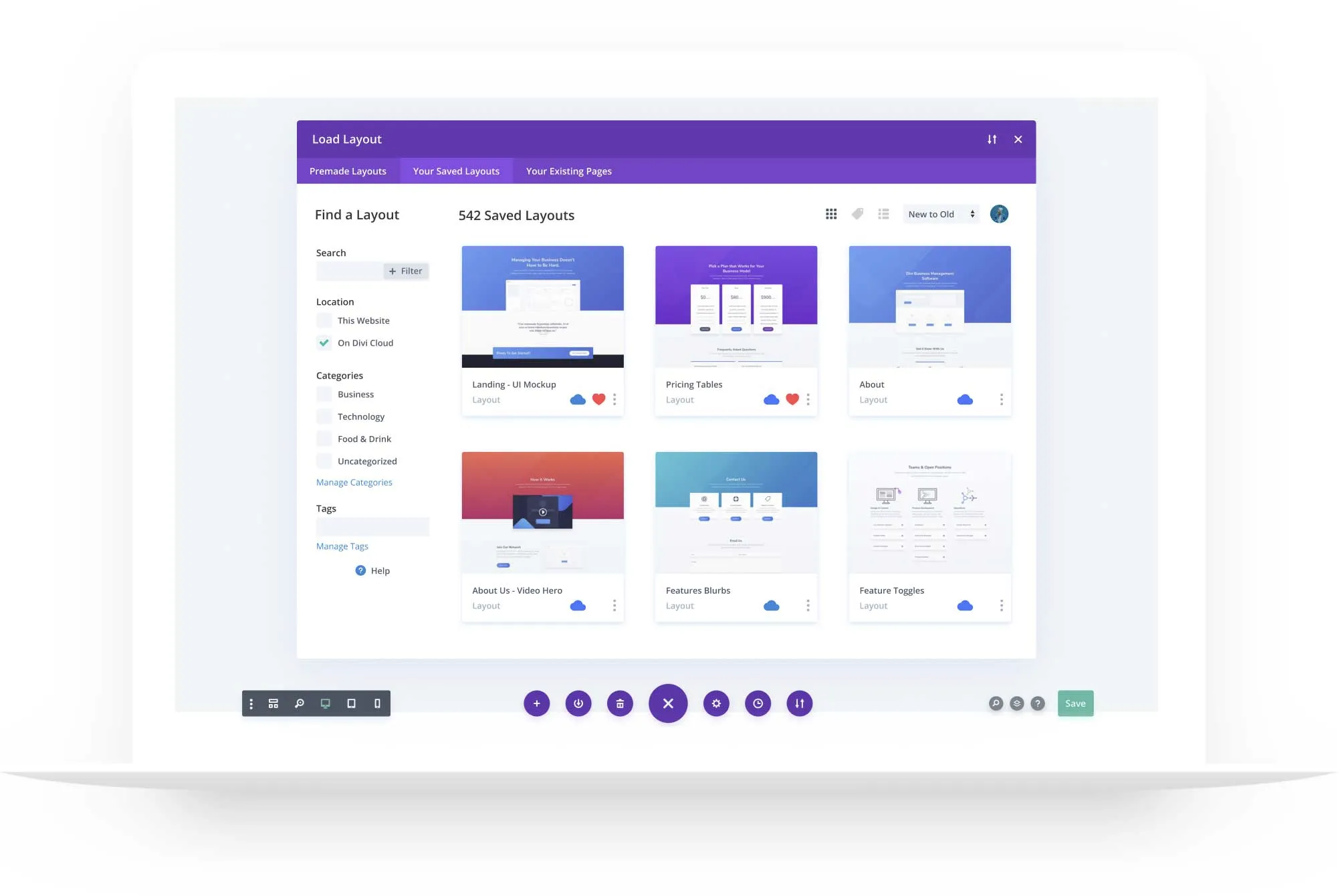 Divi Website Builder Feature: Divi Teams
What is Divi Teams? Invite team members to collaborate on Divi Cloud projects and divvy the workload. Assign roles to each member, track project progress, and manage client sites from a single location.
In addition, each Team member gets their own Divi account with access to all Divi services, marketplace, and support.
Divi Cloud provides a powerful way for teams to work together in managing multiple Divi websites. With Divi Teams, members can easily assign tasks, collaborate on projects, and share Divi assets.
Teams can also receive notifications and updates when changes are made to the website, ensuring accuracy and productivity on every project.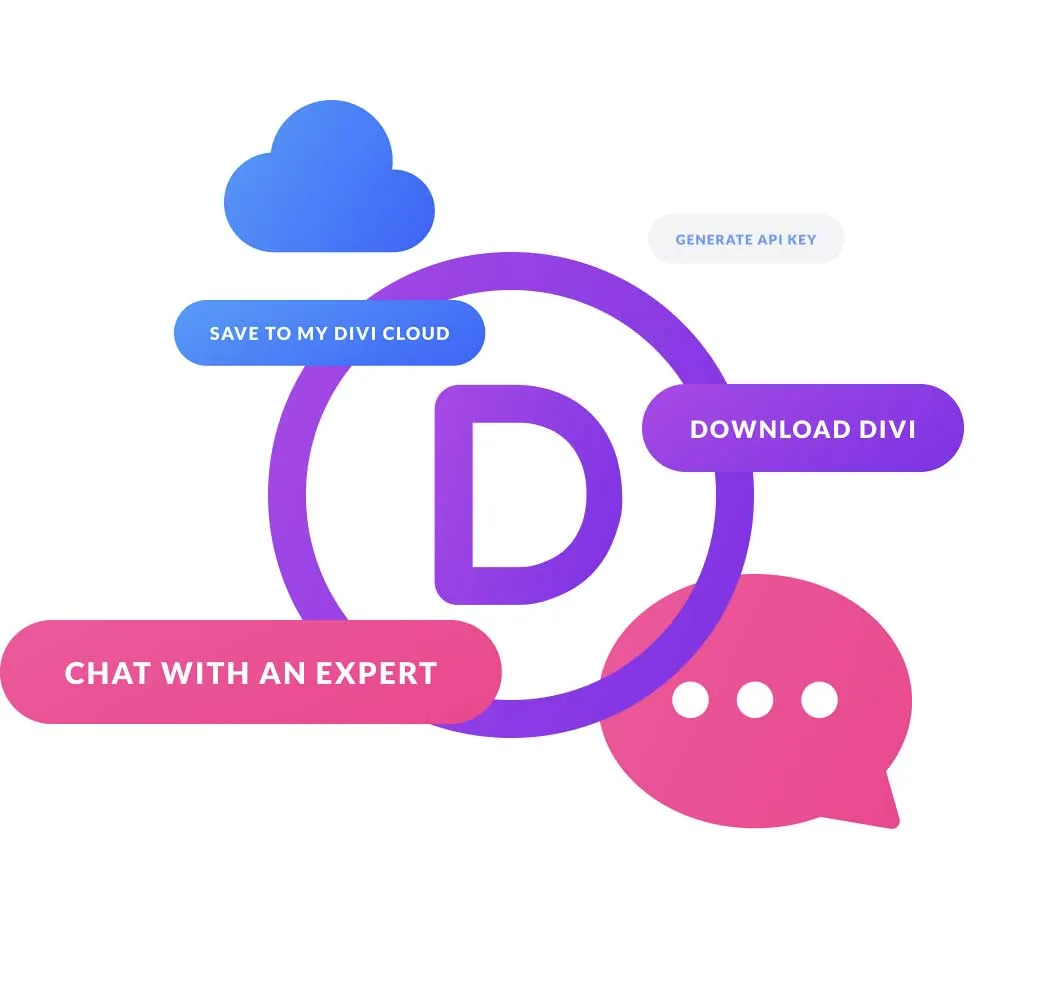 Divi AI is the latest features to the Divi website builder
Divi AI is an advanced AI tool designed specifically for the Divi website builder. It can generate content, create images, and improve your website with just a few clicks.
With its deep integration into Divi, Divi AI understands the unique elements of your website and can generate contextually relevant content that rivals the work of professional writers and digital artists. It can automatically generate text, images, or modules based on existing content and website details.
Divi AI can also learn from your website, providing highly relevant and on-brand results. It can generate images on-demand, taking into account the context of your page to create something highly relevant.
If you already have an image, Divi AI can refine and modify it according to your preferences.
Additionally, Divi AI can help overcome writer's block by suggesting fresh ideas for your next writing topic. It considers your page's content and provides suggestions to keep your creativity flowing.
Divi AI costs $18/month with unlimited usage for text and images. Divi AI is available for all team members.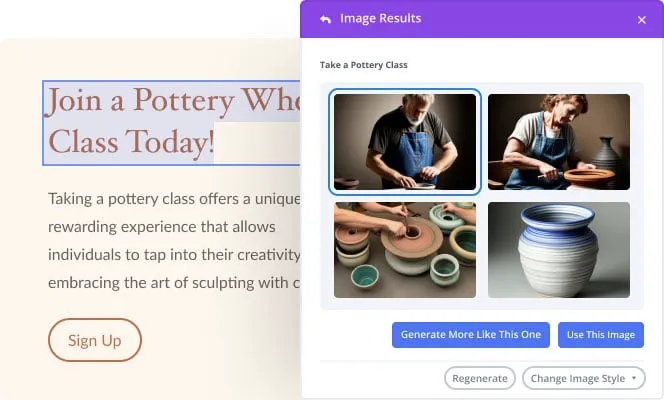 What Makes Divi Theme Builder the best WordPress theme builder?
Divi is the best WordPress theme for building a website. Divi is a powerful drag and drops WordPress theme that you can use for any website. It is the only theme built for the Divi Builder, allowing users to create beautiful websites in minutes.
Divi comes with a thriving community of helpful, insightful, and talented individuals.
Divi is more than just a tool or piece of software – it opens incredible doors for its users to try their hands at developing products.

Why should I choose the All-In-One Divi Theme instead of Gutenberg Blocks?
Features not found in Gutenberg Blocks, but in Divi builder from Elegant Themes
Divi Theme Builder
Design visually on the page
Drag and drop modules to the page
Powerful website builder, use a different header or footer for a specific criterion, for example, post category
Lots of premade layouts
Landing Pages
Divi layers view
Divi Presets
Place an element everywhere on your page
Divi Website Builder: Pricing
The Divi theme website builder is available as part of the Elegant Themes membership, which gets you access to all of the Elegant Themes' products and lets you use them on unlimited sites.
You get both the Divi theme and plugin version for the same price. Beyond that, you also get other valuable tools such as Bloom for email opt-ins and Monarch for social sharing.
You have two options to purchase the Elegant Themes membership: one year of access/support or lifetime access/support. However, you can use my Elegant Themes coupon to save 10%.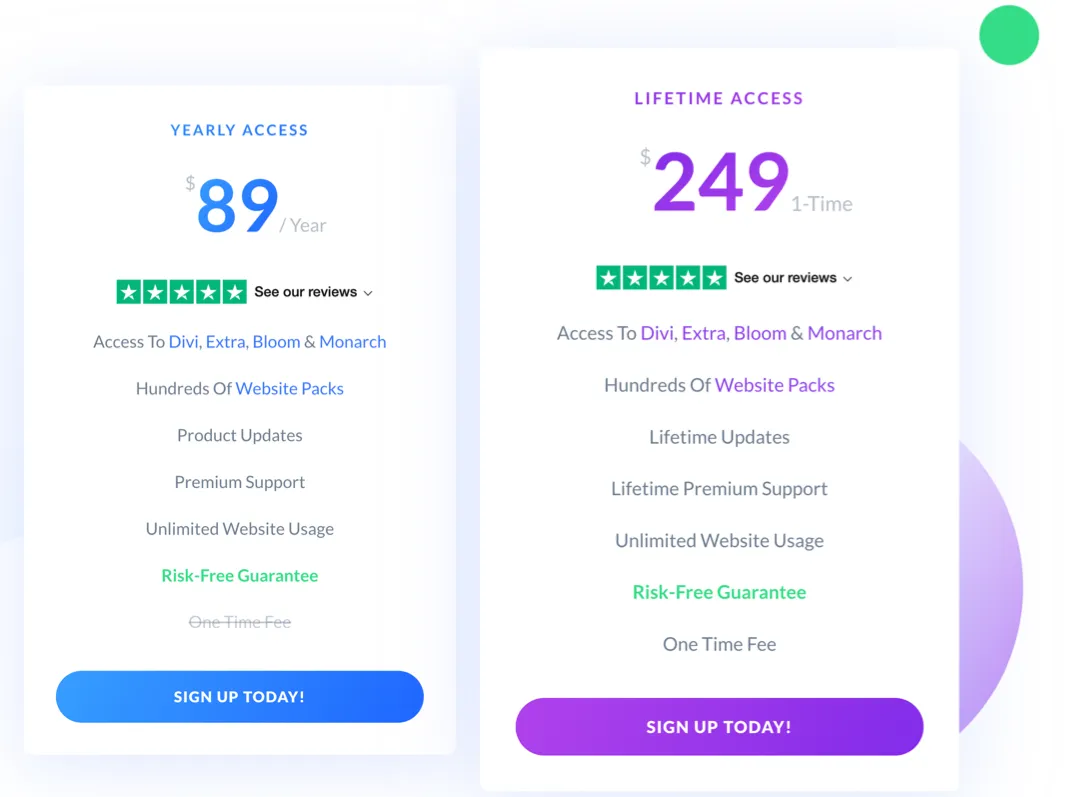 Elegant Themes has partnered with the most reputable WordPress Hosting companies to offer the most reliable, Divi-compatible services.
Take advantage of perfectly configured hosting environments pre-installed with the Divi tools you need to succeed.
The Future of Divi - A New CSS Framework
Divi 5 is the next big version of Divi that will introduce a new foundation for the builder, focusing on improving performance, stability, scalability, and extendability. It won't come with many new features, but it will be blazing fast and will open up amazing opportunities for third-party development1.
Divi 5 will be developed in five phases: Dev Alpha, Dev Beta, Public Alpha, Public Beta, and Official Release. With each new step, the product will become increasingly feature-complete and will be released to a larger part of the community.
The Divi 5 Dev Alpha has already been released. I expect the public Beta by the end of 2023
As of June 2023, the CEO of Divi showcased the latest development and said the Divi 5 new framework is progressing well. A video demonstrated how fast Divi is with the new framework. The CEO mentioned that a small development team is still dedicated to Divi 4 and that Divi AI will release in 1-2 months. Stay tuned.
Divi Support and further references
I'd love for you to check out a blog post I've put a lot of effort into: "Elementor vs. Divi comparison". I delve deep into the features, pros, and cons of these incredible page builders, weighing them against each other. I'm sure you'll find it informative, especially if you decide between these two for your website. Looking forward to your thoughts on it!
Visit my new WordPress website
Any purchases made from clicks on links to products on this page may result in an affiliate commission for me. 
Please keep in mind that the quantity or price of items can change at any time.
As an Amazon  Associate, I earn from qualifying purchases.
As an Aliexpress Associate, I earn from qualifying purchases. 
Als Amazon-Partner verdiene ich an qualifizierten Verkäufen