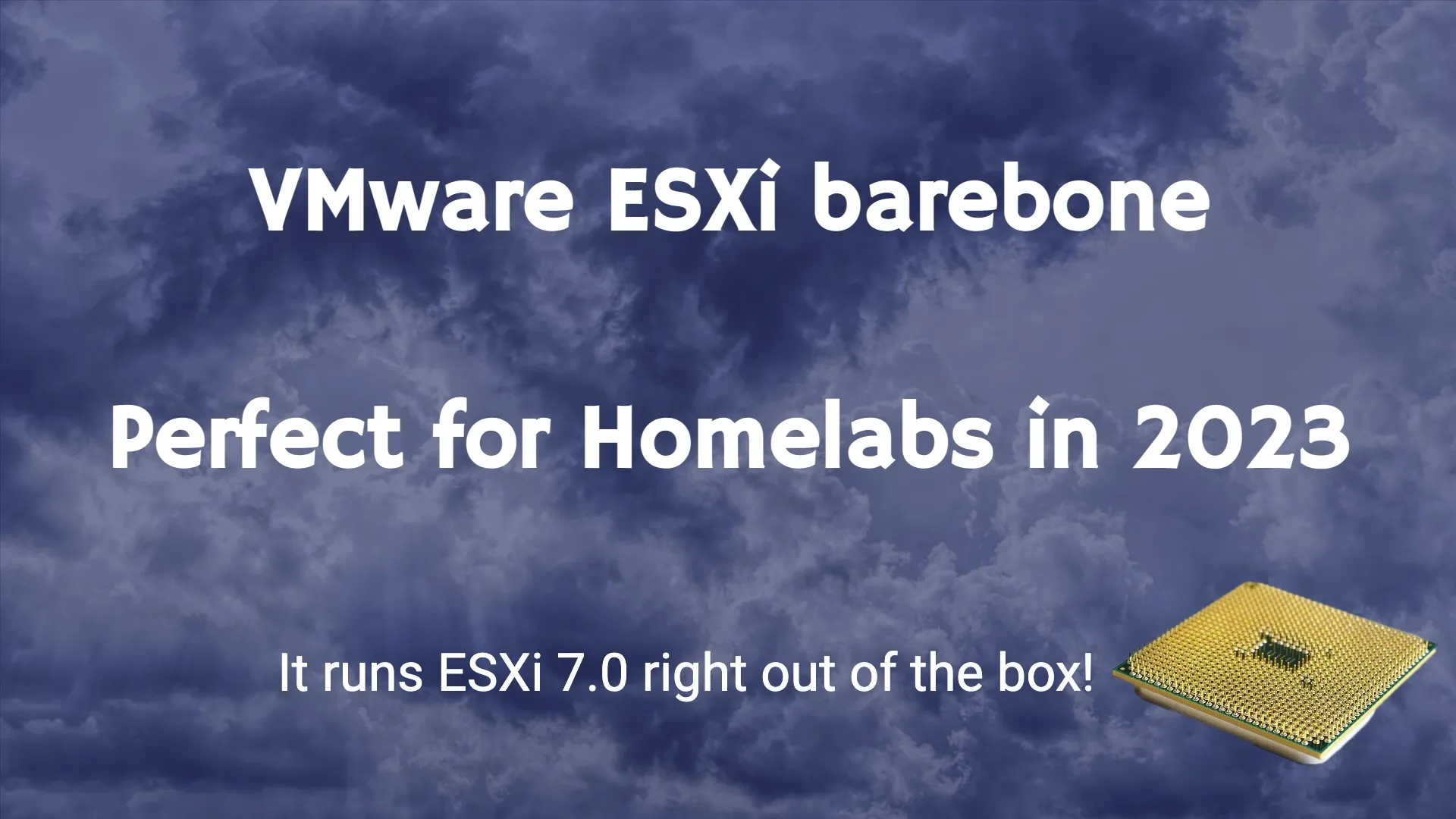 A perfect VMware ESXi barebone for a small environment or homelab
Are you looking for an inexpensive VMware ESXi host for a small environment or homelab? You need look no further than the Supermicro barebone E300-9D. It's a beautiful small computer which offers all the features you need in an ESXi host. It runs ESXi 7.0 right out of the box.
I was on the hunt for an inexpensive computer for a small project with a tight budget. The requirements: a server with at least two LAN ports, space for 2 HDDs: one SSD, and one SATA. The motherboard should support at least 32GB memory. The Supermicro barebone E300-9D met all these requirements.
The Supermicro SYS-E300-9D-4CN8TP is equipped with the Supermicro mainboard X11SDV-4C-TP8F. For more details, please see this link. It's simply great that the mainboard has an M.2.2280 slot for an SSD hard drive. From the description on the Supermicro website, it was not entirely clear if the mainboard supports an M.2 slot. I asked my supplier to confirm that with Supermicro. Besides that, you can install a 2.5″ SATA HD. The mainboards support up to 256GB of memory.
Something I love about Supermicro mainboards is the IPMI remote interface to manage the system remotely. Finally, this board supports HTML5 for the remote console. You will certainly remember a time when IPMI needed the Java environment. It was almost impossible to get Java working on Chrome or Firefox. At times like that, I was always glad the good old Internet Explorer was still around.
I bought the E300-9D with these parts.

Seagate Barracuda ST4000LM024 4 TB 2.5″ Internal Hard Drive
The 15mm Seagate BarraCuda allows you to easily store most of your games, music, movies, and more with 3TB, 4TB and 5TB capacity options
Highest-capacity internal hard drives on the market for DIY external box setup for upgrades, with SATA 6GB/s interface to optimize burst performance
Multi-tier caching technology delivers snappy performance with lower power consumption
Sale
SAMSUNG (MZ-V7E500BW) 970 EVO SSD 500GB – M.2 NVMe Interface Internal Solid State Drive with V-NAND Technology, Black/Red
Innovative V-Nand Technology: Powered by Samsung V NAND Technology, the 970 EVO SSD's NVMe interface (PCIe M.2 2280) offers enhanced bandwidth, low latency, and power efficiency ideal for tech enthusiasts, high end gamers, and 4K & 3D content designers
Breakthrough read write speeds: Sequential read and write performance levels of up to 3,500MB/s and 2,500MB/s, respectively; Random Read (4KB, QD32): Up to 500,000 IOPS Random Read
Performance optimization and data security: Seamless cloning and file transfers with Samsung Magician Software, the ideal SSD management solution for performance optimization and data security with automatic firmware updates
Superior heat dissipation: Samsung's dynamic thermal guard automatically monitors and maintains optimal operating temperatures to minimize performance drops. Secure Encryption
5-year limited warranty: 5-year limited warranty or 600 TBW (Terabytes Written)
Please note the suggested Supermicro E300-9D with the Intel XEON processor has only 4 cores and is not listed on the Vmware ESXi HCL list. However, the same mainboard with the Intel XEON 8 cores does appear on the VMware HCL.
The little Supermicro server is also perfectly suitable for a small VMware vSAN environment. Use the SSD disk for the caching tier and the SATA disk for the capacity tier. A perfect setup to test vSAN with at least 3 Supermicro barebones as ESXi hosts. Four is better, offering full failover in case an ESXi host is completely down.
Intel NUC computers are a less expensive option for ESXi hosts. But some tweaks to the LAN driver are needed. Please read more about it here William regularly updates his blog with the latest information about the NUCs and the situation with the latest VMware ESXi versions. The NUCs only have one LAN port, which is a bit of a drawback compared to the Supermicro server.
The Intel NUC 10th generation runs now VMware ESXi 7.0 without tweaking the LAN drivers. Read more here.
Please see my recent blog "Proxmox to VMware".
Any purchases made from clicks on links to products on this page may result in an affiliate commission for me. 
Please keep in mind that the quantity or price of items can change at any time.
As an Amazon  Associate, I earn from qualifying purchases.
As an Aliexpress Associate, I earn from qualifying purchases. 
Als Amazon-Partner verdiene ich an qualifizierten Verkäufen