Sync folder(s) with Syncthing

What is Syncthing (freesync)
Syncthing is a free open-source-software that syncs folder(s) and files. I would refer to it as a freesync or foldersync tool, because it is free. However, it's not a backup software or imaging tool to create an exact copy of your computer.
Syncthing runs on various platforms like Linux, Windows, NAS and MAC and very easy to install. There are utilities for Windows and MAC available which run in the Windows system tray or the MAC menu bar. Configuration is done in the browser WebGUI (see first screenshot).
How to install Syncthing
I will explain the installation for the Windows platform using screenshot from Windows 10, but on any platform the interface looks the same.
Download the 64bit from here. It's just a zip file. Then extract it to a folder. I use C:\Syncthing, but of course you could name the folder with a name you prefer. Double-click the syncthing.exe and the command windows will open shortly in your default browser with url address 127.0.0.1:8384. Syncthing runs with port 8384.
I first go to the "Actions" menu, choose Settings, verify under GENERAL tab, the "Device Name". This would be your computer name.
Specify username and password for the WebGUI. Go to GUI tab, "GUI Authentication User" and "GUI Authentication Password". I usually only change these two settings.
The Best AI Content Creator
The Alternative to ChatGPT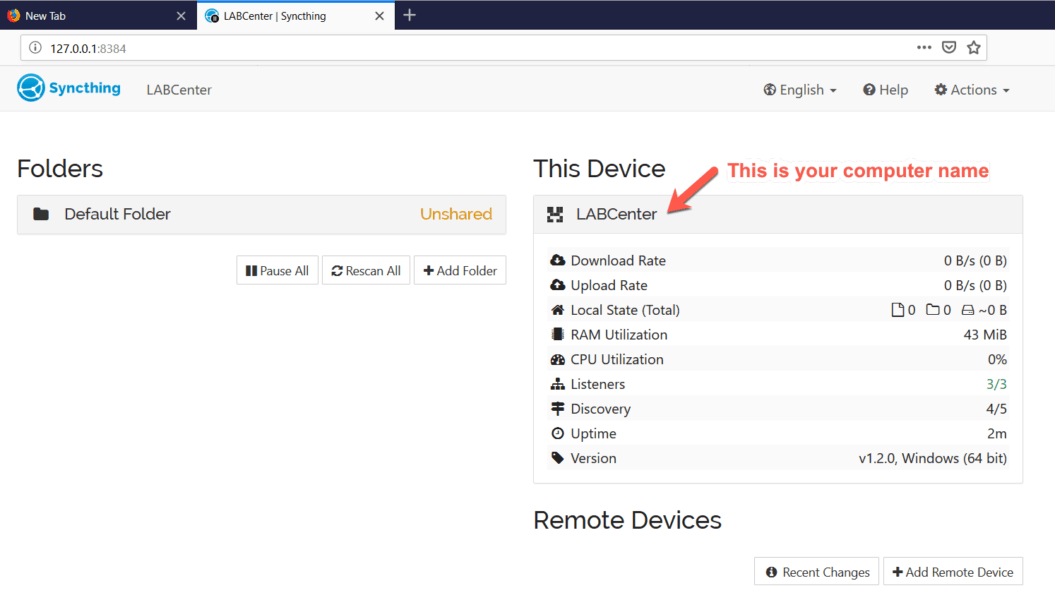 For Windows 10 there is also a tool called "SyncTrayzor" available. It's a Windows installer which can be set to run automatically when Windows starts. The interface looks exactly like the WebGUI above wrapped in a Windows window. SyncTrayzor is recommended only for Windows desktops not for Windows Server because when logged out it won't run in the background (more on that later). For MAC, another app as a dmg installer is available. They are very cool and more important do their job well.
How to connect to remote device
It's very easy; just click "add Remote Device". in the section "Remote Devices".
After a few moments you will get a prompt on the remote computer.
If the remote computer is located on the same network and Syncthing is running you will see the device ID inline in the text (not shown in the above screenshot). Otherwise enter the device ID in the field. How to find the device ID? Go to the "Actions" menu in the WebGUI and click "Show ID".

Click "Add Device" and the computer will be shown in the Remote Devices section. Now both computers are connected and we are ready to setup folder(s) to sync.
How to add a foldersync
A Default Folder is predefined in Folders section (see first screenshot) . I usually delete it and create a new folder.
Click "+add Folder" (see my first screenshot)
Tab, General
The "Folder Path" field is very important. It must match with the path name in your file system. In this screenshot it is for the Windows file system. In Linux it would be a path like "/home/filesync". For the fields "Folder Label" and "Folder ID" you can choose a name. I use the same description for both fields.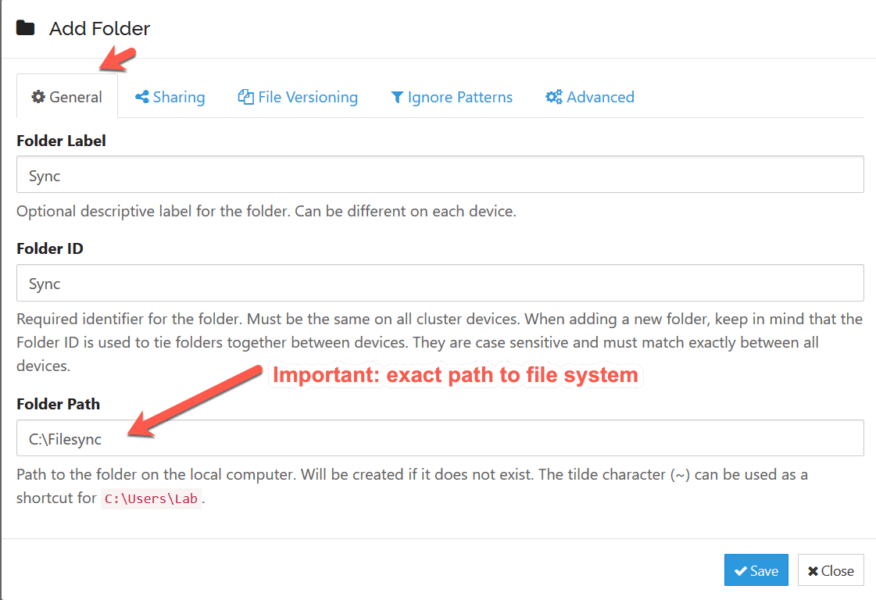 Tab, Sharing

Here you see all connected devices that have been added to the Remote Devices section. For example: you could sync the folder with more than one device.
This is actually what makes Syncthing so cool. A possible scenario could be a Windows Server in the cloud, an iMac at home and a laptop for traveling. Folders(s) can be synced with all devices. A document created on the laptop while not connected with the internet, will be synced automatically the next time the laptop connects to the internet.
Tab, File Versioning

Select the mode of File Versioning. Generally I use File Versioning. Set a number for "Keep Versions". It's possible to use Versioning on one device only. In our scenario we would use it only for the Windows Server in the cloud.
Tab, Ignore Patterns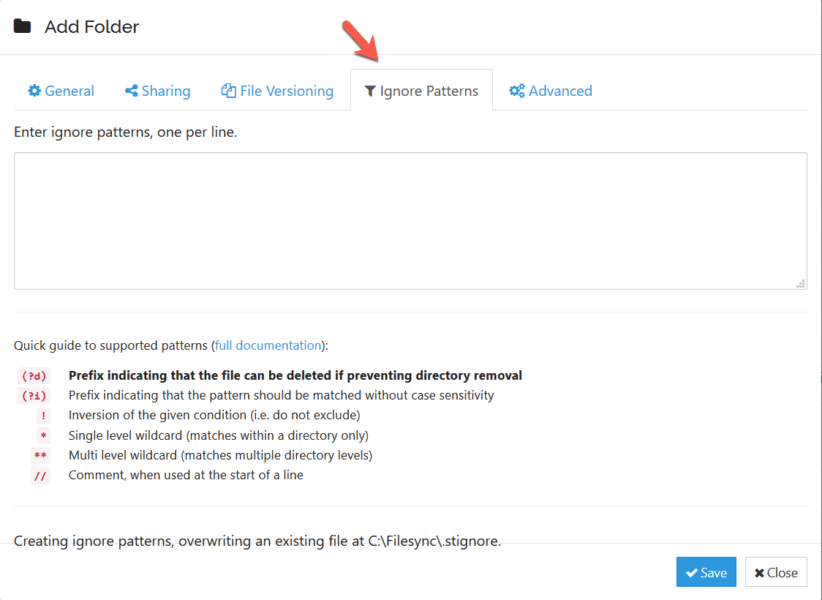 Enter patterns to exclude sub-folder(s) or file(s). You can also exclude file extensions. Please see the docs with examples It's a very powerful feature.
Last Tab, Advanced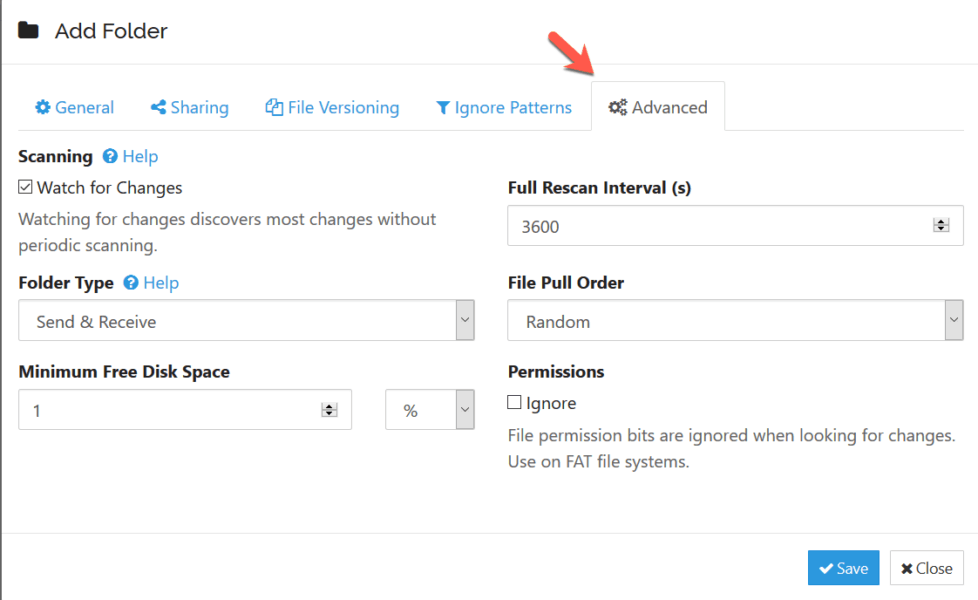 A few powerful settings that could make here. In Folder Type, specify sync directions, whether both ways, or only send or only receive
Click "save" and it's done, It's possible to add even more folders when you wish.
Conclusion
Please keep in mind Syncthing must run in the memory all the time. Otherwise it will not syn!
Synctrayzor (mentioned above) can be configured to run automatically when Windows starts up. The same applies for the MAC version.
Syncthing does a great job? Certainly a very good foldersync tool.
In another blog I will tell you how to run Syncthing as a service on a Windows Server. The tool I usually use is nssm.